Stranger Things' Natalia Dyer Weighs In On Nancy's Willingness To Jump Into Danger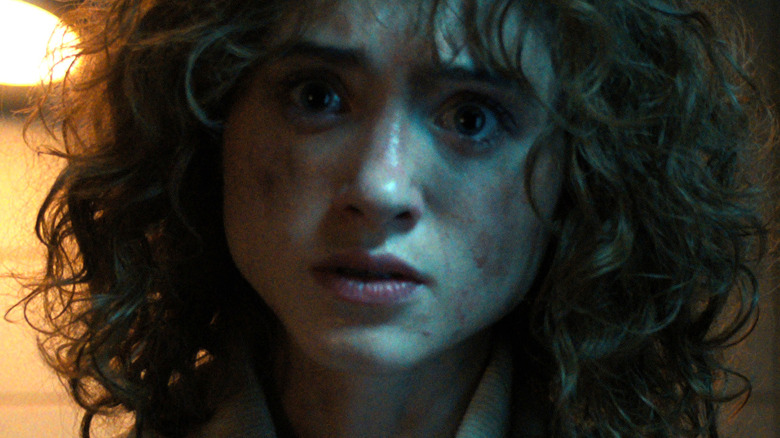 Netflix
While "Stranger Things" might have seemed like a big roll of the dice in its first season, the series has been a hit for viewers and critics alike (via Rotten Tomatoes). In fact, the science-fiction drama is one of the biggest shows on Netflix, and it is also one of the most popular shows in the world (via Parrot Analytics).
One of the many stars from "Stranger Things" to gain fame and success from her role in the series is Natalia Dyer, who plays the passionate, pragmatic, and endlessly curious Nancy Wheeler. While her character struggles with who she is and what she wants in Season 1, she later becomes an impressive role model ahead of her time. Dyer herself has noticed the journey her character has undergone over the course of "Stranger Things," and she has some thoughts on how Nancy has changed over time.
Natalia Dyer notes how Nancy has changed over the years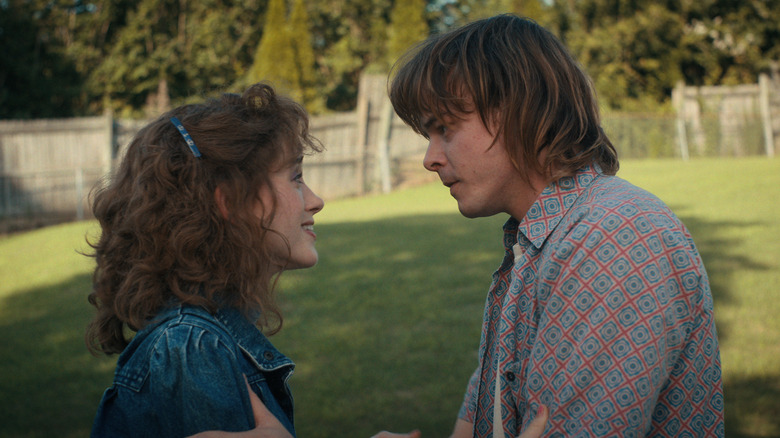 Netflix
Natalia Dyer joined Collider for Ladies' Night, and she delved deep into the character of Nancy Wheeler and what she thinks of her "Stranger Things" evolution from an unsure high school girl to a bold young woman unafraid to chase down an interdimensional fiend like Vecna (Jamie Campbell Bower).
"I think she was a lot more concerned with appearances and school and success and achieving in her small understanding of her small town," Dyer said. Nancy was definitely more focused on things like fitting in and having a boyfriend in Season 1 but has since gone on to have a strong, independent streak and a nose for the truth that leads her down some unexpected paths.
"I think she always was very ambitious, but I just think her ideas of what that means and what that can be have shifted wildly," Dyer said. Since Nancy has always been smart and responsible, this certainly makes sense. As noted in the interview, her shift came from the disappearance of her friend Barbara (Shannon Purser) in a major way.
Nancy's practicality and emotional stability help to keep her safe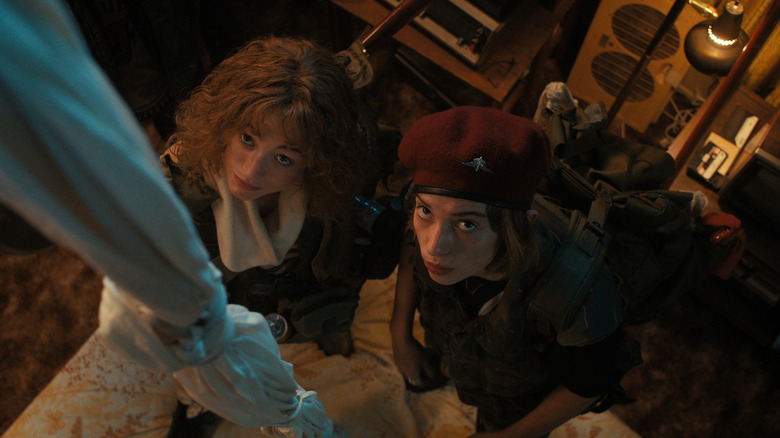 Netflix
Nancy grows as a character as a direct result of her fight for justice and her drive to protect the people she loves from the dangers of the Upside Down. For instance, in Season 1, she loses her best friend Barb, and the disappearances and deaths in Hawkins continue to grow as "Stranger Things" progresses. After seeing so many of her loved ones put in danger, Nancy becomes a force to be reckoned with. 
Dyer herself alluded to this fact when speaking about Nancy's character motivations. "I don't care about necessarily me or the fact that I'm not thinking about it as much as I'm trying to figure this out or get to the bottom of it or stop something," Dyer said as Nancy. 
Still, when it comes to the dangers of Vecna's mind games and psychic tricks, even Nancy has a hard time keeping her cool. Dyer acknowledged this as well but was quick to point out how her practicality helps Nancy to assess these situations accurately. "I think her sort of coping mechanism is just logic and focus and fight and just not accepting that as a reality, not letting herself crumple into her feelings," Dyer concluded.
Considering how Nancy has developed over the years, fans are surely excited to see what's next for her in "Stranger Things" Season 5.