Virgin River Fans Are Perplexed By The Lack Of Gloves In The Show
Who would've thought that Netflix would have a hit that comes close to unseating the popularity of "Stranger Things" — especially a melodramatic, Hallmark-style soap opera like "Virgin River." But yes, according to Variety, "Virgin River" stole the number 1 spot on Netflix's Top 10 when Season 4 debuted this July. Its more than 105 million viewed hours beat the 75 million hours watched of "Stranger Things."
The series, which finished filming its forthcoming Season 5 in November, per Collider, is based on Robyn Carr's novel series and created by Sue Tenney, who also developed "The Good Witch" — though Tenney recently stepped away, transferring the helm to "Greek" showrunner Patrick Sean Smith. It follows the professional and romantic happenings of Mel Monroe (Alexandra Breckenridge), a nurse practitioner and midwife who moves from Los Angeles to the small town of Virgin River to escape her past. Jack Sheridan (Martin Henderson) is the bar owner and former veteran who steals Mel's heart. At the same time, she tries to work with cantankerous "Doc" Vernon Mullins (Tim Matheson), who refuses to share his practice, despite Mayor Hope McCrea (Annette O'Toole) hiring her for that reason. More melodrama awaits with Jack's ever-pregnant ex Charmaine (Lauren Hammersley), Doc's long-lost grandson Denny (Kai Bradbury), and bad boy Dan Brady (Benjamin Hollingsworth), among the other townsfolk.
But as beloved as the show is, some fans have at least one complaint: For a show so rooted in the medical profession, one prop seems to be glaringly missing.
Reddit fans are concerned about hygiene on the show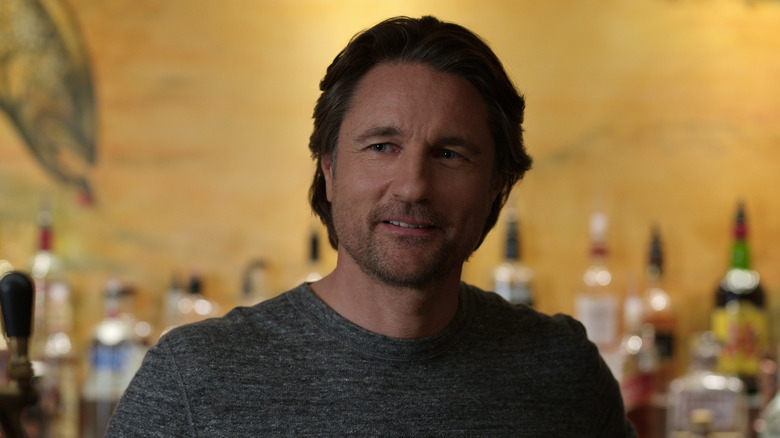 Netflix
In a hilarious Reddit thread, u/TriniGold pointed out, "There are no gloves in 'Virgin River,'" providing many examples of glove-requiring situations: giving injections, handling police evidence, handling food, and even delivering babies. The responses kicked off a discussion of hygiene ... and rainbows.
"It's a no-glove zone," u/sosoheath confirmed. "Any and all gloves brought within the Virgin River perimeter suddenly go up in a poof of sparkles and rainbows." TriniGold commended the response, saying, "Sparkles and rainbows = perfect VR description." A query about cold-weather gloves yielded none either. U/DegreeSea7315 comically thought perhaps "'gloves' was a euphemism ... Because everyone keeps getting pregnant."
u/Beneficial-Thought82 then pointed out a significant issue with food hygiene, "when Jack took over the veg cutting and didn't wash his hands ... I'm a bit of a germaphobe, so it really stood out to me when he did that." Trinigold agreed profusely, saying, "Omg! I paused and walked away when that happened. I was so grossed out." 
Especially in this "post-COVID" landscape, it seems like there is no excuse for such behavior. But perhaps the producers want to maintain the feel-good quality of the show. As Netflix's VP of original series told USA Today, "[With] everything that's been going on in the world, people more and more [are] looking for, not just that comfort, but also that feeling of hope and that feeling of community." Maybe suspension of disbelief outweighs good hygiene.