Virgin River Season 5 Release Date, Cast, Trailer, Plot And More Details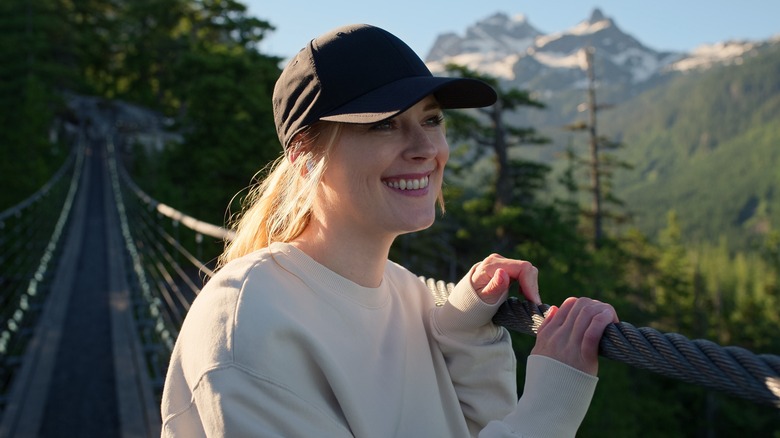 Netflix
The following article contains spoilers for Season 4 of "Virgin River."
"Virgin River" is on a soapy, romantic, melodramatic high. The adventures of midwife Mel Monroe (Alexandra Breckenridge) and her on-again-off-again boyfriend, Jack Sheridan (Martin Henderson), have been entertaining fans every summer for the past four years. It has a loyal viewership whose dedication to the show has helped make "Virgin River" a huge phenomenon. Per Variety, the show's mighty enough to knock "Stranger Things" from the top of the streaming charts. Now that's what we call popular.
Luckily for fans of the show, Netflix renewed "Virgin River" for a fifth season when it greenlit its fourth season in 2021. That means it's set to have at least one more block of episodes before the cancelation bear gets another chance to nip at its heels. What's in store for fans of the program as it rolls into its fifth iteration? Here's what we know so far.
When will Virgin River Season 5 be released?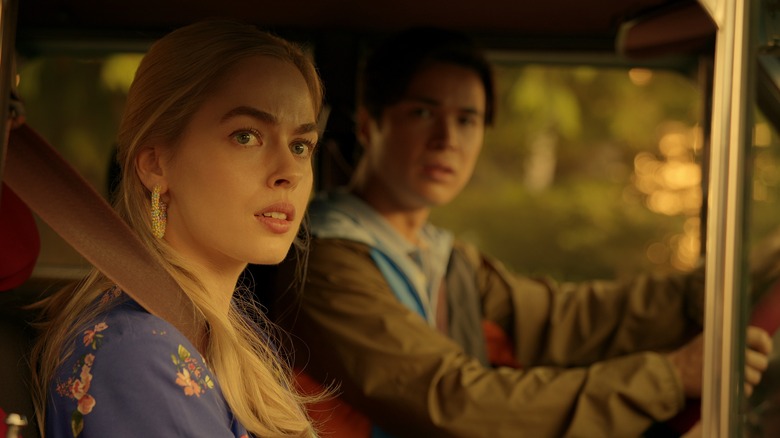 Netflix
The wait for "Virgin River" Season 5 is almost done. The show began filming in July 2022, and shooting wrapped just a few months later in November. Ever since then, we've been excitedly checking Netflix over and over, hoping to see a new batch of episodes pop up. Fortunately, we now know exactly when we'll be able to binge our favorite show. All 10 episodes of "Virgin River" Season 5 will be available for viewing on Thursday, September 7, 2023. Then, two holiday-themed episodes are scheduled to drop a few weeks later on Thursday, November 30, 2023.
What is the plot of Virgin River Season 5?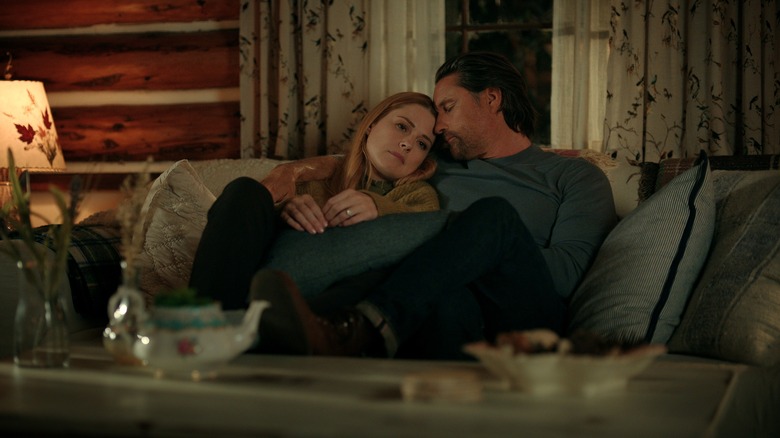 Netflix
After a tumultuous Season 4, during which Jack and Mel debate whether or not they should find out if Mel's baby's biological father is Jack or her late husband Mark (Daniel Gillies), the twosome is set to skate into Season 5 in joy. A paternity test has proven that the baby is Jack's, and he has successfully proposed to Mel before they get the results. But the couple's joy is complicated by the revelation that Charmaine's twins are not Jack's. While this loosens Jack from Charmaine's hold, it will also leave him feeling responsible for the boys, no matter who their biological father is.
In other news, Brady was exonerated in Jack's shooting (it was revealed the culprit was Wes) and embarked on a romance with Brie. Preacher saved Paige (Lexa Doig) and her son Christopher (Chase Petriw) from Vince (Steve Bacic) once and for all but remains torn between Paige and Julia (Lucia Walters) romantically. 
Doc and Hope spent the entire last season coping with Hope's post-car-crash brain injury, and now they're standing on the cusp of another family health crisis. It turns out that Denny has Huntington's Disease, throwing a spanner into Denny's love triangle with Lizzie and Ricky. Season 4 viewers were also introduced to Melissa Montgomery (Barbara Pollard), the head of the lumbering drug ring who made her expectations and consequences known. We expect Season 5 to expand upon these dangling threads, and the official plot synopsis also promises other forms of drama in the form of "a shocking break-up, a difficult court trial, a heartbreaking goodbye, and and a wildfire that threatens the town."
Who is starring in Virgin River Season 5?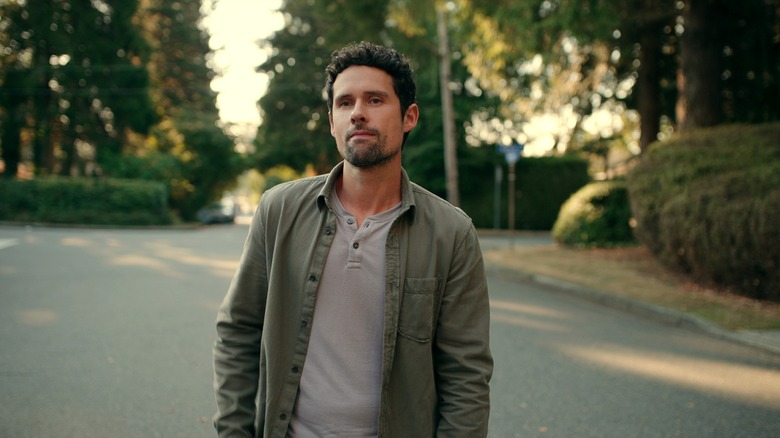 Netflix
Over the past several months, we've kept up to date with the cast of "Virgin River" through various social media pages that chronicled the Season 5 shoot in real time. However, Netflix eventually confirmed officially what we already know — we'll be seeing all of our favorite faces when the show is released in September.
Yep, this includes Annette O'Toole as Hope McCrea, Alexandra Breckenridge as Melinda "Mel" Monroe, Martin Henderson as Jack Sheridan, Colin Lawrence as John "Preacher" Middleton, Lauren Hammersley as Charmaine Roberts, and Tim Matheson as Vernon "Doc" Mullins. We'll also see the likes of Benjamin Hollingsworth as Dan Brady, Sarah Dugdale as Lizzie, Zibby Allen as Brie Sheridan, Kai Bradbury as Denny Cutler, and Nicola Cavendish as Connie. Naturally, there will be a few recurring favorites who will pop up again throughout the run.
Netflix head of drama Jinny Howe vowed to TV Line that the show would have more inclusivity over Season 5. It seems he's fulfilling that promise as the show will be bringing in names like Kandyse McClure of "Charmed" and "Hemlock Grove" and Paolo Maiolo of "Nancy Drew" and "The Twilight Zone," along with actors such as Elise Gatien of "Tower Prep" and Susan Hogan of "The Brood."
Who is the showrunner for Virgin River Season 5?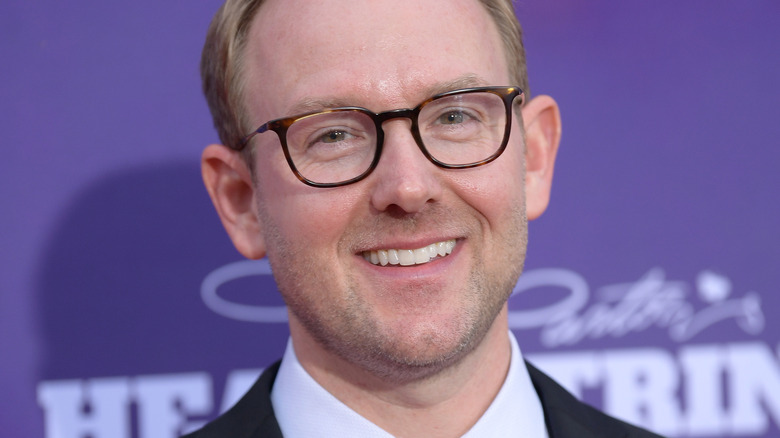 Jason Kempin/Getty Images
"Virgin River" Season 5 may feature the show's familiar, crowd-pleasing soapy relationship drama and small-town happenings, but off screen, the production is in a period of transition. According to TVLine, Sue Tenney, the creator and showrunner of "Virgin River" has left the series, looking to work on other things. 
In her stead, Netflix has brought in Patrick Sean Smith to serve as the new "Virgin River" showrunner. He brings years of experience working on TV shows about the romantic lives of young people to the job, having created "Greek," acted as executive producer on "Chasing Life," and wrote the made-for-TV movie "Dolly Parton's Heartstrings," which put him on the radar for "Virgin River" distributor Netflix. 
"The cast cares so much about the show and the fans, and they want to put on the best show possible," Smith told TVLine. "I think they've done that for the past four seasons, so it just makes it easier for me to pick up the ball and keep running into Season 5 and beyond."
Is there a trailer for Virgin River Season 5?
Just under a month before the first part of Season 5 debuts in September 2023, Netflix released the first official trailer for the latest run of episodes of small-town soap-drama "Virgin River." There's a lot of drama, scandal, and plot developments packed into the minute-long clip package, so Season 5 looks to be the most compelling one yet for the popular series.
The trailer opens with Mel and Jack walking through the woods, playfully speculating on their relative parenting abilities, indicating a major plot point for Season 5 — birthing specialist Mel finds herself pregnant, and Jack is indeed the unborn baby's father. But as Mel's pregnancy falls into the "high risk" category, she's going to focus on her health, meaning there will be less workplace action for a while on "Virgin River." Elsewhere around town, Preacher's romantic life looks to be taking shape in a meaningful way, while the entire population must come together as never before to fight a devastating forest fire and pick up the pieces.
Will there be a Virgin River Season 6?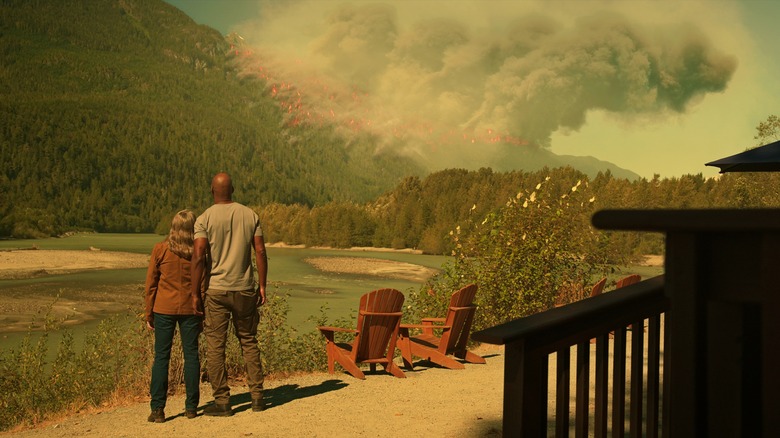 Netflix
While mega-hits like "Stranger Things" and "Squid Game" get most of the press and attention paid to Netflix original series, "Virgin River" has quietly ranked among the streaming giant's most-watched shows of all time. Seasons 3 and 4 of "Virgin River" each racked up nearly 300 million viewing hours inter first months of release and sat in the Netflix Top 10 in more than 70 countries, according to Deadline.
Making more "Virgin River" seasons is obviously an attractive and lucrative notion for Netflix, and they're not about to end production on the series anytime soon. In May 2023, on the same day that Netflix announced that the fifth season of "Virgin River" would debut sometime in the fall later that year, the streamer revealed that the romantic-dramatic soap would keep going for the foreseeable future. "Virgin River" received an early renewal for its sixth season, set to hit Netflix in 2024 at the earliest.
Where to watch previous seasons of Virgin River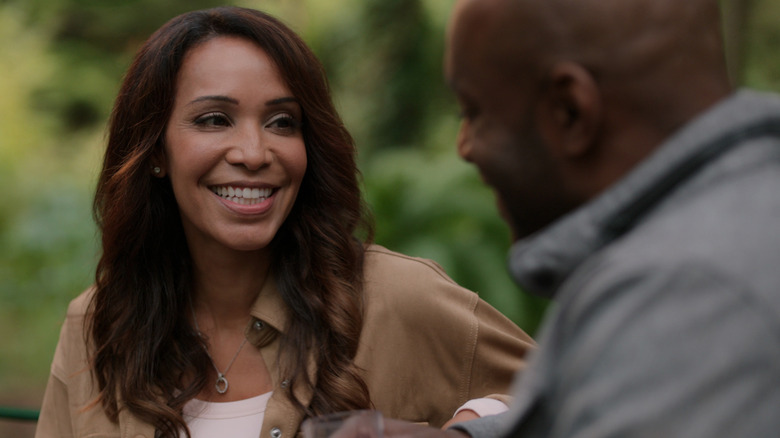 Netflix
It's probably not surprising for fans of the drama to learn that "Virgin River" remains a Netflix exclusive. You can currently binge all four previous seasons of the show from the comfort of your home while you wait for Season 5 to arrive. At the moment, there appear to be no plans to bring the show to DVD or Blu-Ray, and no plan to either syndicate the program or make individual episodes available for download or purchase. That means that Netflix remains your only option to watch this original series in action. So you'll have to stick with a subscription plan to get the maximum bang for your soapy buck.
It's both highly convenient to fans of the show and straightforward to find. And for those whiling away the hours until they get more "Virgin River" in their lives, well worth paying their monthly subscription fees.