Stranger Things Star Noah Schnapp's Iconic Bowl Cut Is Fake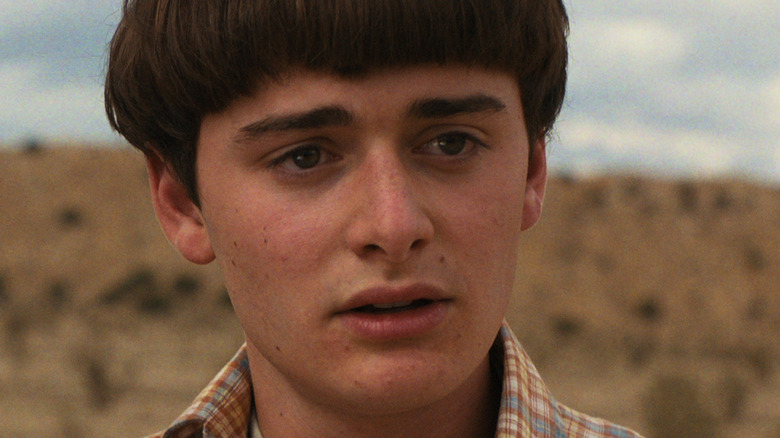 Netflix
When it comes to behind-the-scenes tidbits surrounding "Stranger Things," fans don't always enjoy learning such information. For example, after months of speculation that the tattoos on Eddie Munson (Joseph Quinn) foreshadow his iconic Metallica moment and tragic demise at the wings of Demobats, lead make-up artist Amy L. Forsythe shut down that theory.
However, another "Stranger Things" fun fact — that the bowl cut of Will Byers (Noah Schnapp) isn't his real hair — might come as more welcome news to audiences. The shaggy, circular 'do makes its grand introduction in Season 1, which sees Will targeted by the evils of the Upside Down. Though Mike Wheeler (Finn Wolfhard) has a similar cut, the bowl shape isn't quite as defined.
By the most recent fourth season, the appearance of each character has evolved in some way since their Netflix debut in 2016. Eleven (Millie Bobby Brown), who sports a buzz cut when she escapes the clutches of Dr. Martin Brenner (Matthew Modine), now has shoulder-length wavy hair and bangs. The locks of Mike and Dustin Henderson (Gaten Matarazzo) have also grown out. In fact, Dustin even has a cool new "Thinking Cap."
As for Will, he's holding fast to his iconic bowl cut, though it gets shorter and more awkward-looking with each passing season. One might fear that Schnapp is so dedicated to his craft that he let the stylists loose on his real hair with a bowl and scissors. Thankfully, this isn't the case ... but it doesn't mean Schnapp is necessarily pleased with his on-screen persona's signature look.
Noah Schnapp wears hair extensions to achieve the bowl cut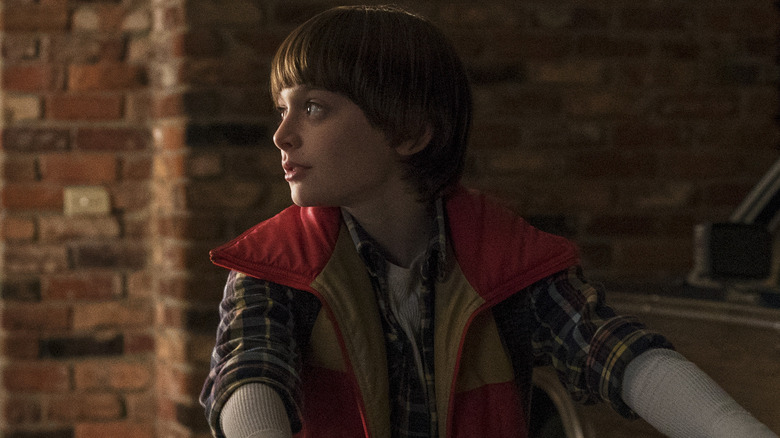 Curtis Brown/Netflix
In an interview with Insider, Noah Schnapp revealed the truth of Will Byers' bowl cut: it's not entirely his actual hair. Upon being cast for "Stranger Things," a wig was brought in and made to fit the then-preteen. With each passing season, as Will's hair gets shorter, smaller clip-in extensions are used.
The show's lead hairstylist Sarah Hindsgaul told Refinery29 ahead of "Stranger Things 2" that she preferred the kids to not have to wear wigs and urged them to refrain from haircuts in between seasons. But in the case of Schnapp, an exception was made.
"Will's hair was [still] way above the ears when we started the season. I understand it though, it's hard to have a bowl cut when you're coming of age. So we did a full head of extensions," said Hindsgaul. "He hated them. He'd come back from playing soccer [on a break] with extensions hanging down and be like, 'I can't do anything with these things!'"
Several years later, Schnapp is still opting for the extensions rather than getting the bowl cut on his own hair, which would probably make blending in at the University of Pennsylvania all the more difficult. Still, Schnapp continues to fiercely advocate for a fresh style. He told Insider, "I've talked to them [creators Matt and Ross Duffer] so many times like, 'Hey, are we thinking about a new cut for Will?' There's one more season left, but they're pretty loyal to that cut. I think it is a true kind of '80s classic haircut. So I don't think we're gonna lose it anytime soon."