How Smallville's Clark Kent Influences Jenna Ortega's Character On Netflix's Wednesday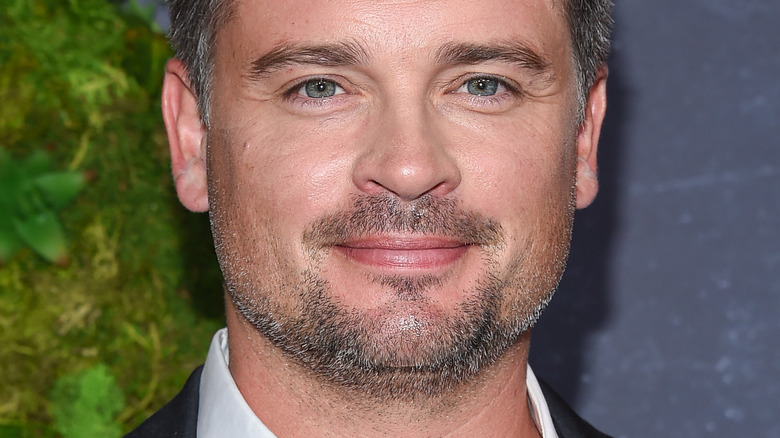 DFree/Shutterstock
Netflix is now snapping its fingers to the tune of a very familiar theme song. While the Addams family is known to generations of TV and movie fans, the latest installment in the family's creepy and kooky adventures is anything but familiar. "Wednesday" follows a teenage Wednesday Addams (Jenna Ortega) as she enters Nevermore Academy and seeks out the answers to mysteries lurking behind its walls. Even though Wednesday is leaving the Addams Family house behind, the show will still feature other beloved members of the Addams Family, including Morticia (Catherine Zeta-Jones), Gomez (Luis Guzmán), Pugsley (Isaac Ordonez), Uncle Fester (Fred Armisen), Lurch (George Burcea), and Thing (Victor Dorobantu).
Co-creators Al Gough and Miles Millar explained to The Hollywood Reporter's TV's Top 5 podcast that not much is known about Wednesday post-adolescence, and this isn't the first time they've chronicled the teenage years of a pop culture icon. Gough and Millar are known for co-creating "Smallville," the coming-of-age drama that starred Tom Welling as the Man of Steel. And according to the co-creators, Clark Kent has a big influence on the highly-rated "Wednesday" series.
The character trait that both Clark Kent and Wednesday Addams share
Al Gough and Miles Millar told The Hollywood Reporter that they've approached "Wednesday" in the same way they approached "Smallville." "Find a character and a part of their life that hadn't been seen before and explore that," said Millar.
While Wednesday Addams and Clark Kent operate in two very different environments, Millar says both characters have lacked emotion, and exploring that side is key to their storylines. "How do you add complexity and dimension to Clark Kent? And it's a similar challenge here. How do you add dimension and complexity and emotion to someone who, literally, has no emotion?"
While the show is about Wednesday navigating a new school and building new relationships, Gough points out that it's not a typical coming-of-age story. "And she knows who she is and she likes who she is...She's someone who sees the world in black and white and has to learn that it's shades of gray," he said.
Gough and Millar's vision was given the green light from MGM, who has been holding the rights to "The Addams Family" due to recent animated features, and the Charles Addams estate, which, according to Gough, felt the highly-anticipated series is a more sophisticated approach. And Gough and Millar are not the only well-known names working behind the scenes. They're working with Tim Burton, an executive producer on the project. "Wednesday" is now available to watch on Netflix.