Yellowstone's Cole Hauser Admires Kevin Costner Both On- And Off-Screen - Exclusive
Paramount Network
Cole Hauser has appeared in such high-profile films as "Dazed and Confused," "Good Will Hunting," and "2 Fast 2 Furious" alongside numerous famous faces. Now, his star is only shining brighter as fan favorite Rip Wheeler on the blockbuster "Yellowstone," which airs Sunday nights on the Paramount Network.
On the neo-Western drama series, Hauser works closely with Kevin Costner, who stars as steadfast ranch owner John Dutton. As the strapping Rip, Hauser is basically Costner's right-hand man, stepping up to handle the ranch as John settles into his role as governor of Montana in Season 5 of "Yellowstone." The two share a bond that goes beyond words, relying on each other to uphold the integrity of the ranch.
In real life, Hauser and Costner have struck up a friendship that leaves Hauser admiring his co-star both on- and off-screen, a dynamic that he recently spoke about during an exclusive interview with Looper.
'He's like my older brother'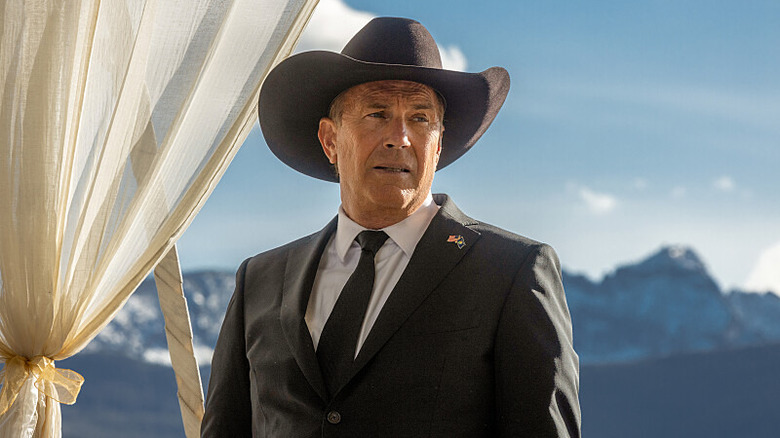 Paramount Network
On-screen, Rip Wheeler came into John Dutton's life as a teenager who witnessed his father murder his mother and brother before killing his father with a frying pan. Upon being found bloodied and bruised in a hayloft, Rip was taken in by John and given a second chance, leaving Rip forever indebted to the Dutton family.
While Rip holds a lot of power on the Yellowstone ranch, his backstory with John also keeps him in check. When the cameras stop rolling, however, things are much more level between Hauser and Costner, although Hauser admits he greatly admires his Academy Award-winning co-star.
"[He] and I have a lot of fun off camera," says Hauser. "On camera, he's my boss, but off camera, he's like my older brother. We have wonderful conversations. ... We crack up about little stuff. He has been a great person to look up to over the last five years, not only as an actor but as a person, and also as a director and a storyteller. We have wonderful conversations about creativity."
You can watch Rip and John's relationship unfold on Season 5 of "Yellowstone," which airs Sundays at 8 p.m. ET/PT on Paramount Network.