The 10 Worst Christmas Movie Sequels Ranked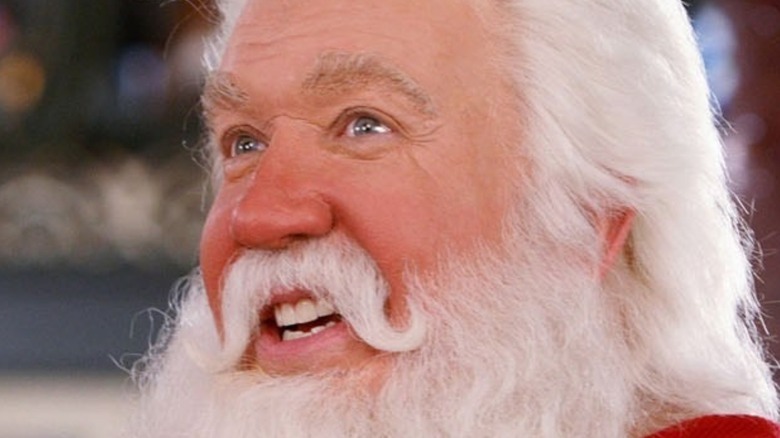 Buena Vista Pictures
The first time Santa Claus ever graced the silver screen was in an 1898 British short film directed by George Albert Smith, the pioneer of close-ups and film editing. For the next 120 years, Father Christmas has arrived in movies countless times, in some form or another, and holiday films have become their own powerhouse genre of countless classics, like "It's a Wonderful Life," "The Nightmare Before Christmas," "Home Alone," and "Elf."
Not all great holiday movies employ the use of Kris Kringle. In fact, some of the highest-rated Christmas movies use him very scarcely, usually in a minor role or as a totem of the holiday's history. When they're great, Christmas movies help spread the Yuletide fever to all of the masses.
However, not all Christmas movies hit the mark. And most of them are sequels. Some sequels, though, like "Home Alone 2," "The Santa Clause 2," It's Christmastime Again, Charlie Brown," and the 1994 installment of "Miracle on 34th Street," are timeless classics. Others, however, are destined to be forgotten. From battles between holiday character titans to direct-to-video rehashes, here are the worst Christmas movie sequels.
10. Richie Rich's Christmas Wish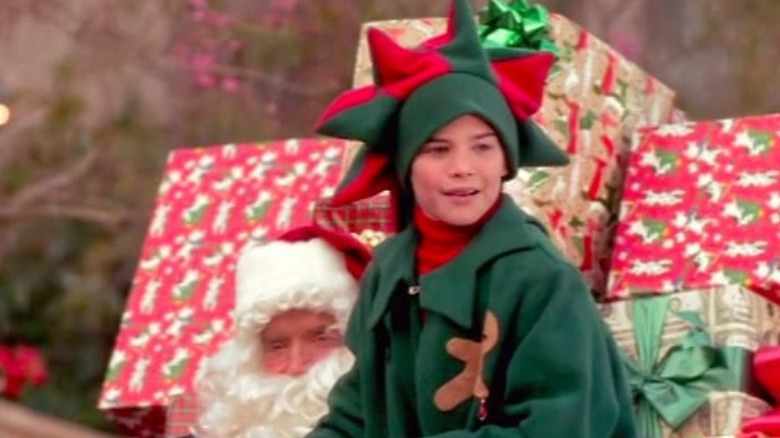 Warner Home Video
Later in this list, it will become much more evident that no film studio should try to replicate the successes of a character made famous by Macaulay Culkin. In 1994, Culkin was the titular "Richie Rich," which was not a good movie by any means. It did feature some fun moments for the live-action adaptation of a familiar Harvey Comics face. Four years later, Warner Bros. made a direct-to-video sequel, "Richie Rich's Christmas Wish," which ends up as a blatant rip-off of "It's a Wonderful Life."
When Richie's (David Gallagher) cousin Reggie (Jake Richardson) blames him for a sleigh crash, the affluent protagonist does what no rich kid would ever do on film: He wishes he didn't exist. A wishing machine made by Professor Keanbean (Eugene Levy) makes Richie's dream come true, and he ends up in a reality where Reggie takes his place. Richie learns how not to take his great life for granted. 
The story, like "Richie Rich," is meant to be a toned-down version of a well-off kid reckoning with his own privilege. Unfortunately, the "It's a Wonderful Life" trope has been done too many times for it to really make a difference here at all, especially when the character in question will never have to worry about not having a good life.
9. A Bad Moms Christmas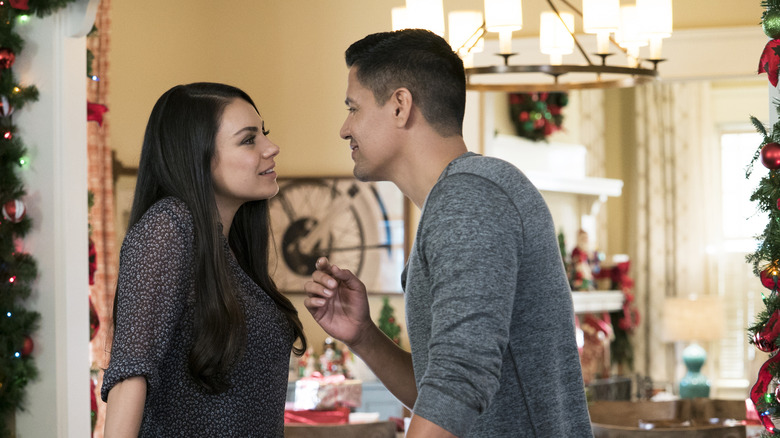 STXFilms
In 2016, Mila Kunis and her friends, Kristen Bell and Kathryn Hahn, made a really wonderful comedy called "Bad Moms." A year later, its sequel, "A Bad Moms Christmas," almost single-handedly retconned that accomplishment. In the original film, the trio rebelled against their family obligations for an all-night bender. It's a great outlet for all moms who are overworked and underappreciated. But "A Bad Moms Christmas," is just a rehash of the same premise, but with some holiday flavor. The potential is there, but, barely 15 months after its predecessor's release, it fails to capitalize on it at all.
A big mistake "A Bad Moms Christmas" makes is effectively doubling its cast. Here there are more moms, which means there are also more actors vying for laughs. "Bad Moms" was great when it was just Kunis, Bell, and Hahn bouncing off of each other. But in "A Bad Moms Christmas," their chemistry is not strong enough to shoulder a film that has its hand in too many cookie jars. The moms are fed up with their responsibilities around Christmastime, and, with their own mothers coming into town for the holidays, they are tasked with finding a balance for all of it.
8. Bad Santa 2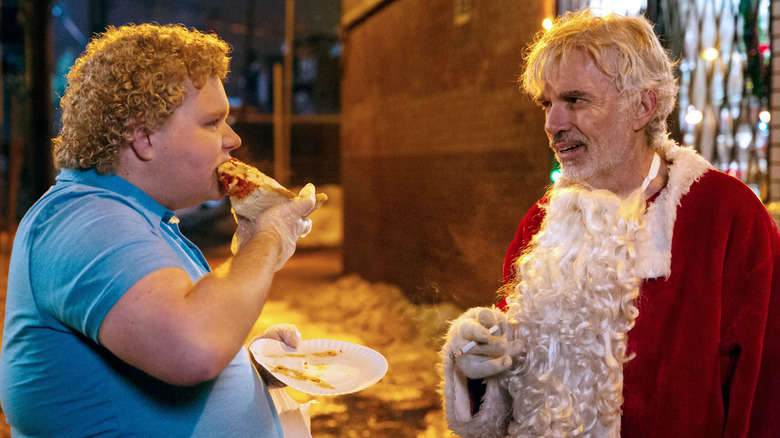 Broad Green Pictures
More than a decade after the erratic, abrasive black comedy "Bad Santa," "Bad Santa 2" was released completely failing to live up to the comedic chops of its predecessor. The jokes are mostly the same, but "Bad Santa 2" doesn't have nearly as much heart as its predecessor. With the original cast, except for the late Bernie Mac, reprising their roles, the story of thieves Willie (Billy Bob Thornton) and his partner Marcus (Tony Cox) pulling off Christmastime scores, dressed as Santa Claus and his elf, returns.
In "Bad Santa," the heart of the movie came through Willie's relationship with Thurman (Brett Kelly), a young boy who often made Willie a better person. Thurman (and Kelly) is back, though much older and now a sandwich shop artist. The magic isn't gone completely, but their relationship is pretty lifeless in comparison to what it once was. Most of what made their chemistry so rewarding was watching the bond between an alcoholic man with a cynical view of the world and a kid with boundless optimism develop.
The introduction of Willie's mother (Kathy Bates) was a misfire, as was a lot of the film's writing. Often just a rehash of decade-old material, "Bad Santa 2" wants to expand the motive for Willie and Marcus' thefts. The "Bad Santa" universe doesn't need more ground to cover, especially when the small-time mall heists from the first movie worked just fine. "Bad Santa 2" was a box-office flop, as well, to no surprise.
7. Rudolph and Frosty's Christmas in July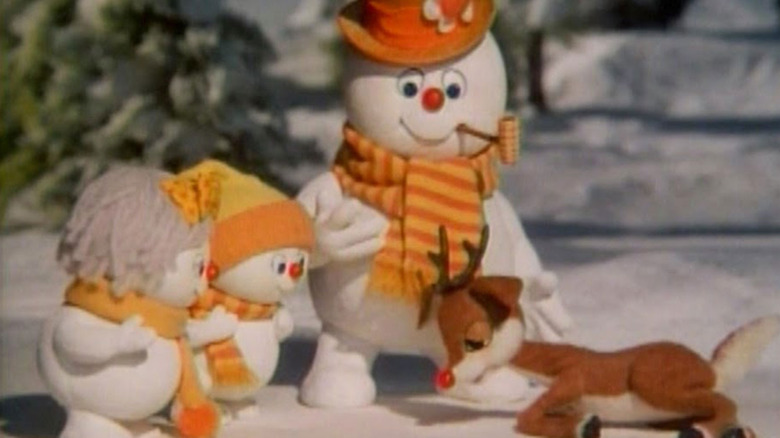 Rankin/Bass Productions
The 1964 animated movie "Rudolph the Red-Nosed Reindeer" is a certified classic, clocking in with a 95% Rotten Tomatoes score. One of its sequels, "Rudolph and Frosty's Christmas in July," does not share the original film's warm reception.
When Rudolph (Billie Mae Richards) notices that his famous red nose is no longer bright, he is sent by Santa (Mickey Rooney) to find Lady Boreal (Nellie Bellflower), who gave his nose its glow, to help him navigate through a treacherous storm started by Winterbolt (Paul Frees), the overlord of the North Pole. The problem is that there are "Independence Day" overtones that drown out the Yuletide spirit.
You might think this is a team-up movie, but it's really not. Frosty the Snowman (Jackie Vernon) and his family are blackmailed by Winterbolt into putting Rudolph's glowing nose out for good in exchange for safety amulets. Of course, the two legendary holiday characters reconcile by the end, when they defeat Winterbolt, but it's a team-up that could've been much better established. When you have two of the most-recognizable Christmas figures in one movie, the story should write itself. "Rudolph and Frosty's Christmas in July," however, misses the mark entirely.
6. The Santa Clause 3: The Escape Clause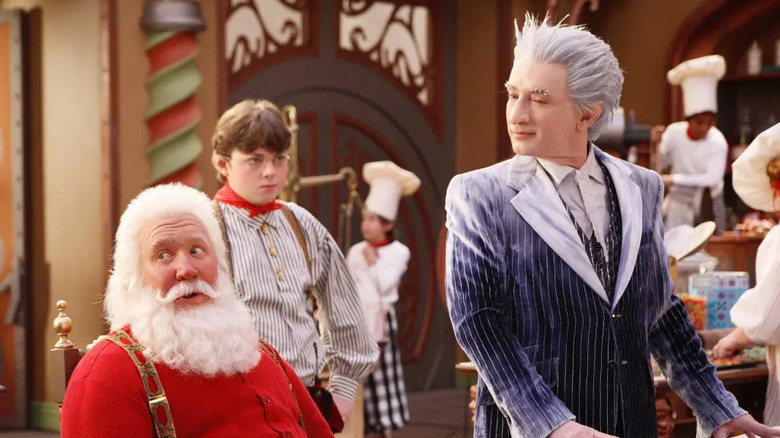 Walt Disney Pictures
"The Santa Clause" is one of the best classic Christmas movies ever made. "The Santa Clause 3: The Escape Clause," however, is not. Released 12 years after the original, Tim Allen reprises his role as Scott Calvin, better known as Santa Claus, while a new antagonist, Jack Frost (Martin Short) is ushered into the fold. At this point, Short's comedy career had been stagnant, while Allen was having a rough go, starring in critical flops like "Christmas with the Kranks," "The Shaggy Dog," and "Zoom." It's astonishing that, when "The Santa Clause" came out in 1994, Allen was one of the most popular leading men in all of television.
"The Santa Clause 3" is unsure of what it wants to be. At some points, it's a film about in-laws and family dysfunction. Other times, it's a battle between Scott and Frost. Frost wants to take over the North Pole, but Scott really just wants his holiday to not be so chaotic. Allen does what he knows best and plays the role safely, which is part of the movie's downfall. Allen couldn't be bothered to try and match Short's performance at all. That left Short all alone on an island of caricature and over-the-top enthusiasm that is too Disney Channel slapstick for its own good. That's a big reason why "The Santa Clause 3" now lives in the basement of Disney+ with "Home Alone 4." Luckily, Short has had a career renaissance with "Only Murders in the Building."
5. Silent Night, Deadly Night 5: The Toy Maker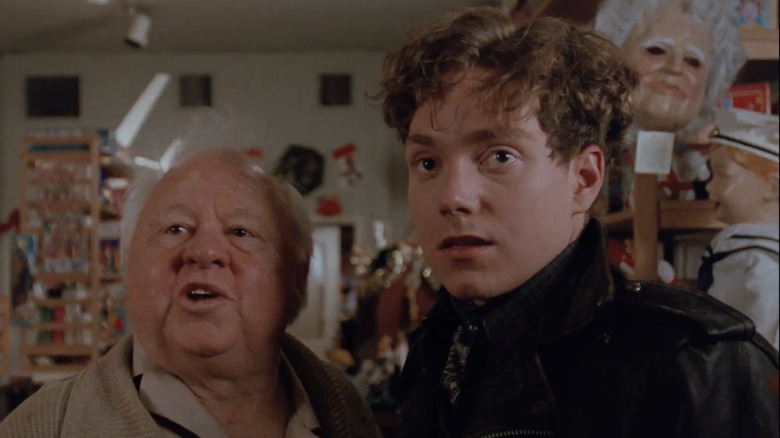 Still Silent Films Inc.
Horror and Christmas movies have a surprising relationship. "Black Christmas," released in 1974, helped usher in a wave of slasher flicks that carried the successes of the horror genre throughout the 1980s. In 1984, Charles E. Sellier Jr. made "Silent Night, Deadly Night," which spawned a considerable franchise.
Only seven years later, the "Silent Night, Deadly Night" franchise welcomed its fifth installment, the direct-to-video "The Toy Maker," starring beloved movie icon Mickey Rooney. Once the biggest movie star in Hollywood, Rooney was a pretty reliable leading man. But why he was cast in the worst entry of a consistently bad horror franchise makes no sense. At that point in his career, he'd been relegated to family comedies and animated films.
"The Toy Maker" follows Rooney as Joe Petto, a murderous toy maker, and Brian Bremer as Pino, his son. The film is pretty standard as far as the horror genre is concerned, in that there are a lot of violent kills, but the scene where Pino sexually assaults another character cements "The Toy Maker" as a failure. When you have a Christmas movie, there are also presents, Yuletide, and hijinks that you can play off of, which is what made "Child's Play" so good. Too bad this film, like the three that came before it, squandered any potential with putrid acting, a terrible script, and offensive plot points.
4. Christmas Vacation: Cousin Eddie's Island Adventure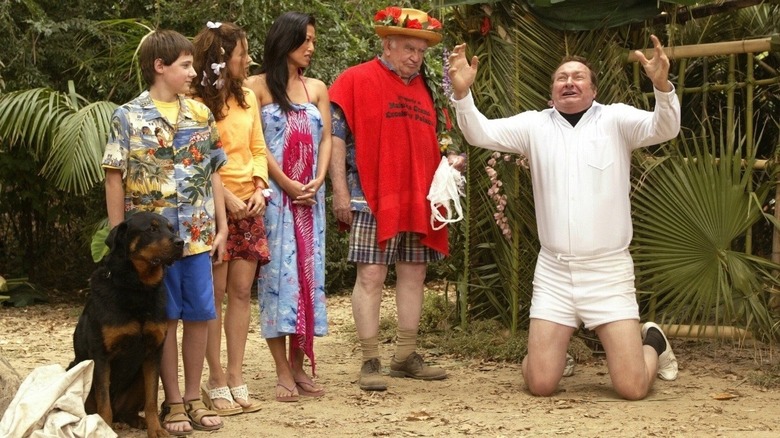 Warner Bros. Television/NBC
There's a good chance you didn't know that a sequel to "National Lampoon's Christmas Vacation" existed, but now you do. Sorry. A made-for-television film for NBC in 2003, National Lampoon decided to attach their name to this wasteland of a production. In fact, Lampoon CEO Matty Simmons wrote the script for it.
"Cousin Eddie's Island Adventure," as you might have guessed, follows Eddie (Randy Quaid) and his wife Catherine (Miriam Flynn) on their vacation to the South Pacific. How did Eddie and Catherine, who, in "Christmas Vacation," were living in an RV, afford such a getaway? Well, at his nuclear facility job, he gets bitten by a chimpanzee who just so happens to be his co-worker. Eventually, they get stranded on a different island, and Eddie must rise to the occasion of making Christmas enjoyable despite the circumstances. The plot is ridiculous and continues to feed into the oversaturated joke that Eddie is not very smart.
A bright spot in this movie is that Dana Barron reprises her role as Audrey Griswold. Other than Flynn and Quaid, Barron is the only member of the original "Vacation" cast to make an appearance in this movie. Quaid's character gets way too much screen time, as he offers little more than bumbling around. Sadly, Quaid is at his lowest in "Cousin Eddie's Island Adventure." Thankfully, it was just a television movie, so many eyes have been spared.
3. Jingle All the Way 2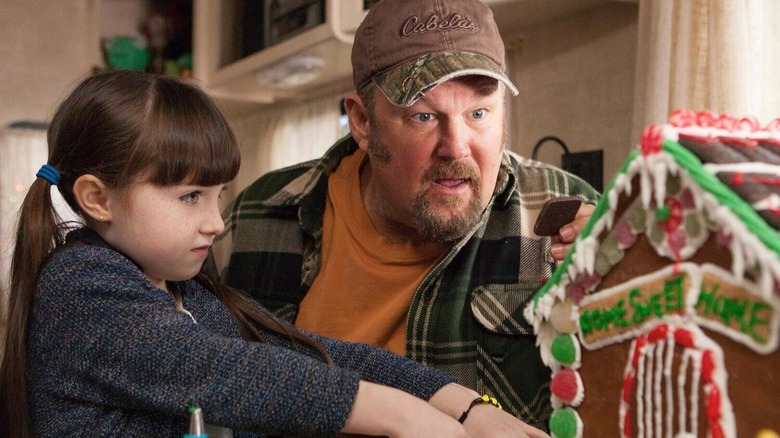 20th Century Fox Home Entertainment
It's not like "Jingle All the Way" was a great movie to begin with — it's aged terribly. Rotten Tomatoes considers it one of the worst Christmas films ever made. A direct-to-video sequel with original star Arnold Schwarzenegger wouldn't have been good, let alone a sequel starring Larry the Cable Guy. 
"Jingle All the Way 2" is as funny as a car crash. It was made by WWE Studios, an entertainment corporation that only makes movies featuring at least one wrestling superstar. In this case, it's Santino Marella. WWE Studios has made other Christmas movies that you have probably never heard of, too, like "Santa's Little Helper" and "Christmas Bounty."
Larry Phillips (Larry the Cable Guy) is a single dad trying to win the favor of his daughter Noel (Kennedi Clements). Larry feels like he's losing his daughter to her new stepdad Victor, (Brian Stepanek). It's like "Deck the Halls" if it was about two grown men sabotaging each other over the love of a child.
But "Jingle All the Way 2" has absolutely nothing to do with the original "Jingle All the Way," save for the barebones idea that Noel wants a talking bear toy, and Larry and Victor vie to gift her one. It's just a Christmas movie about two feuding dads with a familiar title slapped over it, making it a confusing sequel to an already sluggish holiday classic. It still wouldn't be a good movie if it was called anything else, but at least it wouldn't end up on this list.
2. Home Alone 4: Taking Back the House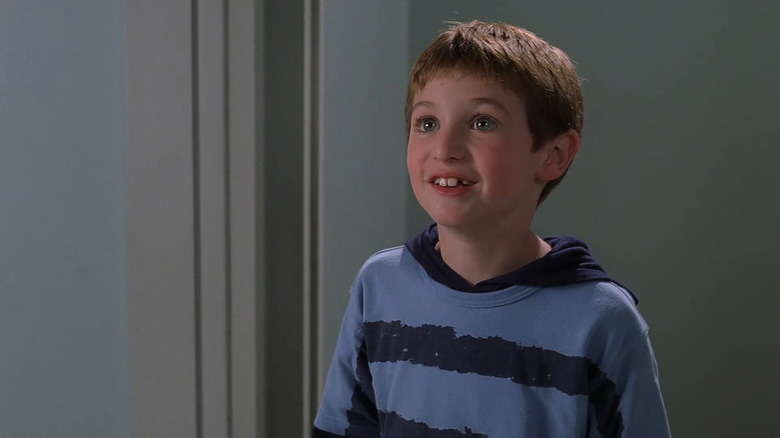 Fox Television Studios/ABC
"Home Alone 3" is a decent film. The movie that came after that, the made-for-television, ABC special "Home Alone 4: Taking Back the House," is absolutely not. Proving that you can't bank a home run off of a familiar character, "Home Alone 4" flounders in its attempt to put a new spin on Kevin's story. Erasing the big, happy family image of "Home Alone" and "Home Alone 2," the McCallisters are now, seemingly, a middle-class family about to be knee-deep in a divorce. 
Patriarch Peter (Jason Beghe) is leaving his wife Kate (Clare Carey) for Natalie (Joanna Going), a young, rich socialite. In the wake of his dad's midlife crisis abandonment, Kevin (Mike Weinberg) decides he wants to cash in on the adultery and divorce by spending Christmas with them. Kate obliges, for some reason, and Kevin is soon reveling in the riches of a gigantic bedroom brimming with video games, toys, and at least 20 television monitors on the wall.
There's a kidnapping plot, an inside job that involves the mother (Barbara Babcock) of Wet Bandit alumni Marv (French Stewart), and a cringey montage of Kevin, Peter, and Natalie putting up the Christmas tree. The booby traps Kevin sets up are not all that fun or terrorizing. Stewart's rendition of Marv looks and dresses almost identically as Joe Pesci did as Harry in the first two films. It's a mess.
1. A Christmas Story 2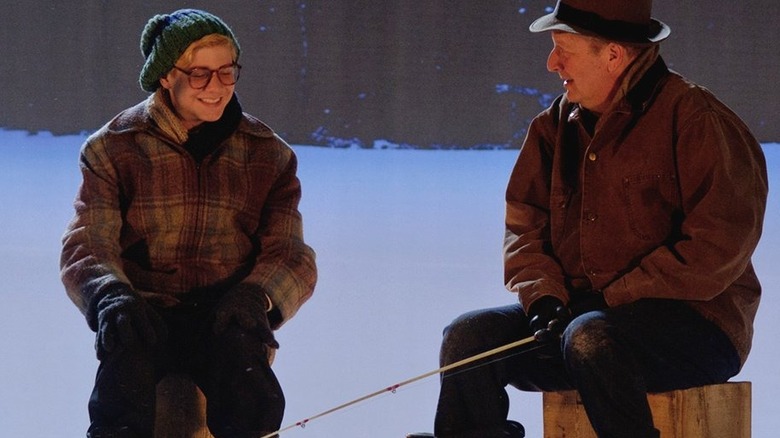 Warner Home Video
Where "A Christmas Story" explored Ralphie's (Peter Billingsley) holiday life that accumulated in him getting the BB gun on Christmas morning, "A Christmas Story 2" puts Ralphie's (now Braeden Lemasters) conundrum — him wrecking a dealership car off the display ramp — front and center. It's not so much a tale about the unique beauty of a family Christmas, but a teenager in the post-war Midwest trying to work enough hours at a Higbee's store in order to pay the dealer back for the damage. Our protagonist Ralphie is still yearning for a gift that's out of his reach. In the original, it was the infamous Red Ryder BB gun. In "A Christmas Story 2," it's a 1939 Mercury Eight convertible.
We do get holiday movie veteran Daniel Stern as an annoying, unrecognizable caricature of the Old Man, but no movie has ever succeeded simply because Stern was in the cast. All of the town shots look like a soundstage, and there's an outdated, Disney Channel original movie aura throughout. "A Christmas Story 2" was a mess and should've never been made, which you can say about many of the films on this list. Most of the other sequels, however, were not as offensive to their source material as this one, as "A Christmas Story 2" turned beloved holiday characters into disastrous, irredeemable parodies.