Deadliest Catch Fans Are Concerned About Jake Anderson In Mandy Hansen's Recent Post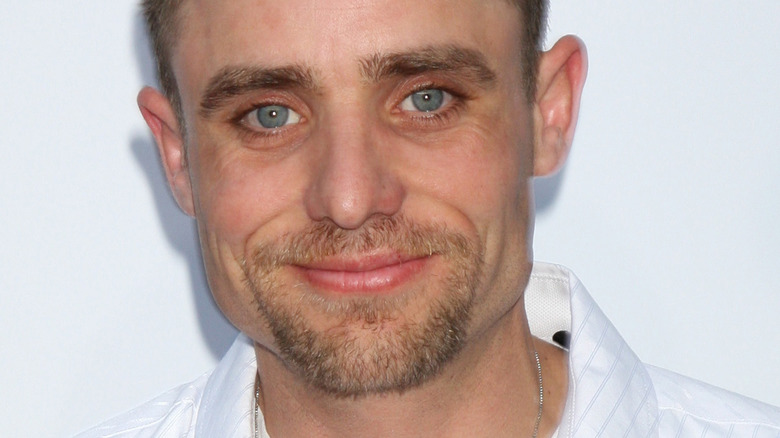 Kathy Hutchins/Shutterstock
It's no secret that many of the men who operate the F/V Northwestern on Discovery Channel's "Deadliest Catch" have experienced tumultuous moments in life. From captain Sig Hansen's drunken assault of an Uber driver in 2017 (via The Seattle Times) to deckhand Matt Bradley's longtime battle with addiction, these guys have gotten into their share of trouble.
In 2014, another Northwestern crew member shared details about his own dark days in the book "Relapse." Jake Anderson, who Hansen took under his wing, experienced addiction and homelessness prior to learning the ropes on the Bering Sea. Currently, he's a husband and father –- a stark contrast to his former self. Additionally, he's by Hansen's side on "Deadliest Catch: The Viking Returns," which sees the captain ditch the Bering Sea to explore the waters of his Norwegian homeland, all with the goal of launching a new king crab fishing empire.
For Anderson, new opportunities are presented to him in this fresh environment. He's entrusted with the 193-foot Stalbas, butts heads with Hansen about whether troll crab or red crab is a better option to catch, and even discovers more about his family roots, including that of his late father. Anderson has come a very long way from his days on the street. However, after appearing in an Instagram post with Hansen's daughter Mandy, who can also be seen on "The Viking Returns," many fans are worried about his health.
Deadliest Catch fans want Jake Anderson to stop smoking
On Instagram, Mandy Hansen, who many will remember from the original "Deadliest Catch," posted a photo of herself and Jake Anderson to promote a new episode of "Deadliest Catch: The Viking Returns." The two are all smiles as they stand in front of a scenic mountain view. But many of Hansen's followers overlooked these aspects of the picture and focused on something Anderson was holding — a cigarette.
Despite achieving sobriety, Anderson has another less-than-healthy habit -– smoking –- which fans fear is taking its toll. @leprechauna commented, "LOVE this show and love seeing Jake!! Jake, if you see this, please stop smoking. We want to see you live a healthier life! We adore you and wish you all the success possible!" @americansavage99 said, "Tell Jake to quit smoking. Velo pouches make it easy..." @whitefordbruce added, "He is aging fast."
Fans expressed the same concerns in response to a clip of Anderson posted on the "Deadliest Catch" Facebook page. However, some think his aged look is due to several factors, not just smoking. One follower said, "Cigarettes, stress and working in a seated position for sometimes 36 hours at a time. He definitely needs some beauty sleep."
Anderson's job –- putting himself in dangerous situations to make a living –- is certainly not for the faint of heart. Therefore, some fans might do well to take this into consideration before making judgments about his health and appearance. On his own Instagram, Anderson regularly posts sweet photos with his wife and children. This shows that, despite the smoking, he's still in a better place than he was during those dark years on the street.