What Pete Townshend Thinks About CSI Using His Songs For The Show's Opening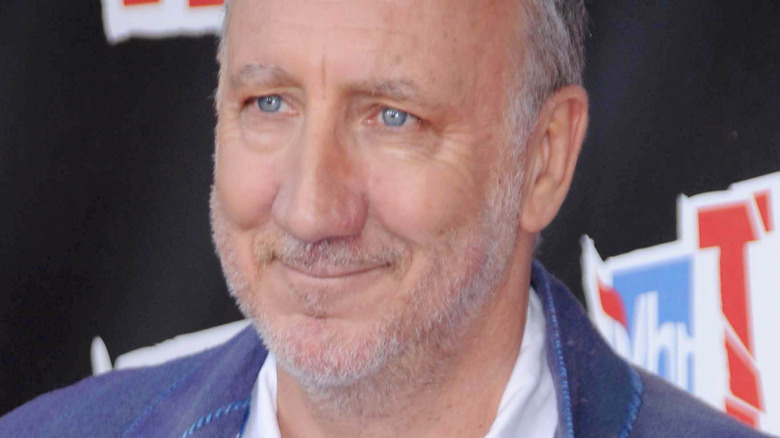 s_bukley/Shutterstock
To this day, The Who is still one of the best-selling and most influential 20th-century rock bands, thanks in part to guitarist and main songwriter Pete Townshend. It was Townshend who wrote most of the band's songs and was inspired to smash guitars during live shows in a sensational stage act (with drummer Keith Moon doing the same to his instrument). He also conceived their rock opera "Tommy," which was released as a double album in 1969 and later got a film adaptation in 1975, with lead singer Roger Daltrey starring as the titular character's adult version.
These actions helped make The Who one of the most cutting-edge rock bands of their generation, until their first breakup in 1983. Soon, their songs would appear on the soundtracks of films, ads, and television shows (via Vulture).
Townshend acknowledged to Rolling Stone that there were at least some shows and advertisements that didn't do a good job of using his band's songs. Here's how he feels about the "CSI" franchise using five major songs by The Who as themes for their shows, including the track "Who Are You" for the main series.
Pete Townshend was grateful for the exposure CSI gave the band
In a February 2022 interview, Pete Townshend told Rolling Stone that the main reason The Who's songs were licensed for commercial use after their first breakup was that they needed to earn money. "In 1982, the Who closed down, and we weren't earning money," Townshend told the outlet. "I started allowing my songs to be used for commercials, for film use, and not all of it was good. There's no question. Some of it was embarrassingly bad. But it earned money."
Many classic rock bands went a similar route, with the Rolling Stones using a publishing company to license their music for years. As for The Who, Townshend explained that he and his bandmates finally saw their best songs get the treatment they truly deserved when they were used by the "CSI" television franchise. To that end, five of the band's tracks, including "Who Are You," "Baba O' Riley," and "Won't Get Fooled Again," were used as themes on various "CSI" shows. This continued with the recent sequel series, "CSI: Vegas," as well, which brought back "Who Are You" as its opening song.
Townshend was happy however about these songs getting a wider audience again. "They were on TV over and over and over and over again. It just reminded people that we were still there," he told Rolling Stone. The guitarist credited "CSI" with expanding the band's listenership. So even if you aren't a fan of the series, the franchise really did bring the music of The Who to new audiences in the 2000s.