Tulsa King's Premiere Ratings Slay House Of The Dragon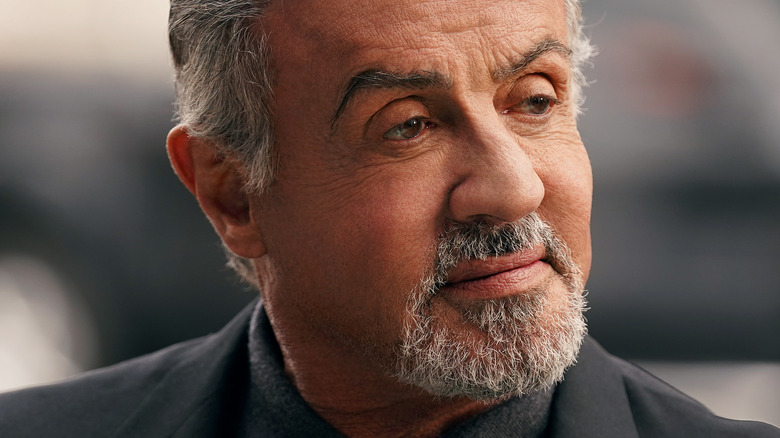 Brian Douglas/Paramount+
Sylvester Stallone has been a massive star for over four decades. From his beginning as the ultimate underdog in "Rocky," to his throwback to the action movies of the past in "The Expendables," Stallone knows what works. Taylor Sheridan has also figured out what works, as his brainchild "Yellowstone" became a cultural phenomenon that brought the cool back into the ranch lifestyle. The series starring Kevin Costner led to a prequel series chronicling the beginnings of the Dutton Ranch starring Sam Elliot and Tim McGraw, "1883." That success has led to a sequel to the prequel, "1923."
When you combine those two talents into one project, you get a series that seemed destined to be a hit. With the action cinema legend taking on the mafioso lead part in the brilliant creator's new series, "Tulsa King," there was a lot to look forward to for fans of both. The series follows Dwight "The General" Manfredi (Stallone), who is released from prison after 25 years to discover that his mafia family has nothing left for him and he is exiled to Oklahoma. While there, his mission is to rebuild his criminal organization and become the king of Tulsa.
There were huge expectations that the crew had to face, having one of the biggest figures in the industry working with the newest "it" guy of television. Luckily for them, the fans showed out for the premiere, and it became something that might be bigger than anyone expected.
Tulsa King has been a great success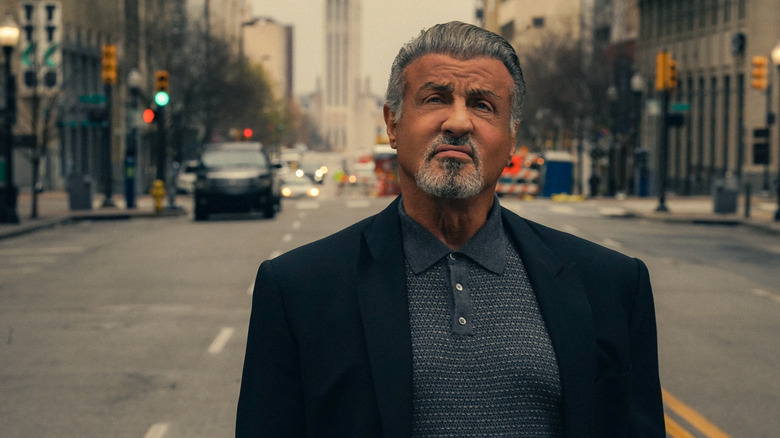 Brian Douglas/Paramount+
According to The Hollywood Reporter, "Tulsa King" brought in numbers that make it the most significant series debut of the year. The Nielsen numbers provided to THR by Paramount show that the series premiere brought in more viewers than HBO's "House of Dragon," making it the most viewed of the year. In a year that saw long-awaited projects like "Obi-Wan Kenobi," "Andor," "The Lord of the Rings: The Rings of Power," and "Dahmer – Monster: The Jeffrey Dahmer Story," having the most-watched series premiere is a massive moment for Paramount+.
Paramount Streaming's chief programming officer Tanya Giles spoke about the premiere, saying, "With the combination of the incomparable Sylvester Stallone and Taylor Sheridan's darkly comedic twist on the beloved mobster genre, we have found our latest hit in 'Tulsa King.' The series premiere on Paramount+ helped drive a record signup day, fueled by our unique ability as Paramount Global to tap into Paramount Network's incredible 'Yellowstone' audience." CEO Chris McCarthy added that the success of the series became all the information they needed to greenlight the show for a second season.
Of course, a lot goes into creating a hit series. But one of the main components is the face of the show. Stallone is, of course, someone that can bring people to the theater for big-budget movies, and he's proven that with franchises like "Rocky," "Rambo," and "The Expendables." But his role in "Tulsa King" may be a very special one for him.
A fulfillment of a dream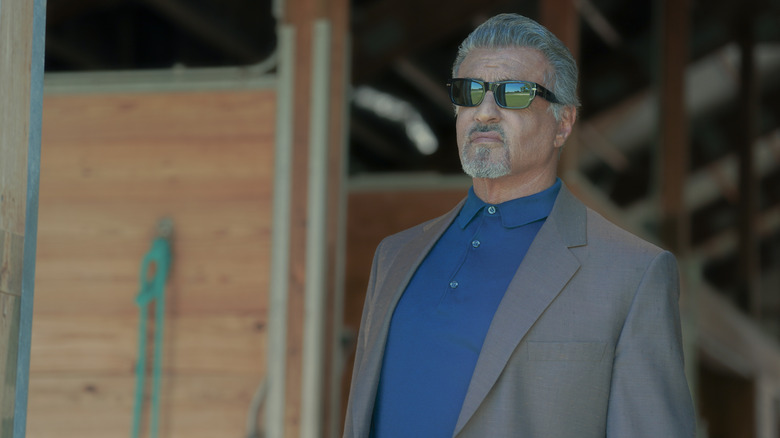 Brian Douglas/Paramount+
Sylvester Stallone has some history with Paramount. According to Stallone, in an interview with Empire Magazine while promoting "Tulsa King," he revealed that he wanted to be a gangster and that he was refused a part in "The Godfather." He apparently campaigned to be an extra in the famous wedding scene, but they told him he wasn't the type. 50 years later, he explained to The Hollywood Reporter that while he always wanted to play a gangster, he wanted to play his gangster a little differently.
"I wanted to play a unique gangster who is not like a gangster, at least, not when you meet him. He's actually a guy who likes to cooperate," Stallone told THR. "That way, you don't assume the automatic cliché of a thug who stares at you dead-eyed and doing the deep voice. But if he has to get heavy, it's gonna get real heavy. So I said, 'I'm gonna play him as close to myself as I've ever done in my life.'"
Maybe it is a little ironic that Paramount is returning to Stallone to lead their gangster series five decades after they told the Italian actor he wasn't the type to play an extra in a movie about Italian mafiosos. But Stallone seems ready to show them what they missed out on all those years ago by leading the way to Paramount+'s most significant new subscriber day in history. With every platform out there dropping millions of dollars to bring shows to their customers, Stallone and Taylor Sheridan are showing that all you need is a recognizable face and a lifelong dream to outpace them.