Cameron Monaghan Wanted William H. Macy To Play His Dad Long Before Being Cast In Shameless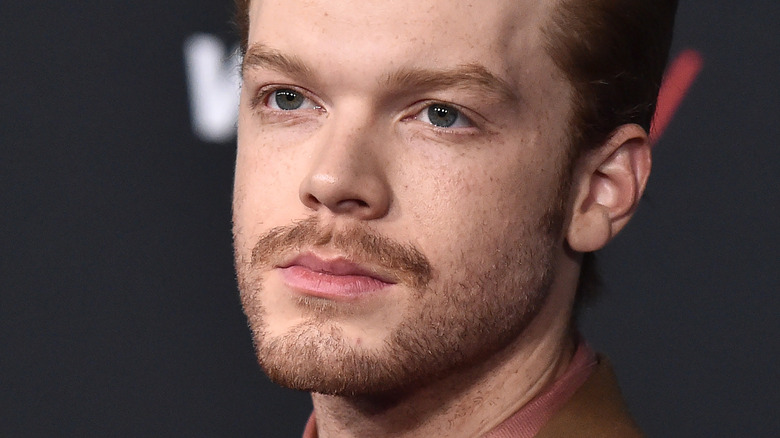 DFree/Shutterstock
There's been no particular shortage of dysfunctional families in television over the years. And if the likes of the Bunkers, the Bundys, the Conners, and the Simpsons have taught us anything, it's that tales of familial strife — be they hilarious or heartbreaking — continue to play in the small screen landscape. There's little question. However, that landscape was dramatically shaken with the 2011 arrival of "Shameless" because the Gallagher family wholly re-defined what a dysfunctional family could be.
"Shameless" was nothing if not boundary-pushing during its 11-season run on Showtime, with the Gallagher's getting into, out of, and often back into sticky situations that likely would've made Archie Bunker faint. Series creatives relied heavily on its ensemble cast's goodwill and adventurous spirits to lend an air of authenticity to even the stickiest pickles they threw at the Gallagher clan.
Many of the series' stars were, of course, either new to the game or rising stars when they joined the cast. That includes Cameron Monaghan, who portrayed the soulful, but troubled Ian Gallagher for most of the series run. And during a recent interview, Monaghan admitted joining the cast was particularly meaningful as he'd always wanted to play William H. Macy's son. 
Macy was the reason Monaghan pursued his role on Shameless
Cameron Monaghan made the heartrending admission during a zoom call with the Faction Talk podcast. And he did so in front of most of his "Shameless" family, including William H. Macy. While the lineage of Ian Gallagher was contested early in the series, Macy indeed played the character's father, Frank Gallagher. And as Monaghan noted, that was a dream come true, with the actor saying half-bashfully, "I used to tell my mom I wanted William H. Macy to play my dad in something."
Macy can be seen positively beaming at the admission, as are several of Monaghan's other cast mates. The actor claimed he was a great admirer of Macy's work before "Shameless," singling out 1996's "Fargo" as a personal film of note. Monaghan added that Macy's ginger hair was a big reason he wanted to work with him. "There's not that many people with, ya know, strawberry blonde hair in the industry," the actor quipped, adding, "He just looks like someone who could be my dad, and I actually remember saying that to my mom."
In the end, Monaghan said Macy was the primary reason he pursued the " Shameless " role. After landing his dream job in 2011, the joker from "Gotham" couldn't have imagined he'd be playing Macy's son for the better part of the next decade. Given the reverie with which Monaghan speaks of Macy, he enjoyed the ride.