Why Stanley Cornik From Alaska Daily Looks So Familiar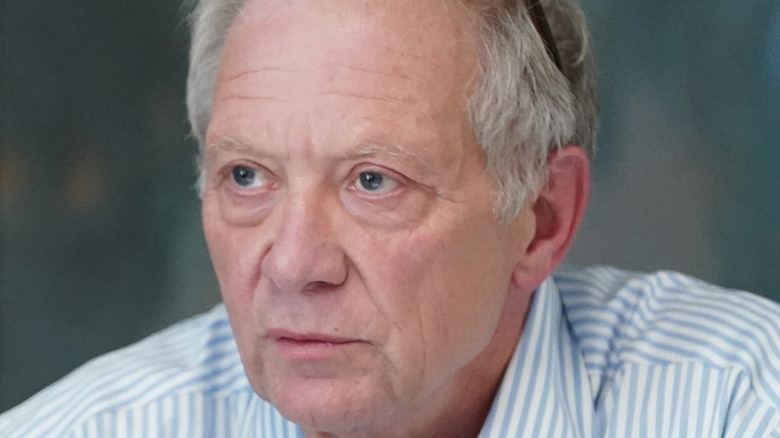 ABC/Darko Sikman
"Alaska Daily" is the new ABC series created by Tom McCarthy that stars Hilary Swank as Eileen Fitzgerald, a high-profile New York City journalist whose career hits the skids after a seemingly hard-hitting profile of a general is labeled fake news. The series begins when she receives a job offer from a tiny local paper in Anchorage, Alaska, which she's forced to accept. As Eileen struggles to adjust to her new reality, she discovers that she can help break what might be the biggest story of her career: a series of reports on the abductions and murders of indigenous women.
The character who offers Eileen the job in Alaska is Stanley Cornik, who's Eileen's ex-boss and the current managing editor of the "Daily Alaskan." He's played by Jeff Perry, who's one of the three founding members of the influential Steppenwolf Theater Company in Chicago, along with Terry Kinney and Gary Sinise (via Steppenwolf.org). Perry has been appearing in movies and on television since 1978 (per IMDb), and here are some of his notable roles.
Jeff Perry played Mr. Katimski on My So-Called Life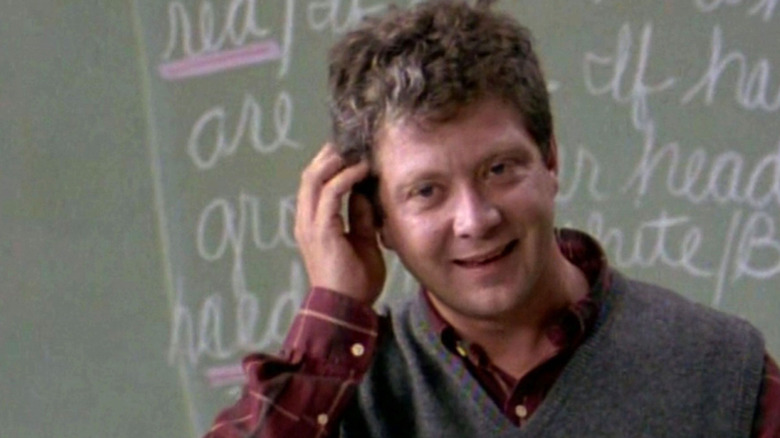 ABC/Hulu
Created by Winnie Holzman "My So-Called Life" is an ABC drama that ran for one season from 1994 to 1995, but it's especially notable for being the show that helped launch both Claire Daines' and Jared Leto's careers. In it, Daines stars as Angela Chase, a high school sophomore who navigates the ups and downs of school, family life, friendships and dating. Leto plays Angela's occasional boyfriend, the guitar-playing Jordan Catalano.
Jeff Perry appeared on four episodes of the series as Richard Katimski, Angela's English teacher. Holzman actually wrote the role for Perry after she saw him teach an acting class, which is part of Perry's role in the Steppenwolf Theater Company.
"The kind of pausing that you're hearing during these last five minutes as a gigantic character trait; that's where biography met art," Perry told Cosmopolitan. "Because that's exactly what I do–I pause every six words or so and think forever and then I continue. And so that little aspect of Mr. Katimski was born out of Winnie's imagination and a little bit of field research into how Jeff Perry behaves."
Jeff Perry played Thatcher Grey in seven different seasons of Grey's Anatomy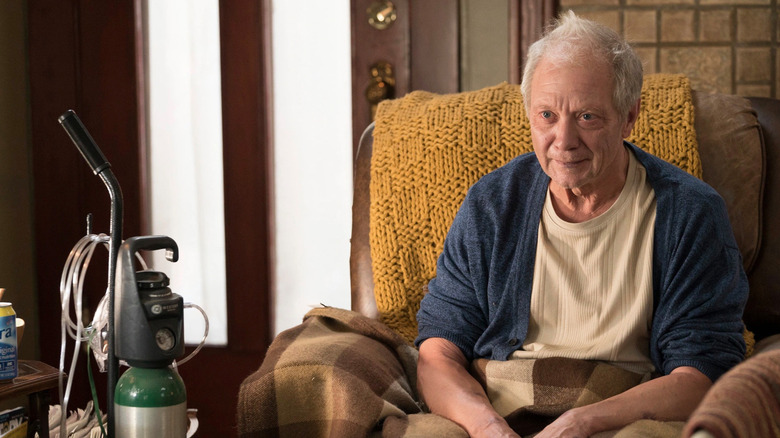 ABC
Fans of Shondaland, the universe of shows created and written by uber-producer Shonda Rhimes, are probably most familiar with Jeff Perry's work, as he was an important character on two of Rhimes' series. The first is "Grey's Anatomy," the primetime medical drama that premiered in 2005 and is still running today. For most of the show's run, the series has focused on the professional and personal lives of its main character, Meredith Grey (Ellen Pompeo). Perry plays a central figure in Meredith's life: her father, Thatcher Grey.
Thatcher and Meredith's relationship was strained, to say the least. At the beginning of the series, Thatcher and Meredith had been estranged for about 20 years–Thatcher and Meredith's mother Ellis (Kate Burton) divorced when she was five, and when Thatcher remarried, Meredith felt abandoned. The father and daughter first begin to reconnect when Thatcher's daughter and Meredith's pregnant step-sister Molly (Mandy Siegfried) come into Seattle Grace Hospital. However, the death of his second wife Susan (Mare Winningham) drives him to alcoholism, which further strains his relationship with Meredith. The two go several more years without speaking, but when Thatcher receives a terminal cancer diagnosis, they reconcile. 
Jeff Perry played Cyrus Beene on Scandal 2012-2018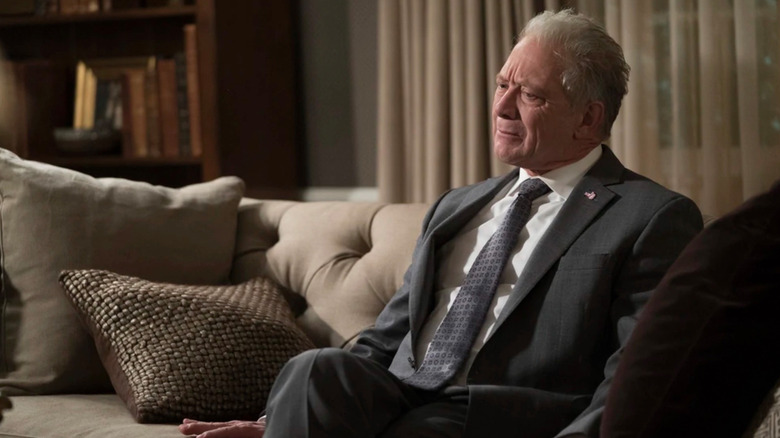 ABC
Showing off his impressive range, Jeff Perry portrayed a completely different character than the previous two on this list when he played Cyrus Beene on all seven seasons of Shonda Rhimes' "Scandal" on ABC. Cyrus Beene started off as President Fitzgerald Grant III's (Tony Goldwyn) chief of staff and ultimately becomes vice president. Cyrus is also known as the first openly gay chief of staff to a president in US history. As a character, he's the kind of person who could fix everyone else's problems but is also ruthlessly determined to do anything he can to advance his boss's career. In one particularly inglorious moment, James attempts to manipulate his political rival's closeted gay husband into trying to seduce his own husband. Ultimately, Cyrus becomes the third vice president to resign in office after John C. Calhoun and Spiro Agnew.
One reason why Cyrus is such a compelling character is because he's capable of doing despicable things yet somehow remains sympathetic. Perry explained that this was because he didn't see the character as either a hero or a villain. "To try to do your best to inhabit a character, you judge them to the extent that you judge yourself," Perry told The Daily Beast. "That shame and remorse are inevitably part of the equation when you're capable of really screwing up, which Cyrus is. Denial and pride and ambition and competitiveness are also part of the man's hardwiring, as are compassion and romanticism and idealism. So, like all of Shonda's brilliant characters, there's such authentic depth in all of the dichotomies she creates."
Jeff Perry has appeared on both seasons of Dirty John so far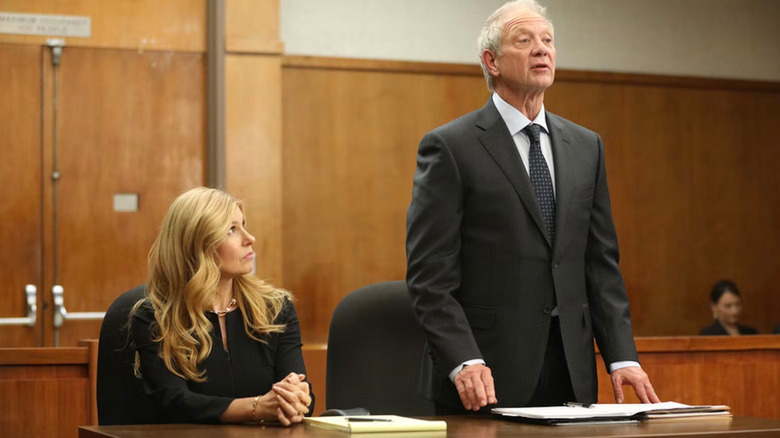 Bravo
"Dirty John" is the true crime anthology series based on a popular podcast of the same name. The TV show premiered on Bravo in 2018 before moving to the USA Network in 2020. As an anthology series, each season focuses on a different woman with a manipulative and dangerous husband, and things inevitably turn deadly. In Season 1, "Dirty John: The John Meehan Story," Debra Newell (Connie Britton) meets and falls in love with a seemingly perfect anesthesiologist, who's played by Eric Bana. In Season 2, "Dirty John: The Betty Broderick Story," Amanda Peet stars as the titular Betty Broderick, a woman whose husband Dan (Christian Slater) is carrying on an affair and gaslighting her about it. Ultimately, Betty murders Dan and the other woman, Linda (Rachel Keller)
Perry plays an ancillary character in both seasons. In Season 1, he plays Debra's lawyer Michael O'Neil in three episodes. In Season 2, he returned for one more episode as Dr. Lusterman, a psychologist who testifies in Betty's trial. He provides a crucial testimony about the effects of long-term infidelity and dishonesty on a person's psychological state.
Jeff Perry played Lou Shaw on Inventing Anna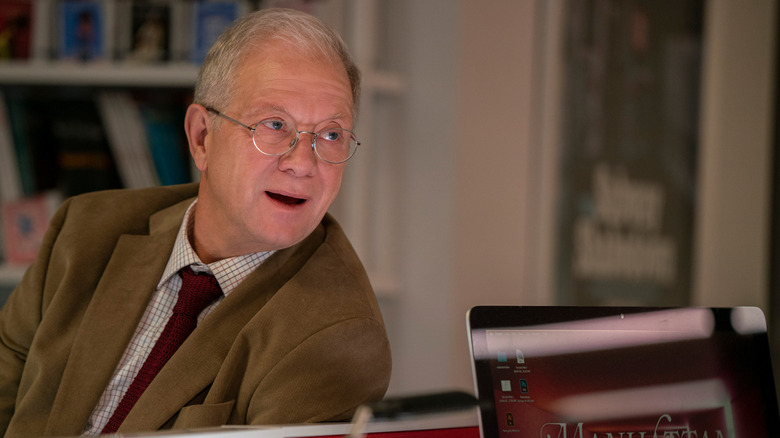 Nicole Rivelli/Netflix
In 2017, Shonda Rhimes signed a $100 million development deal with Netflix (per Forbes). Since then, Rhimes has worked on more than a dozen projects for the streaming platform, including "Inventing Anna." The series, which premiered in 2022, is a true crime drama based on the life of Anna "Delvey" Sorokin (Julia Garner), who conned New York City's elites into believing she was a socialite, and then bilked them out of hundreds of thousands of dollars. Meanwhile, journalist Vivian Kent (Anna Chlumsky) is determined to tell Sorokin's story.
Rhimes brought frequent collaborator Jeff Perry along for the ride. On "Inventing Anna" he plays Lou Shaw, a journalist at Vivian's magazine. Well past his prime, he's nicknamed "the King of Scriberia," or the leader of a coterie of journalists who are thought to be too old to produce great work, yet are too well-respected to be fired.