Brian Dietzen Was Hesitant To Co-Write An Episode Of NCIS For Fear Of Overstepping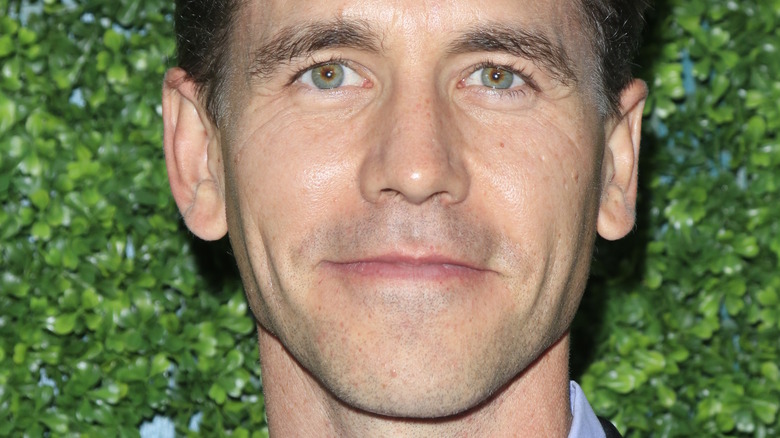 Kathy Hutchins/Shutterstock
For fans of the iconic episodic TV staple "NCIS," Brian Dietzen's Chief Medical Examiner, Jimmy Palmer, is known and loved as the medical pro assisting in and conducting autopsies for what seems like forever. A veteran of the popular procedural since his first appearance toward the end of Season 1 in 2004 (per IMDb), Dr. Palmer quickly establishes himself as a socially awkward yet eminently competent forensic authority charged with helping to unravel the causes of death behind a daunting parade of variously dispatched victims.
Initially coming on board the series as part of the "NCIS" investigatory team in the role of assistant to his predecessor CME, Dr. Donald "Ducky" Mallard (David McCallum), Palmer has endured on the show for over 340 episodes. Glimpsed as a more or less auxiliary presence for the initial seasons of "NCIS," Dietzen's role on the series would gradually expand to present the young doc with more responsibilities over the years, culminating with his appointment to the CME position following Ducky's resignation in Season 16. One of the most seasoned veteran actors on the show and an established writer, Dietzen says he was a bit reluctant to take on scriptwriting duties on "NCIS" when the opportunity presented itself.
Dietzen viewed writing for NCIS as a daunting responsibility
As it turns out, Brian Dietzen made his feature film scriptwriting debut as co-writer of the 2012 movie, "Congratulations" (via IMDb).  But he says another matter is an actor writing for a series they star in. As he told Variety recently about co-writing the 2022 "NCIS" episode "The Helpers," most actors would generally rather direct than pen a script. In this regard, "Rocky Carroll directs a lot of episodes of our show," Dietzen said of the actor who plays NCIS Director Leon Vance, "And he's phenomenal. But it's not as though there's a signup sheet where it's like, 'I'd like to do this.'"
He added that after working with the "NCIS" ensemble for so many years, it seemed like a natural progression to write for the show. "Coming up with something and putting words in the mouth of these characters ... just seemed to make a lot of sense," he recalled. But once showrunner Steve Binder had cleared him to create what became "The Helpers," the prospect was frankly intimidating. "We have one of the most talented and under-appreciated writing staffs on television," Dietzen said, "So I thought that [writing for the show] might be seen as hubris, and I didn't want to overstep, to be honest." But the experience of crafting a story for "NCIS" was a positive one for Dietzen, as the actor told ET Online, "I couldn't be more proud."