Wednesday Fans Aren't Holding Back Their Distaste For The Series' CGI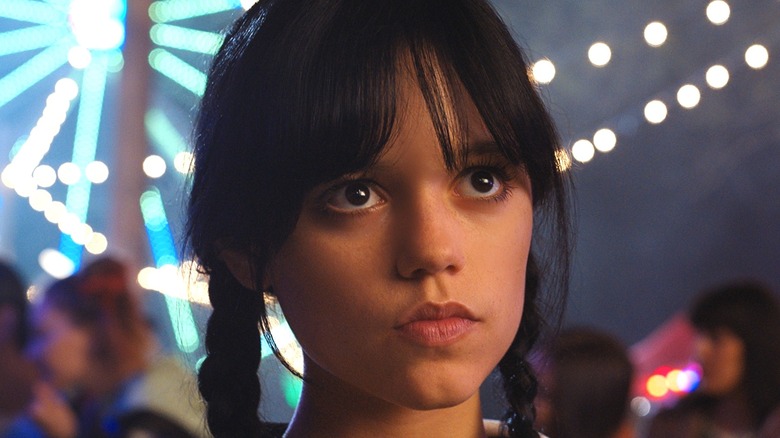 Netflix
Streamers have had a rough go of it lately when it comes to fan reception for dodgy CGI. The initial responses to the terrible CGI in the "She-Hulk: Attorney at Law" trailer were so intense that Disney did their best to correct the mistake quickly and quietly between the time that the YouTube trailer dropped and the series debuted. Now, Netflix is under fire for the CGI of its new macabre series, "Wednesday," based on the titular deadpan daughter from "The Addams Family."
The focus of the criticism for the Tim Burton-directed series has been on the monster called a Hyde, which does look Burton-esque with its large eyes and sharp teeth, but far from realistic. Admittedly, the original movies from the 1990s may have been a bit campy and weren't known for gritty special effects, but Netflix's "Wednesday" is a dark and twisted tale of murder and prejudice with heavier, more adult themes — and fans are disappointed that the CGI didn't live up to that standard of realism.
To voice their frustration with the CGI of "Wednesday," fans have taken to social media, and they certainly haven't held back.
Some viewers were so put off by the bad CGI that they wanted to stop watching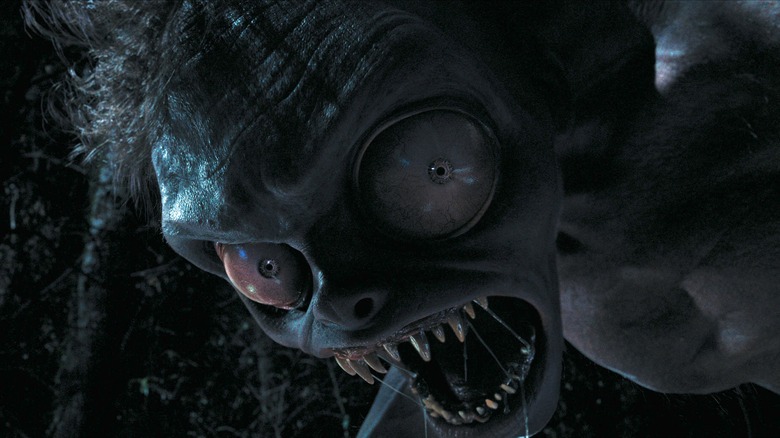 Netflix
On Twitter, viewers were very vocal about their distaste for the monster's appearance in "Wednesday." This was especially true for @gormintchaachi, who stated in so many words that they were fighting the urge to turn the show off because they found the bad CGI so grating. @chloe_india_ felt the same, begging Netflix to raise the show's budget so that they wouldn't have to stop watching.
Meanwhile, some viewers were amused by the low quality of digital animation. @stargirlelliee admitted to giggling at how awful it was, but still punctuated their tweet with a skull emoji in order to express their disapproval. Other stunned viewers like @rozlynhodges were wondering if it was "a goof," and @astrolst was laughing about it with a poorly animated GIF of their own. But @hosoterratoma made an insightful comment which garnered a fair amount of likes that Netflix might want to take into consideration if there's a Season 2 of "Wednesday" in the works: "This monster CGI on Wednesday might be one of the worst CGI i have seen in recent memory. Literally would have been happier if it was fully stop motion animated, which the design looks like a animated tim burton character anyway."
Indeed, it seems that fans would have preferred the monster to go full camp and embrace Tim Burton's unique stop-motion style from previous projects like "The Corpse Bride," rather than trying to split the difference between quirky and realistic, with a poorly executed final product.
On the other hand, Thing is a fan favorite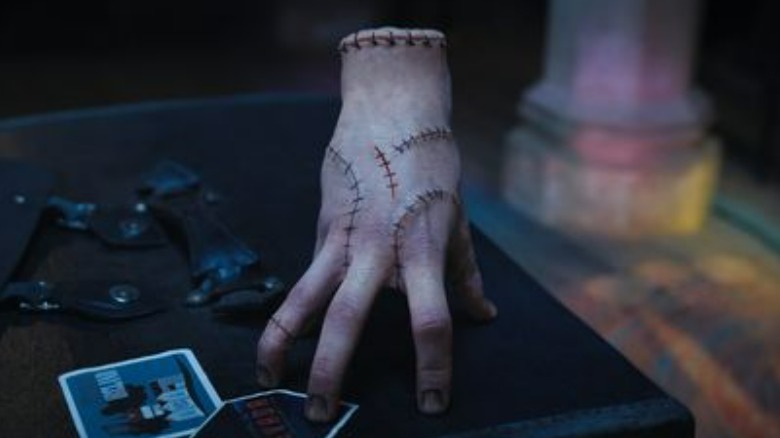 Netflix
As evidenced by tons of fan reactions to the appearance of the Hyde on "Wednesday," the show is fighting an uphill battle to get folks invested in its CGI. Thankfully, there is one visual effect that most fans agree couldn't have turned out better: Thing, as portrayed by Victor Dorobantu. The disembodied hand follows Wednesday around for the bulk of her journey, helping her out as she unravels the mystery behind Nevermore Academy and its many strange characters. All the while, the visual trickery behind him is incredibly convincing.
The official Netflix Twitter account dropped some behind-the-scenes Thing photos featuring Dorobantu in a blue suit (so he could be digitally removed in the edit) bringing his beloved character to life. Many fans took this opportunity to shower Dorobantu and Thing with some love. For instance, @DreTop1a wrote, "Top tier performance along with Jenna Ortega! Not a single speaking line but still conveyed emotions! Love it!" @AmiTheRobot described Thing as the perfect blend of visual and practical effects, and @ErraticInBlack admits they were totally duped by how the "Wednesday" team made Thing happen.
When it came to removing Victor Dorobantu from "Wednesday" scenes to create Thing, the VFX team did a fine job. However, when it came time to construct an entire Hyde, most fans would agree that they just missed the mark. All in all, the show's non-practical effects are a mixed bag that make it quite a roller coaster of a watch.