Jessica Jones Season 2 Episode Titles Revealed With New Posters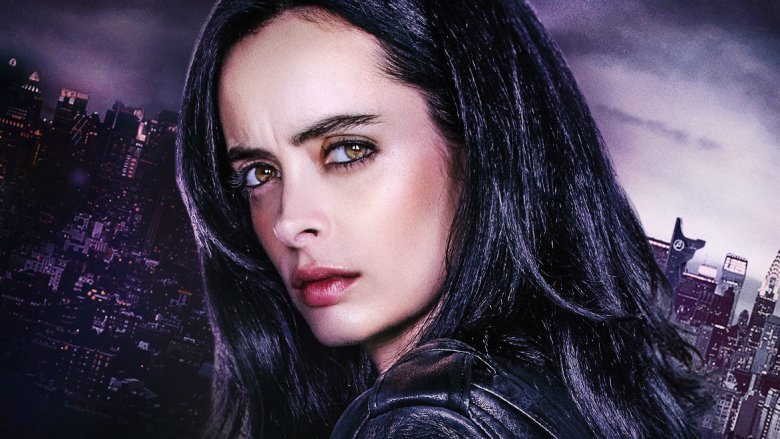 Netflix
If you're searching for clues about the upcoming second season of Jessica Jones, Netflix has given you a colorful place to look.
The streaming service released a video featuring comic book-inspired posters that reveal the titles for each of the 13 episodes in season 2 of the hit Marvel series starring Krysten Ritter. The posters were designed by 13 female artists from around the world.
Each of the covers and episode titles have some hints about plot points, but it looks like the reluctant superhero will be up against some unexpected threats in the second season. Yes, that's a giant octopus in episode five, but we're more worried about the fate of Trish (Rachael Taylor) from the art for the season's penultimate episode, "AKA Pray for My Patsy."
Here are all the episode titles for season 2:
"AKA Start at the Beginning"
"AKA Freak Accident"
"AKA Sole Survivor"
"AKA God Help the Hobo"
"AKA The Octopus"
"AKA Facetime"
"AKA I Want Your Cray Cray"
"AKA Ain't We Got Fun"
"AKA Shark in the Bathtub, Monster in the Bed"
"AKA Pork Chop"
"AKA Three Lives and Counting"
"AKA Pray for My Patsy"
"AKA Playland"
Meanwhile, Janet McTeer (Damages, White Queen) joined the cast for a big role in season 2, along with new additions J.R. Ramirez (Arrow) as Jessica's new super and potential love interest and Leah Gibson (The Twilight Saga: Eclipse, The 100) as Ingrid, who is described as "street-wise but who also has an education as a nurse."
Showrunner Melissa Rosenberg enlisted an all-female lineup of directors for season 2 with Raelle Tucker (True Blood, Supernatural) replacing Liz Friedman as executive producer.
The second season of Jessica Jones hits Netflix on March 8. Take a look at the posters in the video below.
Are you ready? Here are the 13 comic covers drawn by 13 international women that are inspired by the 13 female-led episodes of Season 2. #JessicaJonesReturns March 8. pic.twitter.com/ONT12FLUz3

— Jessica Jones (@JessicaJones) March 5, 2018