Appearing On The Office's Series Finale Made Dakota Johnson Feel Like A Party Crasher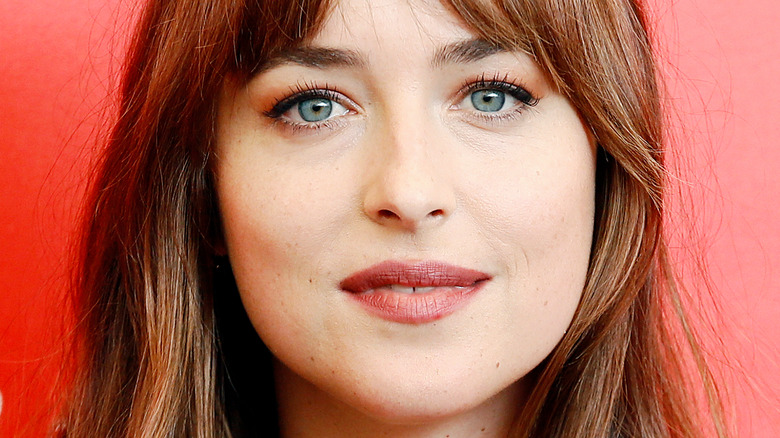 Andrea Raffin/Shutterstock
Yes, Dakota Johnson is the daughter of actors Melanie Griffith and Don Johnson, but the young performer is blazing her own indelible trail in Hollywood. Johnson is arguably best known for her steamy performance as the headstrong Anastasia Steele in the "Fifty Shades of Grey" film trilogy, but the thespian has amassed a resume of memorable performances since first appearing on the big screen as a child actor in "Crazy in Alabama" alongside her mother.
Eleven years after "Crazy in Alabama," 20-year-old Johnson starred alongside a cast of hip, cool up-and-coming actors, which included Jesse Eisenberg, Andrew Garfield, and Rooney Mara, in "The Social Network." But one of Johnson's most haunting performances came in the 2018 "Suspiria" remake. Johnson, who is intensely dedicated to her acting craft, decided to speak with a therapist after absorbing and bringing off "Suspiria's" wicked themes. "When you're working sometimes with dark subject matter, it can stay with you," Johnson said in an interview with ET Canada. "And then to talk to somebody really nice about it afterwards, is a really nice way to move on from the project."
With two decades of work to Johnson's credit, she's built a diverse portfolio of television and film credits, but did you know Johnson also appeared as Kevin's (Brian Baumgartner) replacement in the series finale of "The Office?"
Johnson felt like a party crasher on The Office
Yes, "The Office" had its fair share of high-profile guest stars over the years, including James Spader, Idris Elba, and even Will Ferrell, and Dakota Johnson felt like a party crasher when she showed up as Kevin's replacement. "I felt like I was crashing someone's birthday party when they actually really didn't mean to invite me," Johnson said in an interview with Vanity Fair.
Johnson truly seemed mystified that she'd been cast to appear on the last episode of "The Office," and her character is brought in to take Kevin's place after Dwight (Rainn Wilson) fires him in the most unsavory of fashions. Dwight presents Kevin with a farewell cake, in front of all the other Dunder Mifflin employees, with the words "get out" frosted on the top. It is classic Dwight, but it's a heartbreaking moment for poor Kevin. Johnson only appears in two meaningful scenes: Her only interactions with "The Office's" mainstays occur in separate sequences, with Oscar Nuñez and Creed Bratton, during her limited screentime. "I'm in it for like three minutes," Johnson commented.
Johnson, like so many others, is a fan of "The Office," but her brief appearance took her more time to shoot than fans might realize. "I spent two weeks on that set," Johnson said in the same interview. "I was there every day, all day." However, Johnson did get the chance to meet Rainn Wilson, and now the actors serendipitously run into each other all the time during their flights.