The Sex Lives Of College Girls' Amrit Kaur Taps Into Personal Experience For Bela's Character Growth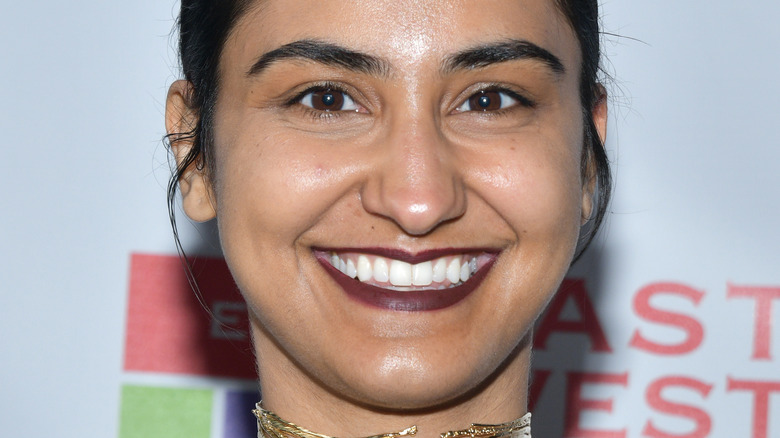 Araya Doheny/Getty Images
"The Sex Lives of College Girls" is a big hit for HBO Max right now. Critics are loving it, giving it a 93% approval rating on Rotten Tomatoes (with a slightly cooler 87% approval from viewers). It has also earned a solid 7.8/10 stars on IMDb. The show is especially popular with younger demographics and the LGBTQIA+ community based on its MTV Awards nomination and its GLAAD nomination for Outstanding New TV Series, respectively.
Several characters have experienced character growth over the course of the show's first season and the inaugural episodes of Season 2. Leighton (Reneé Rapp) ends up finally coming out of the closet after her fear of being public about her sexuality caused her to lose the love of her life. Whitney (Alyah Chanelle Scott) learns — after an affair with her married soccer coach ends horribly — that she can trust in the love and support of her friends and her mother, whose harsh judgment she was previously afraid of. Bela (Amrit Kaur) has also changed and grown over the show's 14 episodes (and counting), and she recently sat down for an interview about what she's done to accurately portray it on screen.
Kaur tapped into feelings of jealousy and determination to put the special touch on her performance
During a recent interview with Collider, Amrit Kaur explained that her character struggles with many obstacles she has personally dealt with in real life. Her portrayal of Bela is a personal one for her because "She's [Bela] really hurt, by the end of Season 1, and her coping mechanism is my coping mechanism, which is full-throttle focus, 'I'm gonna get what I want,' and she also has that revenge tactic, to not feel pain, which is so human."
Later on, when asked about Bela's personal flaws — such as jealousy — she commented that "If I'm jealous of somebody, I just pretend that I'm not jealous ... I'm not gonna give it up to them. I think that's what Bela does. She's so determined to not show that she's falling, and she's losing. That's why we fall in love with her because that's what we all do."
And her mild form of method acting is resonating with fans. /u/Background-Bath4640 relates to Bela because of her South Asian-American heritage, but at the same time, they wish the show had portrayed her a little bit differently. Among their many complaints are the fact that Bela is treated like a flat, self-deprecating side character to her dynamic-character friends, essentially pigeonholing her as the cringe, weird one. Another Redditor commented that they hope the show spends more time exploring Bela's complicated relationship with her cultural background. Regardless of how some may feel about the character overall, it appears most are more than pleased with Kaur's performance.