Why Gabriel LaBelle Blew Off His First Chance To Meet Seth Rogen On The Set Of The Fabelmans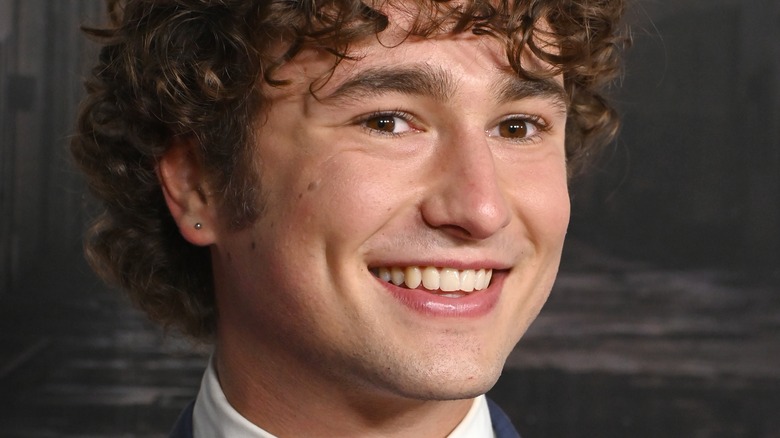 Featureflash Photo Agency/Shutterstock
As is the case with most Steven Spielberg movies, the cast of "The Fabelmans" is truly impressive. Directed and co-written by Spielberg, the film tells a semi-autobiographical story that is based loosely on its director's own experiences as a child, teenager, and young adult. Consequently, the film features a number of characters who are inspired by figures from Spielberg's life. Michelle Williams' Mitzi and Paul Dano's Burt Fabelman are, for instance, said to be inspired by Spielberg's real-life mother and father.
In addition to Williams and Dano, the film's cast also features veteran TV and movie performers like Seth Rogen, Judd Hirsch, Greg Grunberg, and Jeannie Berlin. However, despite what viewers might expect, "The Fabelmans" isn't told from the perspective of any of the characters who are played by its more well-known stars. Instead, "The Fabelmans" largely adopts the perspective of Burt and Mitzi's son, Sammy, who is the film's stand-in for Spielberg himself. Sammy is played in the film first as a child by Mateo Zoryon Francis-DeFord and then later as a teenager by Gabriel LaBelle.
For his part, LaBelle not only had to play a character in "The Fabelmans" that was inspired by his own director, but he also had to make sure he brought enough charisma and heart to his performance in order to stand out in a film populated by actors who are more well-known and experienced than him. With that in mind, it turns out that LaBelle actually put off meeting one of his biggest co-stars in "The Fabelmans" for a surprising reason.
Gabriel LaBelle was shooting a difficult scene when he almost met Seth Rogen for the first time
During a recent interview with Collider, Gabriel LaBelle revealed that he didn't get the chance to work with any of his more experienced co-stars during the first few weeks of shooting "The Fabelmans." For instance, LaBelle only got the opportunity to meet Seth Rogen for the first time when he was in the midst of shooting a difficult scene for the film. The scene in question is briefly shown in the first trailer for "The Fabelmans" and sees LaBelle's Sammy get punched in the face and fall to the ground.
"I kept whipping my head back and falling on the mat, but the mat would move, or there wouldn't be enough extras in the background, or it wouldn't get the right angle, or we'd do it five times," LaBelle recalled. "That took a really long time to do." The "Fabelmans" star added that he eventually became so concerned that he was doing something wrong in the scene that he decided to ask his director, Steven Spielberg, if he had any notes for him. It was at that moment, however, that LaBelle realized Rogen had secretly shown up on the film's set.
"This is also in the second week of shooting, [so] Paul, Michelle, Seth [Rogen], they haven't shown up yet," LaBelle said. "It's just been me." The actor further revealed that the scene he was filming at the time required him to occupy a dark space mentally and be covered in fake blood, so he ultimately chose to save his first interaction with Rogen for another time.
To LaBelle's credit, while that decision may have meant that he went even longer without meeting one of his older "Fabelmans" co-stars, it's easy to see why he made his choice in the moment.