A Rebooted Easy Rider Will Soon Ride Again
"Easy Rider," the seminal classic that defined a generation, is next in line to get a reboot. The original film starred Peter Fonda and Jack Nicholson and was directed by their co-star, Dennis Hopper. It was made in 1969 when the counterculture movement had really taken hold in America. Defining the American experience of the time, "Easy Rider" featured hippie bikers traveling across the southern U.S., chasing their version of the American Dream.
The film dealt with hot-button topics of the time such as drug use, the treatment of the younger generation by the older generations, and societal changes of the time. The film spoke to an entire frustrated generation and thumbed its nose at those balking at the changing times. When thinking of "Easy Rider" it's hard to not think of motorcycles, the open road, and Steppenwolf's classic song, "Born to be Wild."
In 1998 the film was chosen to be preserved in the National Film Registry by the United States Library of Congress for its impact on American cinema, and it was chosen as one of the 100 Greatest American Movies Of All Time by the American Film Institute that same year. A much-derided sequel was released in 2012.
Producers of the reboot are hoping to capture the counterculture spirit of the original film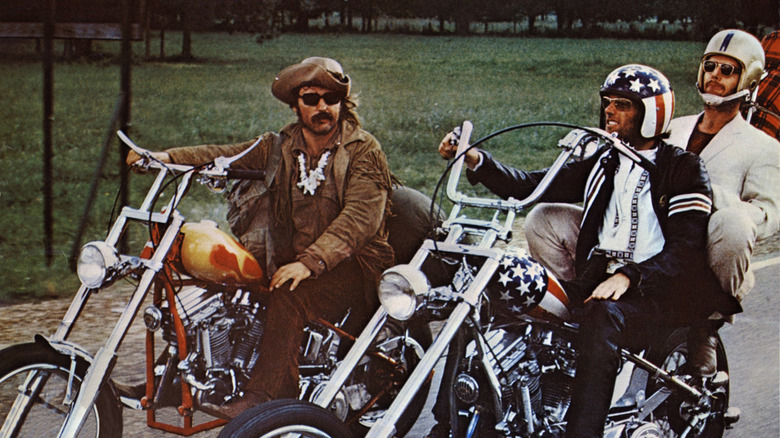 United Archives/Getty Images
Variety has reported that a reboot of the classic film "Easy Rider" is in the works. At a time when American culture is at a similar breaking point to the tumultuous late-60s, the current rights owners of the property feel it is time for a version of the story told through our modern lens. Comparing the reboot to the way "Creed" compliments the Sylvester Stallone-led franchise "Rocky," the producers want to find writers and directors with the same fierce spirit that can capture today's progressive ideals.
"Our goal is to build upon the counterculture and freedom narrative the original left us with, and give the youth of today a film that pays serious attention to their own countercultures and challenges," reboot producer Maurice Fadida told Variety. He cited the disconnect between the youth experience of today against that of the older generations as a comparison to what was happening in the 1960s when the original was made. As youth culture becomes a part of the societal norm, he hopes the new film will play a part in the shift.
No release date or creative team has been announced for the project as it has just been put into the works. The producers hope to make another landmark film that taps into the hopes and fears of younger generations just as the original film did in 1969.