Tim Burton First Pitched The Nightmare Before Christmas In 1983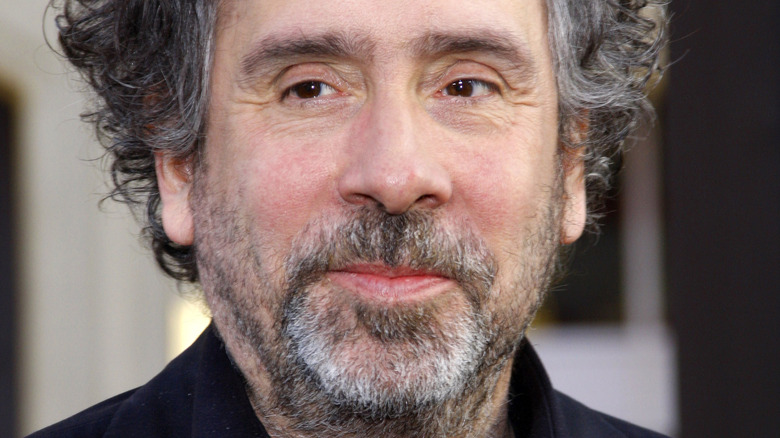 Tinseltown/Shutterstock
Tim Burton is one of the most well-known directors working in film today, but there was a time when even he struggled to get a movie made. Burton's legacy includes such notable films as "Batman," "Pee Wee's Big Adventure," "Ed Wood," and "Big Fish." His gothic aesthetic has also made him one of the most in-demand directors working in Hollywood, but that was not always the case. 
Burton began his career working as an animator for Disney, having worked on projects like "The Black Cauldron" and "Tron." In 2012, Burton talked to The Guardian about his early days at the studio, saying, "The thing about it was, first time around in the early 1980s, it came at a strange moment in Disney's history. They didn't know what they were doing really at the time. There was a whole group of really talented people not being allowed to do very much. It was a bit Shakespearean as these older guys from 'Snow White' days were clinging on to power. I wasn't a very good animator, at least not in their tradition, so I had the opportunity to be left on my own for a year or two in a room and just draw."
He eventually did get to make a movie of his own with the House of Mouse in the '90s, but it took him nearly 10 years to get that project to screen. That film went on to become one of the most beloved family films of all time.
It took Tim Burton a decade to get The Nightmare Before Christmas made
Tim Burton originally pitched "The Nightmare Before Christmas" to Disney back in 1983 when he was still an animator at the studio. He had re-written the poem "'Twas the Night Before Christmas," and he sketched designs for Jack Skellington, Zero, and Santa Claus. In 2017, the film's director Henry Selick said in an interview with The Daily Beast, "I knew Tim [Burton] from CalArts and Disney in the early '80s, and he'd come up with the idea for 'Nightmare' as a TV special along the lines of those Rankin/Bass low-budget, stop-motion staples like 'Rudolph the Red-Nosed Reindeer.'"
After Burton pitched the film to Disney, they rejected it, and Selick had some idea of why they passed on it. "At that time," Selick said, "it had no relationship to what Disney's identity was, so they didn't develop it. It was when Disney was kind of on the wane and hadn't been reinvigorated by their spate of musicals. It was one of those moments of 'I can't believe they don't get it,' but that's what happens."
Burton left Disney not too long after and began working as a live-action film director. It wasn't till after Burton's success with "Beetlejuice" and "Batman" that "The Nightmare Before Christmas" was greenlit. After his newfound success, he tried to get the film made independently, but Disney lured Burton back in. Since Burton didn't really like directing stop-motion himself, he brought Selick in to direct the film, and production was under way in 1990. The film eventually took over three years to make.
Jack Skellington has appeared in other films, even one before The Nightmare Before Christmas' release
Jack Skellington finally made it to screens in October of 1993, 10 years after Tim Burton pitched his idea to Disney. While he wasn't able to make the film in 1983, Jack was always on the mind of the director. A visage of Jack Skellington appeared in "Beetlejuice" — five years before "The Nightmare Before Christmas" came out. Jack's face later appeared in other films by Burton and Henry Sellick. Jack can be seen in Selick's "James and the Giant Peach" and "Coraline," as well as Burton's "Sleepy Hollow" and "Alice in Wonderland" (via PopBuzz).
While Jack has gone on to appear in later films, neither Burton nor Selick have any interest in making "Nightmare Before Christmas 2." In an interview with Collider in 2022, Selick said, "[A] sequel has come up several times. Initially, they always said, 'But it will have to be CG,' and that was a non-starter for me. It certainly was for Tim Burton." Selick went on to suggest that something Disney and Burton may be into would be a series of short films set in the world of "Nightmare."
Time will tell if fans will see any further adventures of Jack Skellington and the residents of Halloweentown. It took Tim Burton 10 years to get his film made, so waiting 30-plus years for a sequel isn't too far from the realm of possibility.