Will Smith Explains Why He 'Lost It' During That Oscars Night To Trevor Noah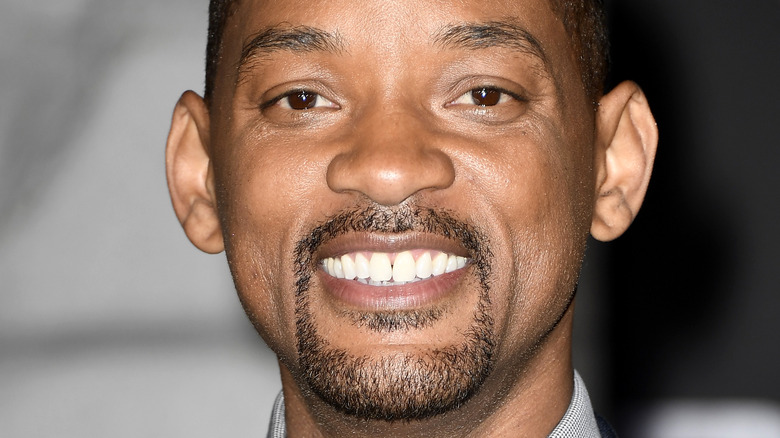 Frazer Harrison/Getty Images
The 94th Academy Awards was a night of triumphant highs and dismal lows for actor Will Smith. Even though he took home the Oscar for Best Actor for his portrayal of Richard Williams in "King Richard," his win was overshadowed after Smith notoriously slapped presenter Chris Rock on-screen. It was a moment that stole the show, but not in a good way. Smith's reputation changed in an instant and the exchange acted as a catalyst for a veritable storm of opinions regarding the benefits of celebrity status, a lack of accountability in the film industry, and mental health.
Besides the complicated rhetoric of a violent altercation between two well-known figures playing out for all the world to see, the incident turned what should be a night of celebration into an evening of drama that felt more like a reality show than an awards ceremony. Smith took home one of those coveted golden statues, but he lost his standing with the Academy of Motion Picture Arts and Sciences. As reported by NPR, "The Fresh Prince of Bel-Air" actor was subsequently banned from attending any Academy events for the next decade. During a recent interview on "The Daily Show With Trevor Noah," Smith shed some light on his actions that night and how he currently feels about slapping Chris Rock.
Will Smith doesn't want to be remembered for his outburst
Neilson Barnard/Getty Images
Months on from the slap seen around the world, people still haven't forgotten the off-putting sight of Will Smith stalking across the stage to hit the comedian. Audiences waited for the punchline, but none came. Although the primary function of Smith's appearance was to promote his upcoming film "Emancipation," it was impossible to avoid the elephant in the room. In a candid conversation with host Trevor Noah, Smith reflected on what happened at the 94th Academy Awards, and he didn't mince words.
"That was a horrific night, as you can imagine. There's many nuances and complexities to it. But at the end of the day, I just — I lost it, you know?" Smith explained (via Variety). "I was going through something that night, you know? Not that that justifies my behavior at all... It was a lot of things. It was the little boy that watched his father beat up his mother, you know? All of that just bubbled up in that moment. That is not who I want to be."
This isn't the first time Smith has spoken out on the subject. He's offered several eyebrow-raising explanations for that Oscars slap. Smith has expressed regret regarding his actions on social media, though this is the first time he's opened up after getting time and space to further reflect on the matter. Smith's level-headed tone implies that he understands the gravity of the situation. Hindsight is 20/20, after all.
If you or someone you know is dealing with domestic abuse, you can call the National Domestic Violence Hotline at 1−800−799−7233. You can also find more information, resources, and support at their website.
Members of Will Smith's family were confused by his actions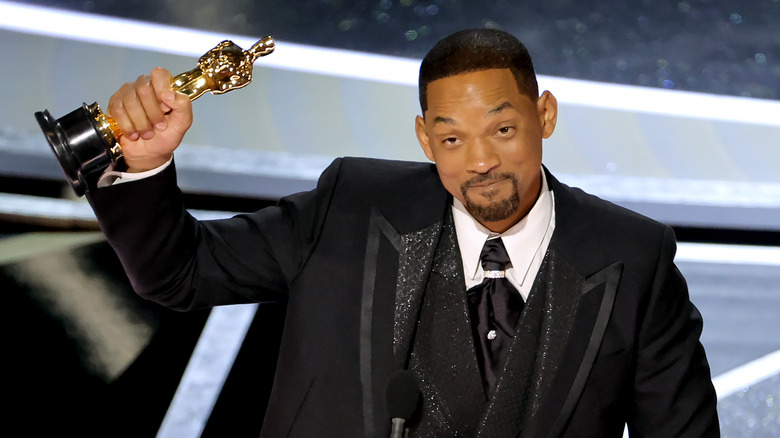 Neilson Barnard/Getty Images
Although the physical confrontation between Will Smith and Chris Rock stole the spotlight, you'll recall that it was a joke about Jada Pinkett Smith that incited this debacle. While the latter used an episode of "Red Table Talk" to elaborate on what happened, Pinkett Smith wasn't the only member of the Smith family to express concern over her husband's actions that night (via Today). According to Smith, his nephew's reaction to the slap forced the actor to confront the consequences of his anger.
"I was gone. That was a rage that had been bottled for a really long time," Smith told Trevor Noah during "The Daily Show" interview (via YouTube). "My nephew is nine. He is the sweetest little boy. We came home. He had stayed up late to see his uncle Will and we are sitting in my kitchen and he is on my lap and he is holding the Oscar and he is just like, 'Why did you hit that man, Uncle Will?'"
It's a question that plenty of viewers, whether they were at home in their pajamas or in Los Angeles decked out in finery, have most likely pondered when thinking about what happened that evening. Ultimately, Chris Rock handled the unpleasant surprise with grace and dignity, no small feat given the unexpected nature of the attack. Hopefully, all parties involved will be able to find closure in regards to the events of March 27, 2022.