Val Kilmer Had To Be Written Out Of The Willow Series At The Last Minute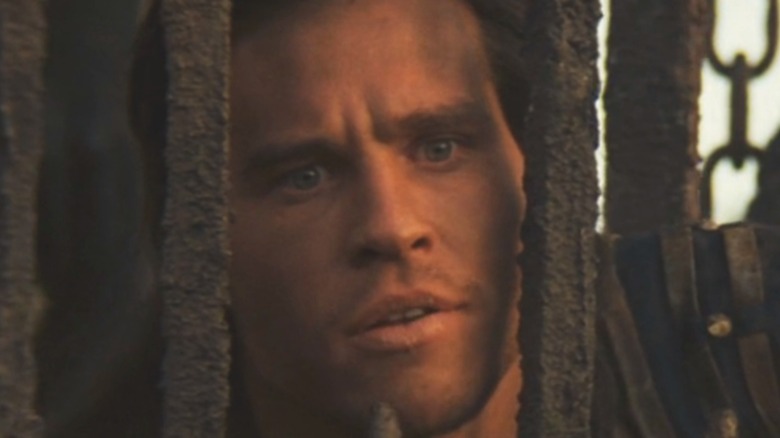 MGM/UA Distribution Co./Lucasfilm
Swords and sorcery always make for a fantastic backdrop to a fantasy story, but add in a pinch of fate and some rather interesting character dynamics and you might find yourself watching the 1988 film "Willow." Starring Warwick Davis, Val Kilmer, and Joanne Whalley, "Willow" is about a child of destiny named Elora Danan (played by the twins Kate and Ruth Greenfield as well as Rebecca Bearman), who is prophesied to bring peace to the kingdom, as well as the destruction of the evil Queen Bavmorda (Jean Marsh).
Of course, when an evil queen knows about one's ultimate fate, it makes sense as to why she dispatches military forces to find Elora, and Queen Bavmorda also sends her own daughter Sorsha (Whalley) in pursuit. Luckily for Elora, she is found by the family of Willow (Davis), and he is set on a quest to return Elora back to her people. Along the way, Willow comes across Madmartigan (Kilmer), a silver-tongued rogue trapped inside a crow's cage. Although at first Willow and Madmartigan are unlikely allies, they eventually unite alongside Sorsha to protect Elora and bring about Bavmorda's downfall. Luckily for fans of this classic movie, Disney has decided to continue the story with a brand new show featuring several members of the original cast, like Davis and Whalley, and the original intention was to have Kilmer reprise his role of Madmartigan, though that was changed at the eleventh hour.
Val Kilmer was one of the first people approached when the Willow show was greenlit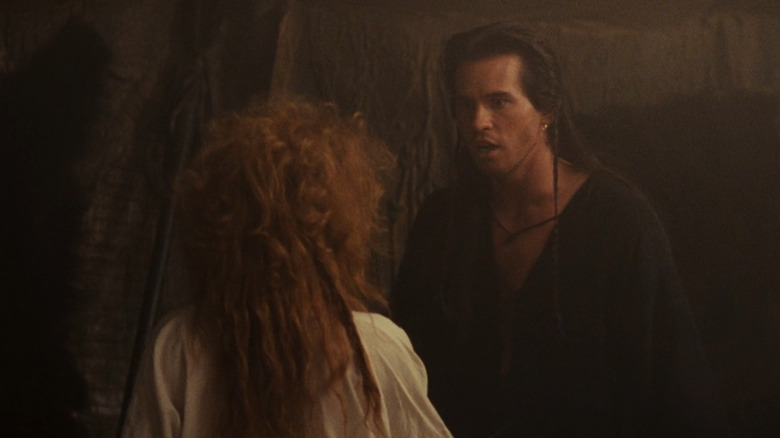 MGM/UA Distribution Co./Lucasfilm
For all intents and purposes, the production of the "Willow" television series started off with the idea of bringing Madmartigan back. In May, executive producer Jonathan Kasdan told Yahoo! Entertainment, "Val's a huge part of this, and the first conversation I had, when Warwick and I got the greenlight to do this, was with Val. We wanted his character to be a part of the story. We wanted him to be in the show." Likewise, Warwick Davis also expressed his desire for Kilmer to return to the role and said that Kilmer acted as a tremendous source of inspiration and spirit for this new series.
Davis then added that Kilmer was instrumental in the original film by saying, "I still attribute me getting through the film to Val. He kept my spirits up when conditions were really treacherous and difficult. I was cold, wet, tired. He kept me laughing, kept the whole thing fun." The reason why Kilmer's appearance in the "Willow" TV show has been debatable comes down to his diagnosis and battle with throat cancer, though recently the actor briefly appeared in "Top Gun: Maverick," which invoked some hopes in fans that he may have also returned in some capacity to his famous role of Madmartigan. However, it seems like the "Willow" series very much wanted Kilmer back and had to adapt quickly when the situation no longer allowed for it.
The Willow TV show originally intended for Madmartigan to make an appearance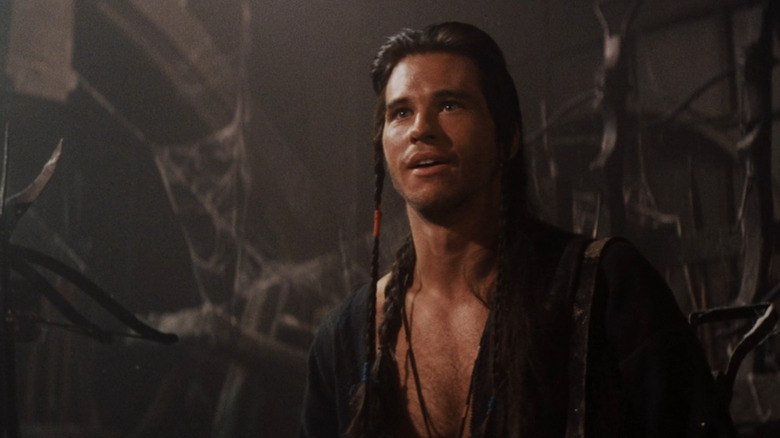 MGM/UA Distribution Co./Lucasfilm
Speaking with Entertainment Weekly, executive producer Jonathan Kasdan explained that the original plan was for Madmartigan to make an appearance, and only towards the tail end of production did they find out that they wouldn't be able to do so. Kasdan clarified the situation and said, "We really wanted Val to come be in the show. And Val really wanted to come out and be in the show. I remember going to see Val right after this thing started to get some momentum, and I said, 'Listen, we're doing this. And the whole world wants Madmartigan back.' And he was like, 'Not as much as I do.'"
Kasdan continued, "We started building out the first season with the intent of having him appear. [It wasn't clear we couldn't get him] until pretty late in the process, frankly." Kasdan then explained that the current intention is to leave the door open to a future Madmartigan appearance and said that it was exceptionally important to make sure that the character is felt and heard in the new "Willow" show, if not directly seen. In other words, it sounds like the "Willow" television series definitely had to pivot when it came to the utilization of Madmartigan. However, that doesn't mean we won't ever see the character again. One can only hope, right?