Adam Sandler Pokes Fun At His Own Movie Career In Gotham Awards Speech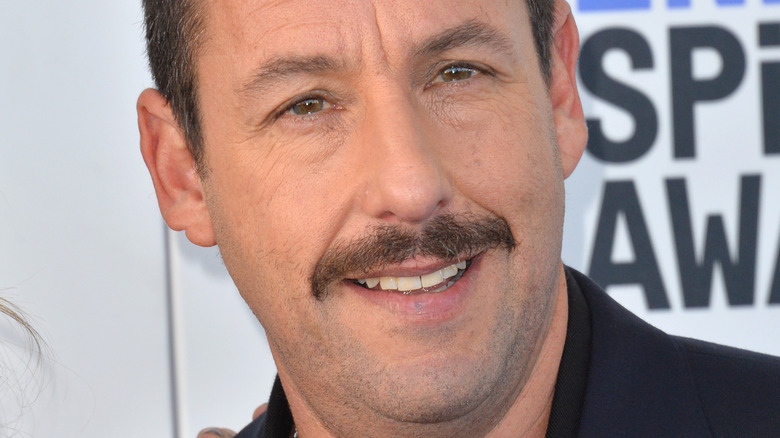 Featureflash Photo Agency/Shutterstock
Although '90s classics like "Billy Madison," "Happy Gilmore," and "The Wedding Singer" made Adam Sandler one of the most revered and beloved actors in all of comedy, it's no secret that the former SNL star has also starred in plenty of critically-panned disasters.
A few of the more notable duds in Sandler's career include his problematic Western "The Ridiculous 6" (which was reportedly so offensive that several Native American actors walked off the set during filming), the often maligned "Grown Ups" franchise, and the universally despised "Jack and Jill" — the latter of which actually swept The Razzies, an awards show for the worst movies of each year.
The maddening inconsistency in Sandler's career has become even more prominent as the actor has taken on dramatic roles in projects like "Uncut Gems" and "The Meyerowitz Stories," which have seen Sandler delivering some incredibly powerful performances. In fact, Sandler's recent speech at the Gotham Awards took a candid look at the numerous ups and downs of his career and did so in a way that is downright hilarious.
Adam Sandler roasts his career with a little help from his daughters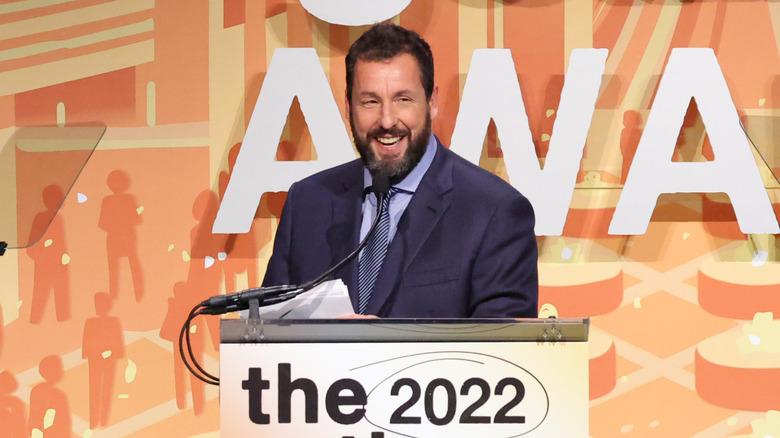 Mike Coppola/Getty Images
On Monday night, Adam Sandler received a performer tribute award at the 32nd annual Gotham Awards and delivered a victory speech written by his two daughters, Sadie and Sunny. The speech itself is little more than a roast session from the girls directly to their father — making fun of his inconsistent movie career through a variety of jokes and insults (via Variety).
A few notable highlights include the girls claiming they're not allowed to watch Ben Stiller movies in the house and a story about how Sandler ran into the shower to scream, "Only the Sandman can make people laugh, F*** every other comedian." The real highlight of the speech is when the two girls break down Sandler's career from the very beginning, saying, "Daddy's silly film career began in 1988, formed by two guiding principles: people in prison need movies too and TBS needs content."
From there, they break down all of Sandler's most popular movies while asking the honest question of how somebody who played the lead in "The Waterboy" could ever give a good performance in his life. Although this speech is chock full of little jabs at Sandler's long and strange career as a Hollywood A-lister, it's clear that at the end of the day, his daughters still hold a great amount of respect for their fathers' more prolific work — and there's no question that the speech is worth a watch simply to see Adam Sandler tear down his own career with a smile on his face.