Call Me Kat's Cheyenne Jackson Wanted To Join The Show Because Of Mayim Bialik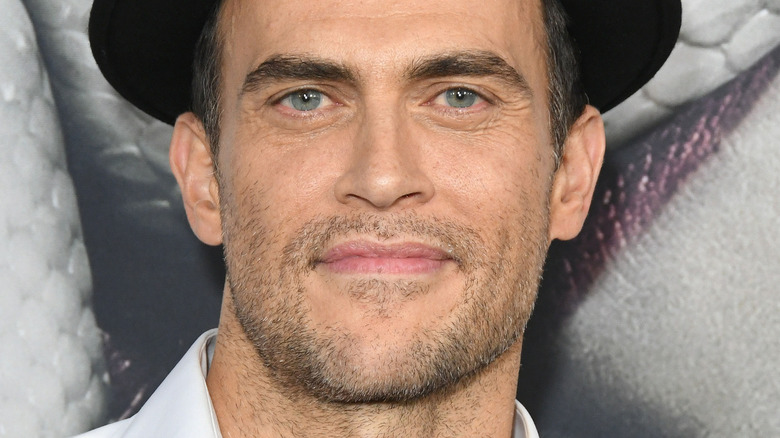 Quinn Jeffrey/Shutterstock
In 2020, during the throes of the global COVID-19 pandemic, former "The Big Bang Theory" co-stars Jim Parsons and Mayim Bialik reunited for a brand new project one year after the hit sitcom wrapped up. Parsons, under his company That's Wonderful Productions, obtained the rights to "Miranda," a BBC comedy about a woman named Miranda (Miranda Hart) who never seems to win in life. Airing for three seasons from 2009 to 2015, the show chronicles her attempts to fit in with friends, please her overbearing mother, and find a husband. For Parsons, there was only one actress who could adapt this relatable character for an American audience, and Bialik did just that in the U.S. remake of the show, "Call Me Kat."
As Bialk's character of Kat –- a single 39-year-old who opens a cat café with money her parents set aside for her wedding –- navigates similar issues to Miranda, she's surrounded by a raucous cast, including the late Leslie Jordan as Phil the baker, and Cheyenne Jackson as Kat's old college peer Max.
Jackson boasts quite a varied career, appearing in everything from "American Horror Story" to "Glee" and "Descendants 3" (via IMDB). As for "Call Me Kat," this project is a bit different from the others. The show doesn't take itself too seriously (it's about a cat café, after all) and regularly breaks the fourth wall as Kat details her life happenings to the camera. In fact, "Call Me Kat" received much criticism on the heels of its January 3, 2021 premiere.
So what attracted Jackson to the series? Ultimately, it was the idea of working with Bialik.
Cheyenne Jackson has been a fan of Mayim Bialik since Beaches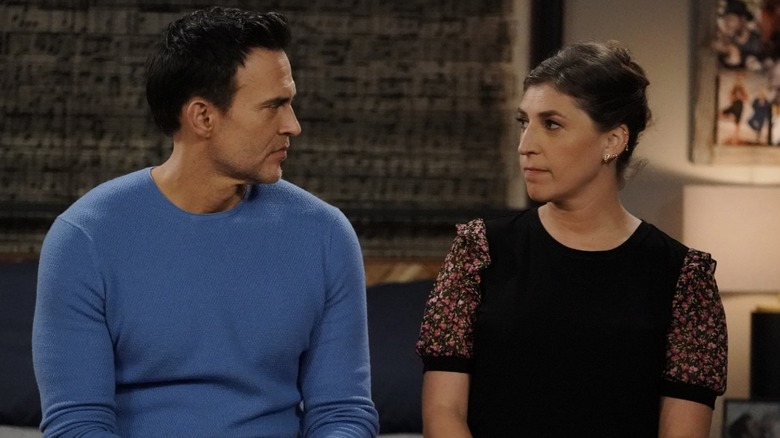 FOX
Prior to landing the role of Max, Cheyenne Jackson didn't know much about Mayim Bialik's new series. He knew that it would be an adaptation of the BBC's "Miranda" and that the actress behind Amy Farrah Fowler was part of it. And that was enough for Jackson, who has been a Bialik fan since her portrayal of young CC Bloom (Bette Midler) in the heart-wrenching 1988 drama "Beaches."
"We are six months, to the day, apart in age. I've followed her career and her life from afar, and I just always felt a connection with her," Jackson told Collider about Bialik.
When it came time to read lines with Bialik, everything went smoothly, even though their meeting was virtual. "I was in New York shooting a film and she was in L.A., and we had to read via Zoom," Jackson continued. "There was good chemistry and it seemed great. I had a few tests in L.A. and then we read together, and there was something special between the two of us."
Despite his passion for the show, in a 2022 interview with Out, Jackson reflected on the poor reviews it received from critics during Season 1. Still, he didn't lose confidence in "Call Me Kat" or Bialik, and it seems that his confidence wasn't misplaced as the show celebrates its 3rd season on the air.  "I think it's going to catch on even more," Jackson told the publication. "It stands up to anything on television. You can quote me on that. In terms of comedy? Absolutely."