The Walking Dead Boss Planning More Spinoffs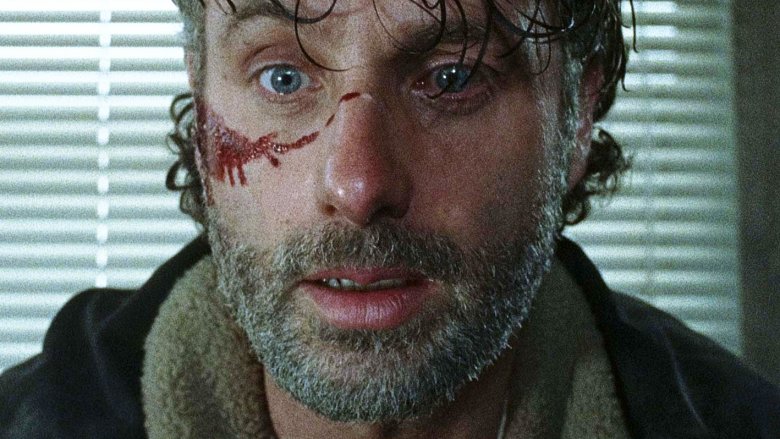 AMC
The Walking Dead might have the chance to live forever. (Or at least for another few years.)
Speaking with The Hollywood Reporter, Scott M. Gimple, the current showrunner of The Walking Dead and the rising chief content officer of the franchise at AMC, revealed that he and the network team have tons of ideas regarding where the Robert Kirkman-created universe will go next. This, according to Gimple, includes multiple potential spinoffs that will extend The Walking Dead brand across different platforms. 
"We're going to be doing traditional stuff, non-traditional stuff, stuff people don't expect," Gimple said. "Definitely scripted. The odds of unscripted are very remote. But I'm not going to say no. We're going to have cool new Walking Dead stuff."
When asked whether set plans for a first scripted spinoff have been established, Gimple said that he and the rest of the Walking Dead creatives and AMC executives have "a bunch of different things in mind." Certain ideas are "really complimentary" to what Walking Dead fans have grown accustomed to, while others are "far afield and very different," Gimple explained. 
Delving into further detail, Gimple stated that he's open to creating spinoffs that follow the same structure as the current Walking Dead offshoot Fear the Walking Dead, but is also interested in smaller and shorter series akin to Red Machete and Flight 462. 
"Those are two very different ends of the spectrum," he said. "We can do cool stuff in both of those spectrums, and there's other stuff that doesn't quite fit in those descriptions. There are different approaches to how we tell stories and how long we tell them for and the places we can do them. I'm hoping to do a variety of different projects that are probably more in line with what we see on television, but maybe in different rhythms and formats and things like that. We'll still continue to come out with great digital content, but I'm excited about the kind of stuff we can do."
Gimple added, "I really am talking about all sides of it, and I know we'll have more to talk about soon on that."
The creative kept a tight lip on which characters might land their own spinoff series, only mentioning that AMC is "experimenting with new ways to do it." He explained, "We're seeing different lengths of seasons and different formats — though I'm not talking about a 37-minute series. I'm talking about different ways to tell stories, possibly with characters we know and possibly with characters we don't. We're figuring it all out right now, but there's a ton of stuff that I want to dive into. It's us organizing it and deciding how to do it, how it all works together. We really have a plan that goes into the future. It's pretty exciting right now."
For now, Gimple is focusing his energy on finalizing season eight of The Walking Dead, passing the torch to his showrunning successor and longtime franchise creative Angela Kang, and working with new Fear the Walking Dead showrunners Andrew Chambliss and Ian Goldberg to make both the flagship series and the spinoff "as great as they can be."
Additional spinoffs could help keep The Walking Dead alive following a possible cancelation in the future; if the series' ratings continue to drop at the speed they have been, no one will be tuning into the OG show by 2021.