Casting Christina Ricci Gave The Wednesday Creators One Major Concern About The Finale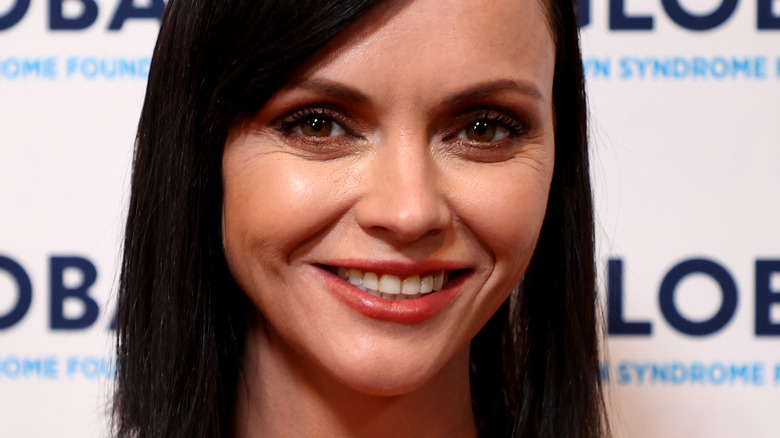 Jamie Schwaberow/Getty Images
Most of the conversation surrounding "Wednesday" has revolved around Jenna Ortega's performance as its titular character, Wednesday Addams. It's not hard to see why, either. After spending several years steadily climbing up the ranks of Hollywood's up-and-coming stars, Ortega gets the kind of chance to shine in a lead role in "Wednesday" that many of her fans would argue she's long deserved. However, just because Ortega's turn as the fan-favorite "Addams Family" character has already become a magnet for new memes and online appreciation posts, that doesn't mean she's the only noteworthy cast member in "Wednesday."
The live-action Netflix series also stars none other than Christina Ricci as Marilyn Thornhill, a teacher at Nevermore Academy, the gothic boarding school where Ortega's young rebel is sent in the "Wednesday" premiere. Ricci's presence in "Wednesday" is, of course, notable because she previously played Wednesday Addams in 1991's "The Addams Family" and 1993's "Addams Family Values." That means "Wednesday" gives "Addams Family" fans the chance to see Ricci and Ortega work together on-screen, both of whom have now achieved breakout success for their performances as Wednesday Addams.
That said, while Ricci's involvement in "Wednesday" was immediately received well by fans, it turns out that her presence also caused creators Alfred Gough and Miles Millar a fair amount of stress leading up to the series' Netflix premiere.
Wednesday's creators thought fans would be too suspicious of Christina Ricci's character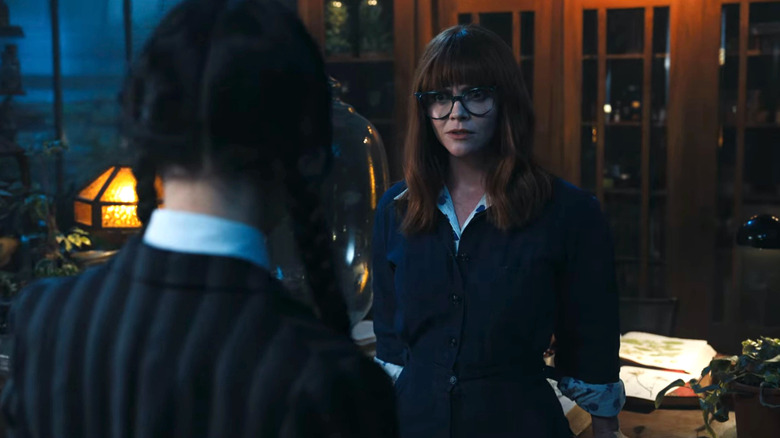 Netflix
The ending of "Wednesday" Season 1 sees Jenna Ortega's Wednesday Addams finally uncover the truth behind the mystery that had been plaguing her ever since she arrived at Nevermore Academy in the series' premiere installment. In specific, Wednesday learns that Tyler Galpin (Hunter Doohan) was secretly working all season with Marilyn Thornhill (Christina Ricci) to lay the foundation for the resurrection of Marilyn's ancestor, Joseph Crackstone (William Houston), who she believes has the power to destroy Nevermore once and for all.
Taking all of that into account, "Wednesday" creators Alfred Gough and Miles Millar recently revealed that they were worried for a long time that their decision to cast Ricci as Marilyn would make fans immediately suspicious of the character. "Thornhill was always the big bad," Gough told Variety. "We actually thought when we cast Christina, it was going to be such a frickin' blinking red light over her." The "Wednesday" co-creator noted in the same interview, however, that the presence of other well-known actors, like Gwendoline Christie and Riki Lindhome, in the show's cast may have helped turn some viewers' initial suspicions away from Ricci's Marilyn.
Millar, meanwhile, added that they ultimately found the idea of casting Ricci as the nemesis of a character she once played too juicy to actually pass up. "We just loved the idea of the two Wednesdays in that final scene in the crypt," Millar admitted. "It just felt so delicious and irresistible."
Whether they're able to predict the show's Marilyn Thornhill twist or not, "Wednesday" fans would be hard-pressed to disagree with Millar and Gough's decision. There is, after all, something undeniably satisfying about watching Ricci and Ortega actually get to go toe-to-toe in "Wednesday."