Ironheart Concept Art Has Fans Bemoaning Wakanda Forever's Power Rangers-Like Design
"Black Panther: Wakanda Forever" brought back a lot of characters fans know and love, including a scene with Michael B. Jordan's Killmonger. There were also many new players in the "Black Panther" universe. Notably, Wakanda's latest threat, Namor (Tenoch Huerta), and all of the people who live in the underwater kingdom of Talokan treated MCU fans to a new society built on vibranium and a new species that was once human but has clearly evolved to be something greater. Not only is Talokan an entirely new place within the MCU, but it's also put a new world superpower on the map.
Namor and his people weren't the only new additions, though. "Wakanda Forever" also finally introduced Riri Williams, Ironheart (Dominique Thorne). In the comics, Riri ends up becoming Iron Man's successor. Her connections to Tony Stark haven't really been mentioned or explored yet, but she was depicted as having the basic skeleton of a homemade suit early on in the film. Later, in preparation for the final showdown with Namor, Riri designs a fully realized Ironheart suit with the help of Wakanda's technology.
Although the montage of her creating the suit was a beautiful callback to "Iron Man" when Tony first made his suit, fans weren't too pleased with the design of her completed MK II armor.
Ironheart's concept art resonated better with fans than the actual thing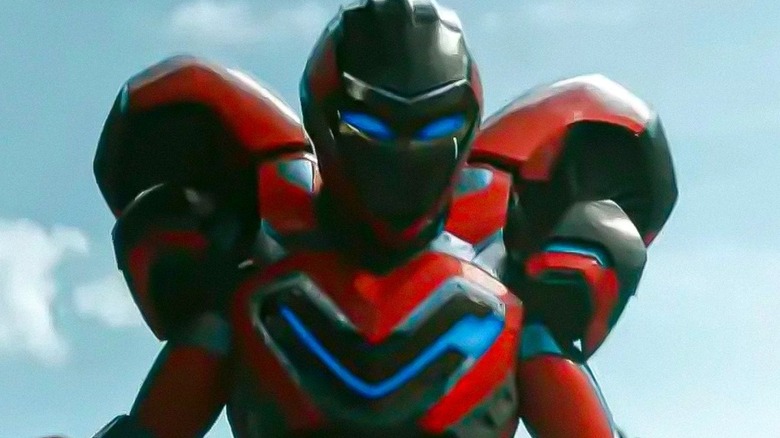 Marvel Studios
Adi Granov is a comic book artist who has lent his talents to concept designs for films. Known for his work with Iron Man designs, it's not shocking that he also created a concept for Ironheart in "Wakanda Forever." Granov took to Instagram to show off his version of the Ironheart suit. Sadly, his design wasn't utilized in the film, and fans were vocal in the comments about how much they preferred his take over the 'Power Rangers-like' design the film went with.
Instagram user prachurjya_g said, "This is much much better than its used version." Many fans shared this sentiment. User gaziz.designer inquired, "How in the Earth did this end up being [a] Power Rangers plastic suit?" Deden.revira agreed by saying, "Unfortunately, they want the look to look more like a power ranger."
Fans seemed stuck on the idea that Ironheart's plastic-like appearance resembled a Power Ranger than the sleek and stylish suits she's known for. User atelieredge even described the movie's design as a reject by saying, "Should've gone with this design instead of the super sentai-rejected that ended up on screen." Instead of roasting the film's suit, one fan just pointed out that Granov's design looked more accurate to Riri's comic appearances. User john_art_pr commented, "That looks more accurate," while user scudhunter reminded fans that there will be more suits to come, "Remember, folks. That was just her MK II. Maybe this will be her MK III in her series."