12 Fantasy Movies Like Slumberland That Fans Should Check Out Next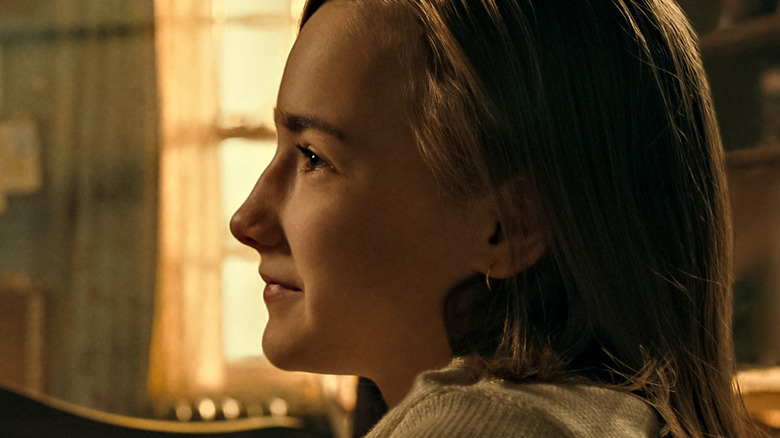 Netflix
Arriving on Netflix in the autumn of 2022, the family fantasy "Slumberland" follows the adventures of 11-year-old Nemo (Marlow Barkley) as she discovers the a magical realm in the world of her dreams. Realizing that it's a place of wild imagination — but also great perils — she's lucky to be able to count on the likes of the lovably eccentric Flip (Jason Mamoa) as an ally in this strange, otherworldly plane. Together, the pair set off on their own adventure, navigating dreams that are alternatively delightful and nightmarish, always hoping to reunite Nemo with a long-lost loved one along the way.
Based on a character from the beloved French comic strip "Little Nemo in Slumberland" that dates as far back as 1911, "Slumberland" will capture the imaginations of viewers with its fun and fittingly dreamlike premise and awe-inspiring visual splendor. If you've just finished marveling at the Netflix original and are hunting around for something else like it, we have good news: the fantasy genre has plenty of options for eager audiences looking for an adventure with boundaries limited only by imagination. So pour out a warm glass of milk, dim the lights, and tuck yourself into bed, because we're going on a journey into other worlds for the best films like "Slumberland."
Bridge to Terabithia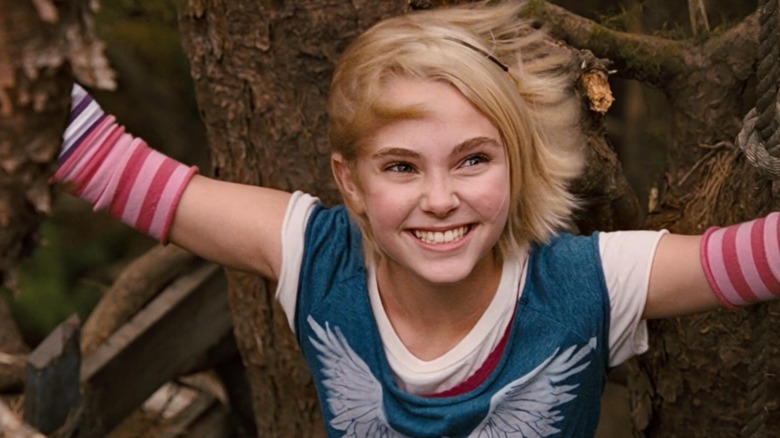 Buena Vista Motion Picture Distribution
If you're looking for a family-friendly fantasy about a youngster in another world, don't sleep on the 2007 movie "Bridge to Terabithia." Set in the small town of Lark Creek, the movie introduces 11-year-old Jesse Aarons (Josh Hutcherson), a downtrodden boy just trying to get by. Between his family's financial woes and an equally troubled life at school, however, this is far easier said than done. 
Luckily, Jesse gets a much-needed escape from his life through the imaginary realm known as Terabithia, a fantasy he shares with his fellow classmate and school misfit Leslie Burke (AnnaSophia Robb). There, the two friends encounter magical creatures including a giant troll, a talking squirrel, and villainous vultures. Together, Jesse and Leslie explore the mystical land while using their fantasy to help them deal with the problems they face in the real world.
Based on a classic children's book, "Bridge to Terabithia," like "Slumberland," brings viewers on an adventure into a magical world not far from our own, and the similarities don't stop there. But a truly tragic twist in "Terabithia" adds heavy themes of loss and grief that make it all the more powerful, and allows the film to explore deeper issues than your typical fantasy romp by its conclusion. Don't let the PG rating fool you either, as both time and a number of positive critical reviews have proven the film to be a favorite for audiences of all ages.
Alice in Wonderland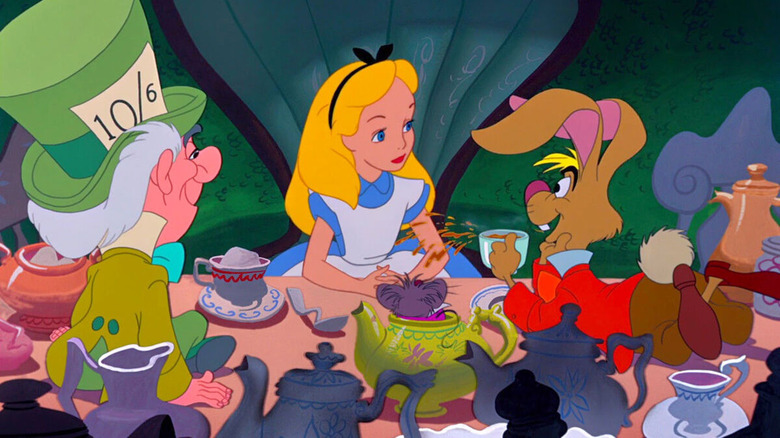 Disney
Another story of a young girl who travels into a fantastical dream world all on her own, viewers of "Slumberland" who haven't seen Disney's animated "Alice in Wonderland" should stop right here and add it to their watchlist. While many of Disney's classics are remembered fondly for their boundless imagination, none are a better example of that than "Alice in Wonderland." 
Released in 1951, the movie doesn't waste any time with the ordinary, as any semblance of normalcy is shattered after Alice (voiced by Disney legend Kathryn Beaumont) slips off into her dreams and into the bizarre world of Wonderland. Populated by some of the strangest creatures ever put to film at the time, Alice's journey through the realm is trippy to say the least, and defies convention in more ways than one.
The earliest title on our list by release date, it's stories like "Alice in Wonderland" and the original "Little Nemo in Slumberland" that helped to inspire the writers of today who craft inspiring fantasy tales that let our imaginations run wild. Bringing Lewis Carroll's classic novel to life, the iconic animated film served as the basis for a number of feature-length retellings, some better than others. Though it's likely that a good number of our readers grew up watching this one, "Alice in Wonderland" is a truly timeless joy to watch, and one worth revisiting by just about everyone.
Labyrinth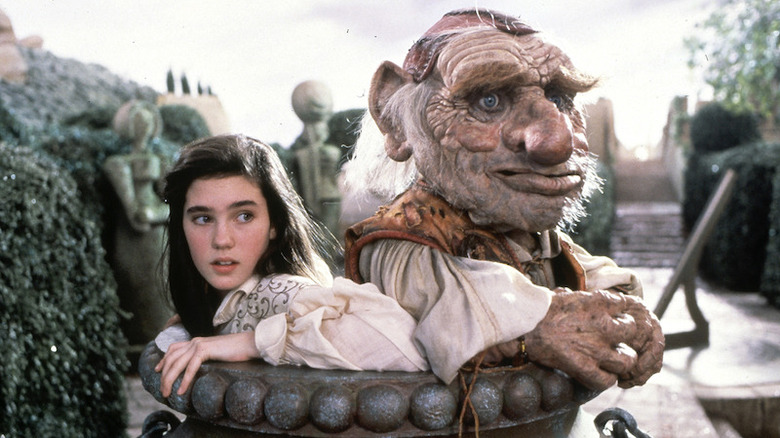 Tri-Star Pictures
If there was ever a decade that could be described as iconic for everything it gave us in the world of pop culture, the '80s would have to be it. From music to cinema, there's a certain charm from the era that's still proven to be a favorite in media today (just put on an episode of the wildly popular "Stranger Things" if you need further convincing). For those looking for something like "Slumberland," the '80s might be the best decade to find it, and none better than "Labyrinth." A lightning-in-a-bottle miracle, the movie combines some of the most beloved artists of the day with one of the most revered musicians around to deliver a fantasy unlike any other.
From the minds of director Jim Henson, producer George Lucas, writer Terry Jones, and designer Brian Froud, "Labyrinth" finds the world of humans and the one of goblins on a collision course. It all starts when 16-year-old Sarah (Jennifer Connelly) makes an accidental deal with the Goblin King Jareth (rock star and cultural iconoclast David Bowie) to have her baby brother whisked away. But Jareth is more than willing to cut her a break, under one sinister condition: if she can make it to the center of his treacherous labyrinth and survive all its obstacles, she might just have a chance to see her brother again. Until then, we're treated to scene after scene of Jim Henson's puppet magic on full display, as well as plenty of song and dance numbers by our eccentric antagonist. Like we said, it's '80s through and through.
Coraline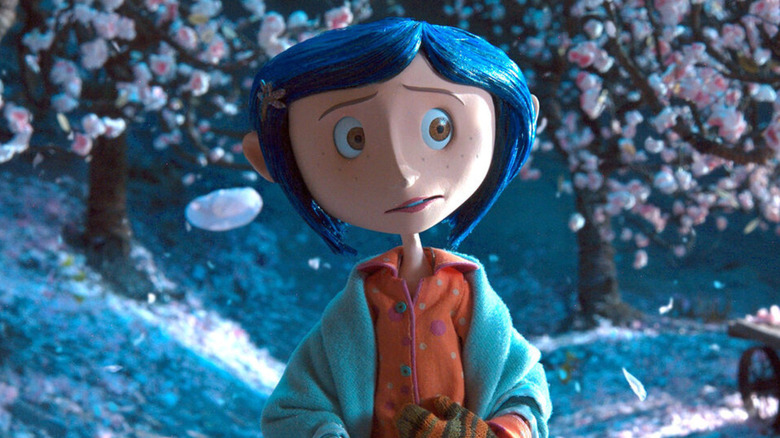 Focus Features
The 2009 stop-motion animated film "Coraline" has its roots in the pages of a novel by acclaimed author Neil Gaiman. Utilizing the voice talents of Dakota Fanning ("War of the Worlds"), Teri Hatcher ("Desperate Housewives"), and Kieth David ("They Live"), among many others, the film bears the recognizable stamp of Henry Selick, director of "The Nightmare Before Christmas." Like "Slumberland," it's a modern day fairy tale exploring the relationship between one girl and a mysterious otherworldly realm which seems almost too good to be true.
After moving from her home in a bustling city to a rural town in Oregon, the already strained relationship between Coraline Jones (Fanning) and her family is at a breaking point. While exploring the new house seeking an escape from her dreary life, she discovers a passageway into another world nearly identical to her own. The only differences seem to be that just about everything in sight is better, with even her newfound family giving her the attention she's longed for. But soon she discovers that the grass isn't actually greener on the other side.
The first film to be released by Oregon-based animation studio Laika, "Coraline" embodies the same sense of adventure and peril you loved in "Slumberland." Its success — which included an Academy Award nomination for Best Animated Feature — helped put the studio on the map, while the resounding praise from both critics and audiences has cemented is as a new animated classic.
Where the Wild Things Are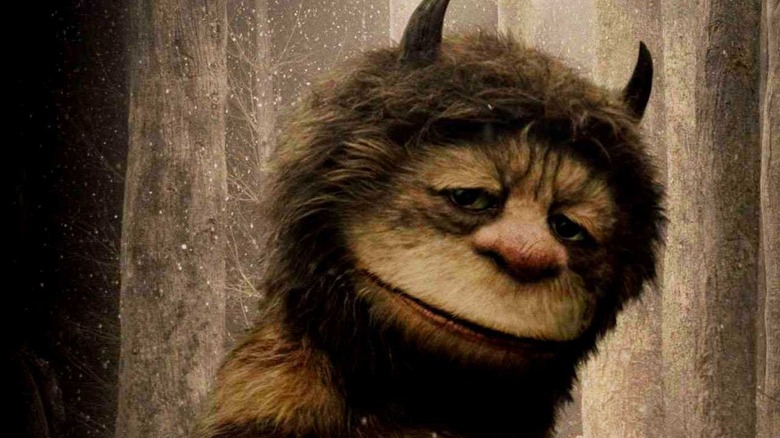 Warner Bros.
While the source material for this one is firmly categorized as a children's story, the same can't quite be said for its unique film adaptation. Released in 2009, "Where the Wild Things Are" follows nine-year-old Max (Max Records), a rambunctious child of a broken home who frequently finds himself on the bad side of everyone around him. After a particularly mischievous outburst, he runs away from home, eventually finding himself in a faraway land that the creatures known as the wild things call home.
Before long, Max claims the title of king, before discovering that the job isn't as fun as it seems. In time, Max finds himself the sole mediator of the beasts' many problems, and it's not a job he relishes, nor really wants. As a stranger in a strange land, he has no choice but to reflect on his own family's troubles to push forward. 
Unique among its contemporaries for its use of practical effects and costumes for the fantastical beasts, the film's distinct visual styles adds a haunting quality to the story, transforming the book's cute creatures into something far more eerie than Maurice Sendak's original illustrations. The darker and more realistic tone is far from excessive, but it does mean that adult audiences will likely walk away getting more out of it than younger viewers. But with similar themes and a story of a child looking to escape the real world, "Where the Wild Things Are" will appeal to anyone looking for a close spiritual cousin to "Slumberland."
Little Nemo: Adventures in Slumberland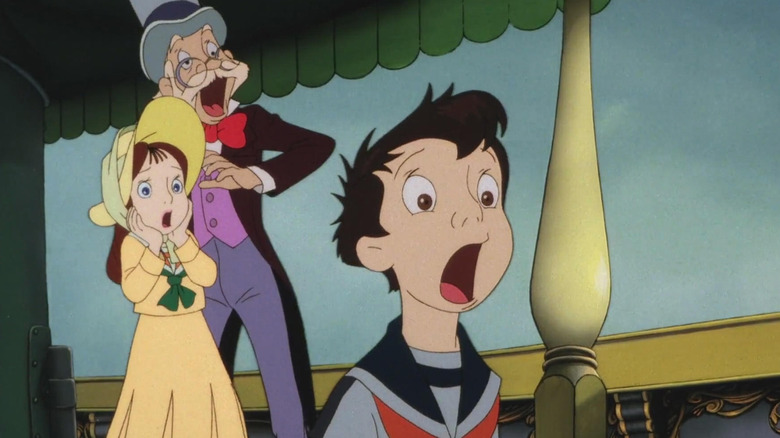 Hemdale Movie Shinsha
There is no title more like 2022's "Slumberland" than the earlier adaptation of the same story that predates it by more than a generation. As you might expect, this animated version, titled "Little Nemo: Adventures in Slumberland," follows a boy named Nemo who travels into a far-out dreamland. While Nemo does not suffer from the same kinds of real-world problems as the gender-swapped hero in "Slumberland," this animated entry still uses the dreamy realm of Slumberland as his escape from reality. 
But beyond a few notable changes, this animated Nemo goes on very much the same journey as his live-action counterpart. Partnered with the magical, fun-loving Flip (voiced by Mickey Rooney in the American dub), Slumberland's King Morpheus (Bernard Erhard), and his advisor Professor Genius ("Star Trek: Deep Space Nine" star Rene Auberjonois), Nemo's journey leads to an epic battle with the Nightmare King (Bill Martin).
Developed as a co-production between Japanese and American animators, "Little Nemo: Adventures in Slumberland" was unfortunately never a hit in its own time (via Cartoon Brew). But with some top-notch animation and a wondrous story of adventure, it's since gone on to cult classic status. The 1992 animated version of "Little Nemo" will no doubt delight the younger audience of "Slumberland" as a unique take on the long-forgotten source material.
Peter Pan (2003)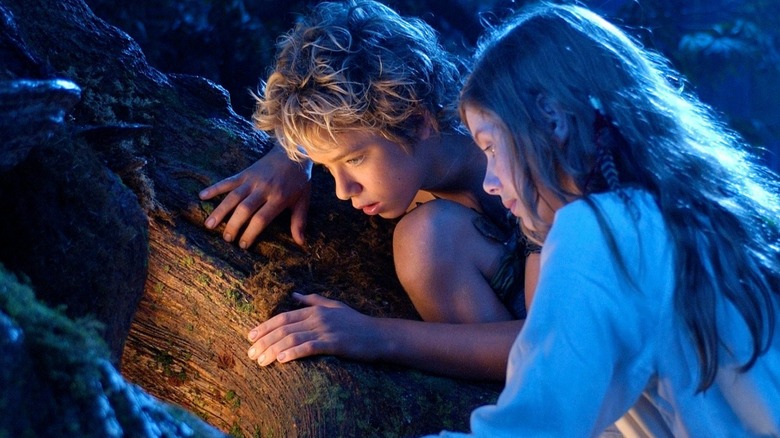 Universal Pictures
"Slumberland" sends a little girl off to an incredible dreamland, and there's no better story in modern folklore like it than that of "Peter Pan." The story of Wendy Darling and her trip to Neverland is remembered as a timeless staple of pop culture, with its Disney animated adaptation a particular favorite that you may have seen. But with many adaptations over the years, there are still others that deserve attention, and 2003's "Peter Pan" is one that's worth taking the trip to Neverland for.
The live action adventure gets right into the thick of things when Peter Pan (Jeremy Sumpter) whisks away Wendy (Rachel Hurd-Wood) and her brothers from their London home. Taken to Neverland to tell stories to Peter and his friends, Wendy and her brothers join the ranks of the Lost Boys, a group of eternally young misfits, and subsequently gain the freedom to do whatever they please. The catch, however, is that they must help Peter rid the land of the wicked Captain Hook, played brilliantly by Lucius Malfoy himself, Jason Isaacs.
The other-worldly setting of Neverland — with dreaded pirates, magical sprites, and eternal youth — is where all the action happens in "Peter Pan." While it may not boast the same level of elaborate fantasy as the dream world seen in "Slumberland," Wendy's far-off adventures that help her escape the real world makes it the perfect picture to compliment the 2022 Netflix original.
Come Away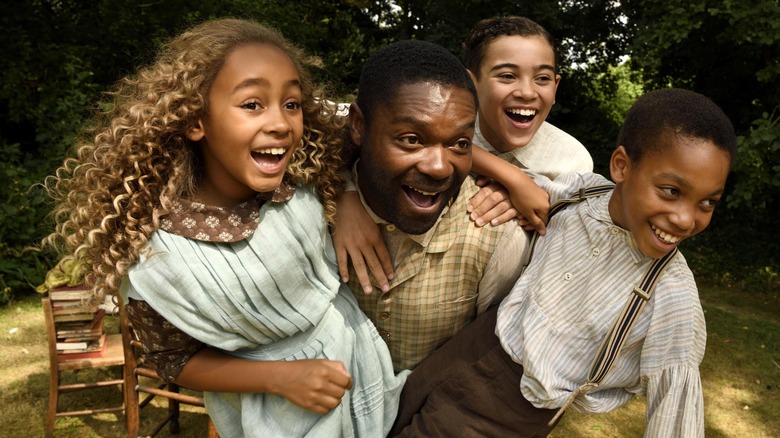 Relativity Media
We've already recommended "Alice and Wonderland" and "Peter Pan," two classics that share a lot in common with "Slumberland." But here comes the 2020 fantasy film "Come Away" to do something a bit different, mixing elements from both magical stories into something new and fresh. With an all-star cast that includes Angelina Jolie, David Oyelowo, Gugu Mbatha-Raw, Clarke Peters, and Michael Caine, it too sends its protagonist to a wondrous other world.
But like some of the best fairy tales, the story we see unfold is closely intertwined with tragedy. It begins when the peaceful life of the Littleton family in rural England is shattered by the death of their eldest son David. Shaken by grief, each surviving member of the family finds themselves struggling to come to terms with the loss, with the youngest leaving reality behind after discovering the realm of Neverland. What follows is a blending of characters and settings, with Wendy Darling and the Mad Hatter both making appearances.
A love letter to a bygone era of fairytale films, "Come Away" may be one of the more underrated fantasy flicks in recent memory, and a must see for any fan of the timeless genre. It's also an essential watch for any fans of "Slumberland" looking for similar films tackling stories of loss.
The BFG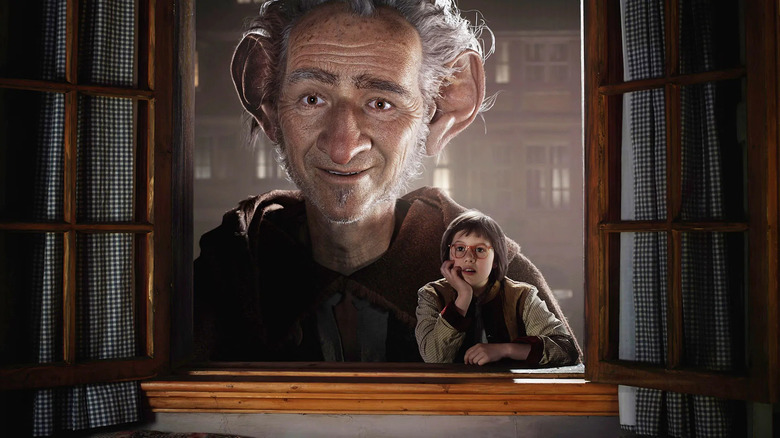 Disney
From the legendary Steven Spielberg, who has produced and directed some of the most celebrated films of the last 50 years, comes another soaring fantasy, "The BFG." Based on a well-loved book by author Roald Dahl, it springs from the mind of the man behind such classics as "Charlie and the Chocolate Factory," "The Fantastic Mr. Fox," and "James and the Giant Peach."
In the film, we learn that human beings are far from the dominant species on Earth, though they don't know it yet. Living under their noses in a hidden part of the world is a secretive race of man-eating giants, which a 10-year-old girl named Sophie (Ruby Barnhill) is seemingly the first to discover. Luckily for her, the lone giant she meets — known as the BFG, or "Big Friendly Giant" — is friendlier than all the rest. Unfortunately, however, he leaves her with no choice but to live with him in the land of Giants to protect the secrecy of their existence.
While there, her newfound friend helps teach Sophie how to control and understand dreams, all while sheltering her from his ravenous peers. Though it wasn't the box office smash that Disney may have hoped for, "The BFG" delivers on the movie magic its talented director is so famed for. Like "Slumberland," the dream world plays heavily into the story, with the ability to influence people's sleep states being an important job for Sophie's giant companion.
The Neverending Story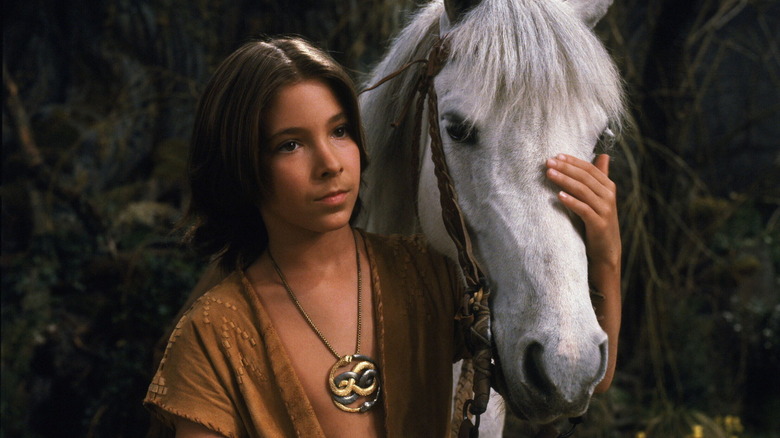 Warner Bros.
Cinema is rife with stories of children adventuring in dreams, and as we already mentioned, some of the best come from the 1980s. Like "Labyrinth," 1984's "The Neverending Story" dazzles with a bit of an edge, but it's not without its playful moments, making it a perfect fit for fans of "Slumberland." Directed by renowned filmmaker Wolfgang Peterson just a few years after his gritty submarine drama "Das Boot," it was based on a novel of the same name, and wound up sparking a trilogy of films.
The movie revolves around ten-year-old Bastian (Barret Oliver), who spends his days with his nose in the pages of fantasy novels. As is the case with Nemo in "Slumberland," Bastian uses the imaginative worlds he reads about to help escape a hard life, and one that has left him with only one surviving parent to look after him. Unfortunately, things are equally hard in the fictional stories he's preoccupied with, with the realm of Fantasia in "The Neverending Story" on the brink of succumbing to a wicked force known only as "The Nothing."
Enter Atreyu (Noah Hathaway), a young warrior who serves as the real hero of "The Neverending Story." Tasked with finding a cure for the dying Empress of Fantasia and hopefully purging the Nothing as well, he may just be the last hope for the empire's future. What no one can expect, however, is that the path to victory may blur the lines between fantasy and reality.
Stardust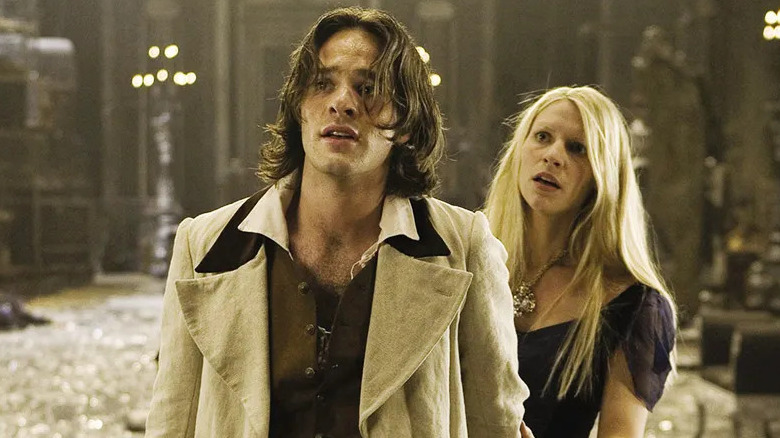 Paramount Pictures
In "Stardust," the line between the normal world and one of fantasy is separated not by the pages of magical books or dreams, but instead by a physical border between the two realities. Here the city of Wall in England is kept apart from its otherworldly neighbor Stormhold by a seemingly impenetrable stone wall. Daring to pass between the two cities, though, is Tristan Thorn (played by "Daredevil" star Charlie Cox), a resident of Wall whose pursuit of a falling star in Stormhold sends him on a journey of love, peril, and self-discovery.
Though he'd traversed the plane between worlds to seek a ball of light, it's a curious damsel he discovers named Yvaine (Claire Danes of "Homeland" fame). Now, Tristan finds himself coming to the young woman's side in her fight against a nefarious witch (Michelle Pfeiffer) and two evil princes who believe that she holds the key to their quest for power.
Another film adapted from the works of Neil Gaiman, the world of "Stardust" may not be imaginary like "Slumberland" or the author's own "Coraline," but is nevertheless a similarly intriguing realm. The film's warm critical reception and ever better audience ratings over the years should convince you that "Stardust" is a first-rate fantasy that lovers of "Slumberland" should queue up. If you're not yet sold on this mid '00s gem, consider it was written and directed by Matthew Vaughn, whose later works include "X-Men: First Class" and "Kingsman." 
The Spiderwick Chronicles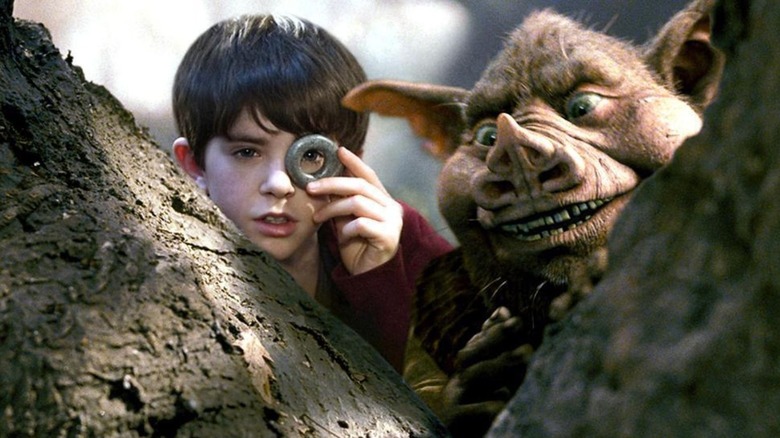 Paramount
Based on a series of children's fantasy books bearing the same name, "The Spiderwick Chronicles" follows Jared (Freddie Highmore), a young boy who's despondent over his parents' recent divorce and subsequent move into the country. Now living at the family's old estate, he discovers a dusty old book in the attic that used to belong to his great-grandfather, Arthur Spiderwick. Upon opening its leather-bound pages, he quickly finds out that it's a supposed guide to apparent magical creatures living alongside him.
Even though it's somewhat lesser-known when compared to a few of our previous entries, "The Spiderwick Chronicles" is no less deserving of your attention. Like "Slumberland" and so many other fantasy films for younger audiences, this one isn't just focused on delivering awesome fantasy moments (of which there's still plenty), but also some more grounded coming-of-age drama. Well-reviewed by critics, "The Spiderwick Chronicles" is a worthy adaptation of its source material, and the rare 21st century adventure film that doesn't sequel-bait, content to stand on its own. 
Equal parts fantasy and drama, there are some genuinely scary moments as well that make it better for older kids than young ones. Whether you've seen "Slumberland" or not, "The Spiderwick Chronicles" might be the most overlooked and under-appreciated fantasy film of the 2000s.
The Chronicles of Narnia: The Lion, the Witch, and the Wardrobe
Disney
Following the success of the "Lord of the Rings" trilogy and "Harry Potter" at New Line Cinema and Warner Bros., every studio wanted a sprawling fantasy epic movie series. That's when Disney turned to the works of acclaimed English author C.S. Lewis for an adaptation of "The Chronicles of Narnia: The Lion, the Witch, and the Wardrobe." Like "Slumberland," the adventures in Narnia had been adapted decades before as an animated movie, but the 2005 film would be the first big budget live-action film made from the literary classic.
Set during World War II, the story introduces us to Lucy, Peter, Susan, and Edmund Pevensie, four siblings living in London at the time of the blitz. Relocated to a new home, they discover a magical doorway into a fantastical kingdom called Narnia. There they meet Aslan, a mighty lion who created Narnia; and Mr. Tumnus, a playful fawn who befriends Lucy despite serving the kingdom's greatest villain, the White Witch. Drawn into a magical battle between good and evil, the Pevensies must help Aslan in his fight against the White Witch, whose incredible powers have doomed Narnia to an icy fate. 
The first in a trilogy of films, its impressive ensemble cast includes James McAvoy as Tumnus, Tilda Swinton as the White Witch, and Liam Neeson as the voice of Aslan. A faithful adaptation of a classic tale for the big screen, it's a bit more grand than Nemo's magical adventure but will give audiences something deeper to feast on after "Slumberland."