Oscars 2018: Complete List Of Winners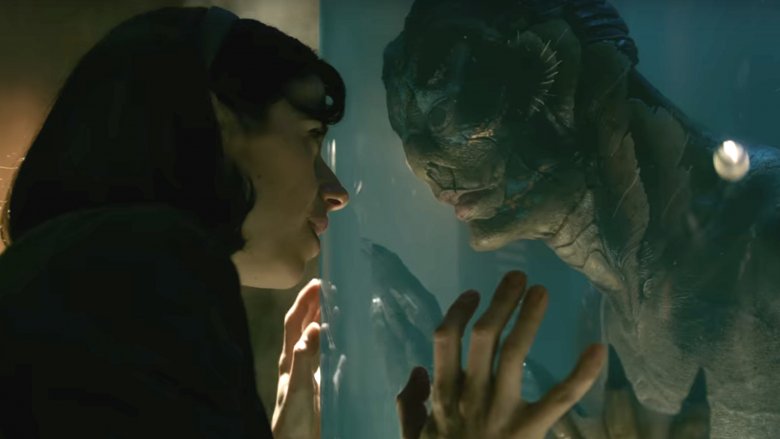 Universal
It was finally a good year to be Guillermo del Toro at the Oscars.
His fantasy drama The Shape of Water won Best Picture at the 90th Academy Awards on Sunday, and Del Toro took home Best Director. The movie was the most nominated going into the ceremony with 13 nods, and it came away with four trophies, including Best Production Design and Best Music for the score by Alexandre Desplat.
Del Toro, also known for the original Hellboy movie series and Pacific Rim, had only been nominated once before: in 2007 for writing the original screenplay to Pan's Labyrinth.
Warren Beatty and Faye Dunaway, the pair who were involved in last year's award mix-up between La La Land and Moonlight, presented the award for Best Picture. Del Toro made sure to check the envelope when he got onstage.
Jordan Peele won Best Original Screenplay for Get Out, which was nominated for four awards. Peele became the first black writer ever to win an Oscar in the category.
Christopher Nolan's World War II drama Dunkirk won three awards for film editing, sound editing and sound mixing, while Blade Runner 2049 took the award for visual effects and finally brought an Oscar to legendary cinematographer Roger Deakins, who had been nominated 13 times before for movies like The Shawshank Redemption and No Country for Old Men.
On the acting side, Gary Oldman and Frances McDormand won the lead categories for their performances in Darkest Hour and Three Billboards Outside Ebbing, Missouri. It's the first Oscar for Oldman, who was nominated once before for 2011's Tinker Tailor Soldier Spy, and the second for McDormand, who's been nominated five times and won for Fargo in 1997.
It was a disappointing evening for Lucasfilm, however, as Star Wars: The Last Jedi was shut out after four nominations. Other nominated movies that didn't win awards include Baby Driver, Guardians of the Galaxy Vol. 2, Logan, Kong: Skull Island, War for the Planet of the Apes, and The Disaster Artist.
Take a look at all the winners and nominees below.
BEST PICTURE
Call Me by Your Name
Darkest Hour
Dunkirk
Get Out
Lady Bird
Phantom Thread
The Post
WINNER: The Shape of Water
Three Billboards Outside Ebbing, Missouri 

BEST DIRECTOR
Paul Thomas Anderson, Phantom Thread
WINNER: Guillermo del Toro, The Shape of Water
Greta Gerwig, Lady Bird
Christopher Nolan, Dunkirk
Jordan Peele, Get Out
ACTOR IN A LEADING ROLE
Timothée Chalamet, Call Me by Your Name
Daniel Day-Lewis, Phantom Thread
Daniel Kaluuya, Get Out
WINNER: Gary Oldman, Darkest Hour
Denzel Washington, Roman J. Israel, Esq.
ACTRESS IN A LEADING ROLE
Sally Hawkins, The Shape of Water
WINNER: Frances McDormand, Three Billboards Outside Ebbing, Missouri
Margot Robbie, I, Tonya
Saoirse Ronan, Lady Bird
Meryl Streep, The Post
ACTOR IN A SUPPORTING ROLE
Willem Dafoe, The Florida Project
Woody Harrelson, Three Billboards Outside Ebbing, Missouri
Richard Jenkins, The Shape of Water
Christopher Plummer, All the Money in the World
WINNER: Sam Rockwell, Three Billboards Outside Ebbing, Missouri
ACTRESS IN A SUPPORTING ROLE
Mary J. Blige, Mudbound
WINNER: Allison Janney, I, Tonya
Lesley Manville, Phantom Thread
Laurie Metcalf, Lady Bird
Octavia Spencer, The Shape of Water
ANIMATED FEATURE FILM
The Boss Baby
Breadwinner
WINNER: Coco
Ferdinand
Loving Vincent
DOCUMENTARY FEATURE
Abacus: Small Enough to Jail
Faces Places
WINNER: Icarus
Last Men In Aleppo
Strong Island
DOCUMENTARY SHORT
Edith+Eddie
WINNER: Heaven Is a Traffic Jam on the 405
Heroin(e)
Knife Skills
Traffic Stop
FOREIGN LANGUAGE FILM
WINNER: A Fantastic Woman, Chile
The Insult, Lebanon
Loveless, Russia
On Body and Soul, Hungary
The Square, Sweden
WRITING (ADAPTED SCREENPLAY)
WINNER: Call Me by Your Name
The Disaster Artist
Logan
Molly's Game
Mudbound
WRITING (ORIGINAL SCREENPLAY)
The Big Sick, Emily V. Gordon and Kumail Nanjiani
WINNER: Get Out, Jordan Peele
Lady Bird, Greta Gerwig
The Shape of Water, Guillermo del Toro and Vanessa Taylor
Three Billboards Outside Ebbing, Missouri, Martin McDonagh
ORIGINAL SONG
"Mighty River," Mudbound
"Mystery of Love," Call Me by Your Name
WINNER: "Remember Me," Coco
"Stand Up for Something," Marshall
"This is Me," The Greatest Showman
PRODUCTION DESIGN
Beauty and the Beast
Blade Runner 2049
The Darkest Hour
Dunkirk
WINNER: The Shape of Water
CINEMATOGRAPHY
WINNER: Blade Runner 2049, Roger A. Deakins
Darkest Hour, Bruno Delbonnel
Dunkirk, Hoyte van Hoytema
Mudbound, Rachel Morrison
The Shape of Water, Dan Laustsen
COSTUME DESIGN
Beauty and the Beast
Darkest Hour
WINNER: Phantom Thread
The Shape of Water
Victoria & Abdul
SOUND EDITING
Baby Driver
Blade Runner 2049
WINNER: Dunkirk
The Shape of Water
Star Wars: The Last Jedi
SOUND MIXING
Baby Driver
Blade Runner 2049
WINNER: Dunkirk
The Shape of Water
Star Wars: The Last Jedi
MUSIC (ORIGINAL SCORE)
Dunkirk, Hans Zimmer
Phantom Thread, Jonny Greenwood
WINNER: The Shape of Water, Alexandre Desplat
Star Wars: The Last Jedi, John Williams
Three Billboards Outside Ebbing, Missouri, Carter Burwell
SHORT FILM (ANIMATED)
WINNER: Dear Basketball
Garden Party
Negative Space
Lou
Revolting Rhymes
SHORT FILM (LIVE ACTION)
All of Us
DeKalb Elementary
My Nephew Emmett
The Eleven O'Clock
WINNER: The Silent Child
VISUAL EFFECTS
WINNER: Blade Runner 2049
Guardians of the Galaxy Vol. 2
Kong: Skull Island
Star Wars: The Last Jedi
War for the Planet of the Apes
FILM EDITING
Baby Driver
WINNER: Dunkirk
I, Tonya
The Shape of Water
Three Billboards Outside Ebbing, Missouri
MAKEUP AND HAIRSTYLING
WINNER: Darkest Hour
Victoria & Abdul
Wonder