Wednesday's Principal Weems Was Inspired By Alfred Hitchcock's Horror Classic The Birds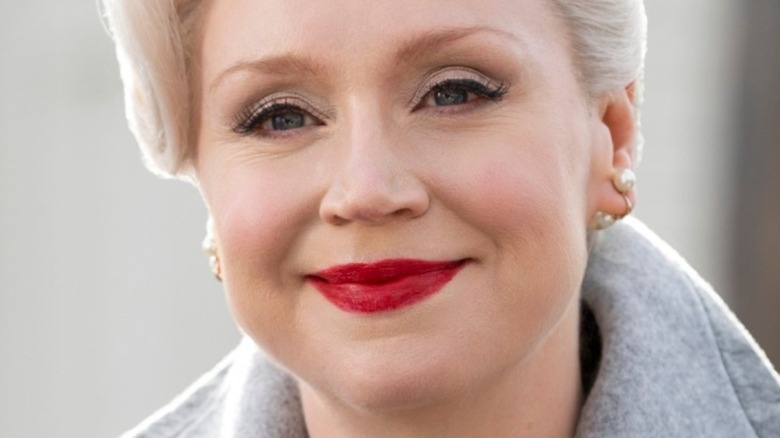 Vlad Cioplea/Netflix
A mix of the morbid and the modern, Netflix's newest successful "Wednesday" is a delightful continuation of a well-known character. Set in the universe of "The Addams Family," Wednesday Addams (Jenna Ortega) goes on a new adventure after she is expelled from her old high school for releasing piranhas on the water polo team. After escaping criminal charges, Wednesday finds herself at a place that is closer to her sensibilities: Nevermore Academy. The prestige boarding school caters to a vast selection of the weird, including werewolves, vampires, and magic users.
One look at the place, and there is no question where the school gets its inspiration. With its towering gothic architecture and near-constant references to Edgar Allan Poe, Nevermore is essentially America's Hogwarts School For Witchcraft and Wizardry — without all the wholesome feasts and life lessons. You would be hard-pressed not to notice the horrific influences that circulate the characters. Even horror master Alfred Hitchcock gets his time in the sun in a particularly subtle reference.
Weems is modeled after Tippi Hedren's timeless look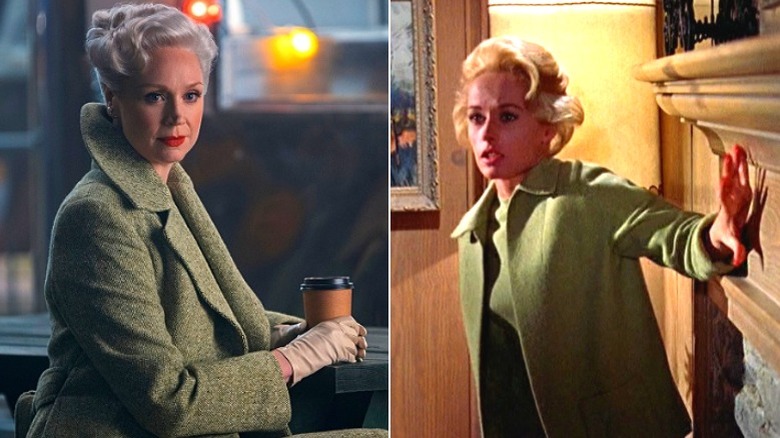 Vlad Cioplea/Netflix & Universal Pictures
Wednesday Addams has dedicated herself to a lifestyle off the beaten path, so it stands to reason other characters would also be a reflection of that. Alfred Hitchcock's filmography stands apart, depicting terrifying elements as well as the star power of leading lady Tippi Hedren. Their fraught relationship was not a secret, portrayed in biopics such as HBO's "The Girl." But that still does not change how iconic the actor became, especially in the horror film "The Birds." Starring as Melanie Daniels, who pursues a romantic interest in a bayside community, Hedren became known in the role for her coiffed hairstyle and stylish trench coat. This was the exact sort of look that costume designer Colleen Atwood took a shine to when developing Principal Weems (Gwendoline Christie).
"I bought this vintage poster of Tippi Hedren in 'The Birds.' I showed her a picture of it. I said, 'This is who I think you are. And she was like, 'I love it,'" Atwood told Variety, going on to say that, "Weems is her own kind of misfit, in a totally different way." Though Weems demonstrates supernatural abilities found in students at Nevermore, she also stands apart. Like Melanie, she is profoundly vulnerable, holding on to hurtful memories from the past. Many of her actions mask inner pain, a trait that connects her with fellow figures in the genre.