What Smashing Pumpkins Song Plays In The Guardians Of The Galaxy Holiday Special?
Contains spoilers for "The Guardians of the Galaxy Holiday Special"
From the second Peter "Star-Lord" Quill (Chris Pratt) burst on the Marvel Cinematic Universe scene with his dance moves and old school Walkman, music has been an instrumental part of the "Guardians of the Galaxy" experience. James Gunn's "The Guardians of the Galaxy Holiday Special" is no different than the team's big-screen movies on this front. From the two original songs performed by The Old 97's (with Kevin Bacon taking over vocal duties in the second one) to rockin' Christmas classics like Hanoi Rocks' "Dead by Xmas" and "Fairytale of New York" by The Pogues and Kirsty MacColl, the special's soundtrack is brimming with the kind of quality you'd expect. 
The look into the Guardians' fumbling — and more than a little bit criminal — Holiday preparations culminates when Quill's teammates surprise him by lighting Knowhere up with an impressive array of Christmas lights, as Star-Lord walks through the closest thing to a winter wonderland that can be achieved within the confines of a dead Celestial's head. The scene unfolds in front of the increasingly giddy Quill like the Christmas miracle it is, as an adequately joyous tune by The Smashing Pumpkins swells on the background. If you were wondering exactly what the song that plays in the scene is, don't worry — Looper's got your back. 
The Smashing Pumpkins' Christmastime celebrates the Holidays in a surprisingly positive fashion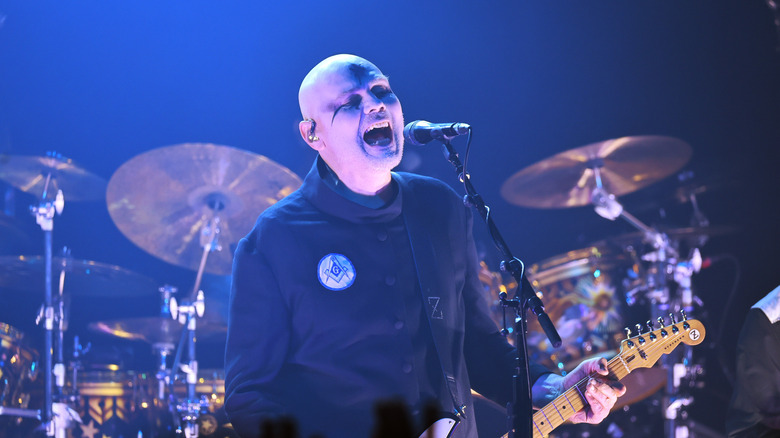 Theo Wargo/Getty Images
A large percentage of The Smashing Pumpkins' output might dwell on doom and gloom, but "Christmastime" is not only a completely earnest song about the joys of celebrating the Holidays with your family — it also has a pretty uplifting story behind it. The Billy Corgan-penned tune isn't from the Pumpkins' own albums, you see. Instead, it's an original recording for "A Very Special Christmas 3," a Special Olympics charity album (Via Allmusic). 
The song keeps to the Holiday special's trend of using Christmas-themed rock tunes, but its lyrics evoke similar imagery as traditional Holiday songs. The combination makes "Christmastime" the perfect soundtrack for the unveiling of Quill's surprise Christmas party — and the song's beautiful melody sets up a neat mood whiplash when Star-Lord realizes to his horror that his fellow Guardians have kidnapped a human being.  
"The Guardians of the Galaxy Holiday Special" is available for streaming on Disney+.