Sylvester Stallone Recommends Actors Shouldn't Do Their Own Stunts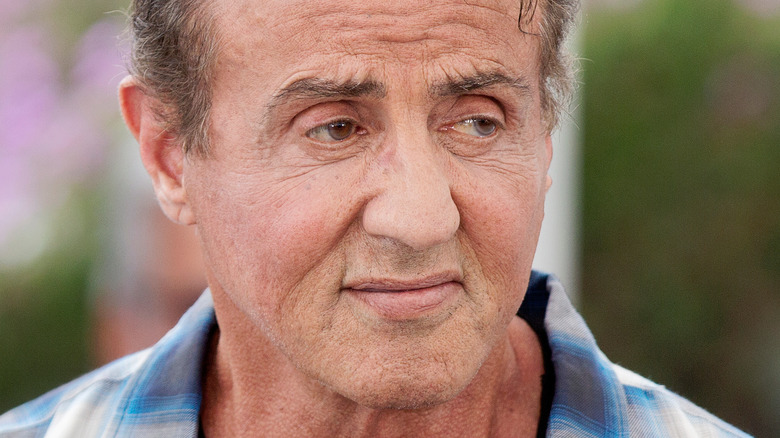 Andrea Raffin/Shutterstock
Sylvester Stallone is one of Hollywood's biggest and most prominent action stars. Not only does he have two long-running and beloved franchises to his name (this "Rocky" and "Rambo" series), but he's also appeared in such classics of the action genre as "Cliffhanger," "Demolition Man," "Cobra," and many more. He even played Judge Dredd in a film, although whether that movie can be called a classic is open to interpretation; both its critical and audience scores on Rotten Tomatoes aren't looking too hot at the moment, although there's always time for a late reappraisal to start turning the tide. In addition to later "Rocky" and "Rambo" installments, his later period has been defined by "The Expendables" franchise as well as stuff like "Escape Room" and the recently released "Samaritan."
Suffice it to say, with that many action movies under his belt, Stallone has taken his share of physical punishment over the years. But in an interview looking back on his career to promote his series "Tulsa King," he advises against that age-old badge of honor for Hollywood action stars: doing your own stunts.
Stallone has had to have several surgeries over the years to repair his ailing body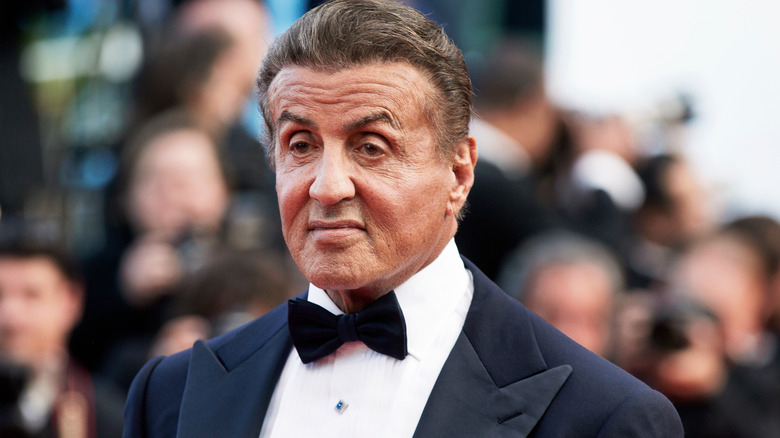 Andrea Raffin/Shutterstock
Sylvester Stallone's interview with The Sunday Times is wide-ranging and far-reaching and covers a variety of the actor's regrets over the years, including his being an "absent father" to his kids as a result of his career as a Hollywood superstar. But one interesting aside came as Stallone spoke on what he sees as the current state of action cinema: the genre "changed radically when it became possible to Velcro your muscles on," said Stallone before directing the interviewer's attention to the scars from his neck fusion operation, shoulder surgery, and a total of five operations on his back.
"Don't do your own stunts, that's the moral of that," said Stallone. But his advice is probably intended in a tongue-in-cheek tone since he continued to bemoan the lack of real action in today's action movies. "But the special effects became more important than the person. Life is a matter of managing your a**-whipping," said Stallone. "That's why I've always been a fan of defeated fighters. The undefeated boxer? I'm not interested."
Stallone might have his opinion on modern-day action movies, but he's also honest about the long-term effects that doing real-world stunt work can have, especially when you reach your 70s. And of course, with a fourth "Expendables" film on the way, Stallone hasn't said goodbye to the action genre yet –- even if he probably isn't doing as many of his own stunts as he used to.