Kumail Nanjiani Recounts His Touching First SNL Experience
Matt Winkelmeyer/Getty Images
Kumail Nanjiani made his mark in the entertainment industry over a decade ago, per IMDb. The "Silicon Valley" actor has become famous for his comedic abilities throughout his career. Despite starting as a stand-up comic, Nanjiani revealed that he did not realize others found him humorous until he was a Grinnell College student in the late 1990s. During a November 2022 interview on the "Conan O'Brien Needs A Friend" podcast hosted by Conan O'Brien, the Pakistan native explained he believes he did not develop his personality until he was a young adult. "In college, suddenly, people were like, 'oh hey, you're funny.' And I was like, oh, now I have an adjective I can use to describe myself. I felt like that was the first time I had anything was being funny," Nanjiani shared.
The "Eternals" star noted that after this revelation, he dedicated his life to comedy. While recording a November 2022 episode of the "Fly on the Wall" podcast, hosted by "Saturday Night Live" alums Dana Carvey and David Spade, Nanjiani shared that his first big break was on a 2008 episode of the variety show.
Kumail Nanjiani shared he had a positive experience on SNL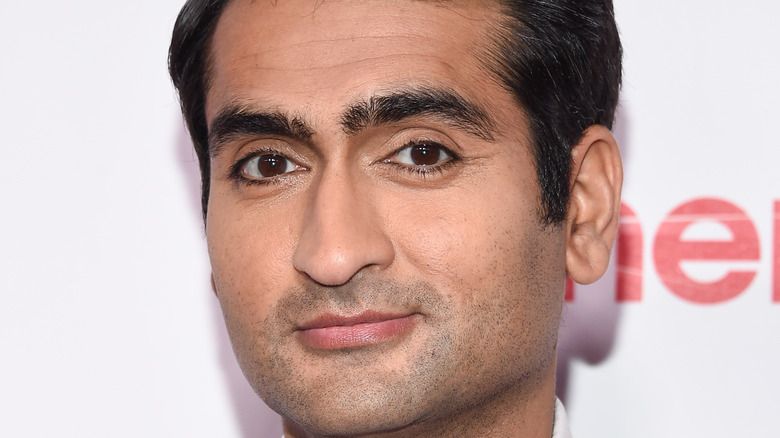 DFree/Shutterstock
During the "Fly on the Wall" episode [54 minutes], Nanjiani revealed an "SNL" writer approached him to appear in a scene about a press conference starring Jason Sudeikis and the week's host, James Franco. He accepted the offer to say three lines and attended the dress rehearsal. However, Sudeikis made a mistake during the rehearsal causing the "Obi-Wan Kenobi" star to have difficulty with his lines. "Sudeikis messed up his line and it threw me so much in dress [rehearsal] that I messed up my line, I just didn't know, I literally just stumbled my words. So then suddenly, when I get the script for air, now I have two lines instead of three lines," recalled the comedian.
Nanjiani clarified that the show's stars, specifically Sudeikis, were understanding about his flub. "We're starting the sketch, I don't know Sudeikis at all; he's there while we're about to do the live one, he looks at me and he says, 'I'm sorry.' He, like, apologized to me. It meant a lot to me," said the "Big Sick" star. He said he also had pleasant experiences with Will Forte, Darrell Hammond, and Kristen Wiig during his brief stint as an "SNL" extra. "I was just touched that they went out of their way to make me feel confident, comfortable, and welcome," said Nanjiani.