Terrifier 2 Director Damien Leone Made Sure To Pay Homage To Tom Savini's Work In Maniac
Warning: This article contains numerous mentions of extreme violence.
Horror movies have a way of surviving — much like its formidable final girls. "Terrifier 2" adds to that lore with a success story defying the box office odds. The film sees its vicious killer, Art the Clown (David Howard Thornton), on another ultra-gory rampage. What unfolds builds on horror history, with audience word of mouth playing a major role; that is, if fans make it through "Terrifier 2" without getting sick.
The film's success is even more astounding thanks to a budget of only $250,000 (per Variety). With over $11 million in box office grosses, "Terrifier 2" certainly got audience attention and established Art the Clown as a horror icon alongside the likes of Michael Myers, Freddy Krueger, Jason Voorhees, and Chucky, to name a few.
The film may be making history, but it's also keeping in mind those titles that helped make it all happen. From genre classics to titles only die-hard fans would know, "Terrifier 2" pays homage to those projects that influenced generations of horror aficionados. One movie, in particular, that helped inspire some of the most brutal scenes in "Terrifier 2" is none other than 1980's own "Maniac," a horror film with gnarly bloody effects helmed by genre icon Tom Savini.
One scene takes its cues from Maniac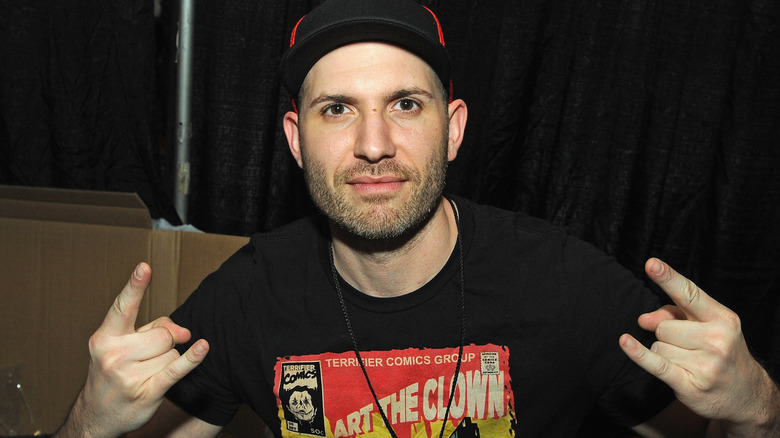 Bobby Bank/Getty Images
One of the most infamous scenes in "Terrifier 2" is the bedroom scene. In it, Allie undergoes a variety of torturous elements before being murdered. Many cite it as the most memorable scene from the sequel, and the actress who plays Allie, Casey Hartnett, is receiving attention for her portrayal. She even revealed during another interview that someone asked her to sign a canister of salt (via The Grimm-Life Collective). Anyone who knows the film will be well aware that both salt and bleach play a pivotal role in the scene.
It also features flaying and scalping, the latter being closely connected to effects legend Tom Savini. Damien Leone revealed that the act and the scene's entire look were a direct homage to 1980's "Maniac" (via @damienleone).
Not wanting to rely on darkly lit spaces for settings, Leone seemingly used some of the brightly lit scenes from "Maniac" as inspiration. According to the filmmaker, he wanted viewers to see every detail; that meant utilizing lighting to create a room where every corner was visible. For the bedroom scene, Leone cited producer Phil Falcone's help in getting everything just right for the scene. He revealed that it took them months to get ready for the difficult series of challenges presented by Art's multiple mutilations (via @damienleone). The results are winning over horror fans and those who love fearless cinema.
Tom Savini's work makes Maniac even more memorable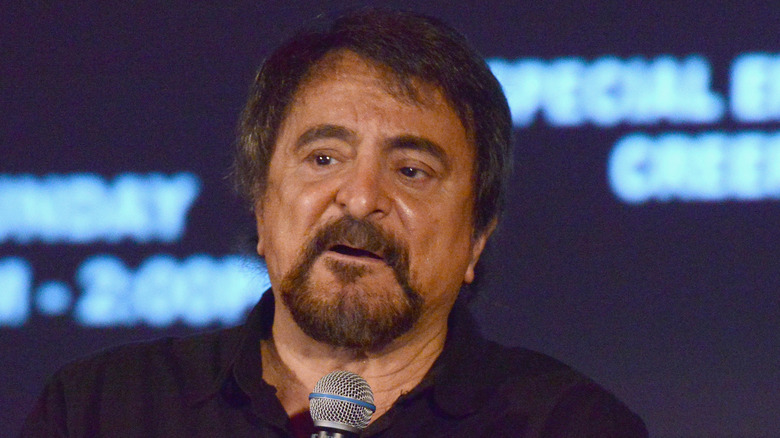 Albert L. Ortega/Getty Images
Tom Savini provided the special makeup and effects for "Maniac." The William Lustig film focuses on a murderer — played by the project's co-writer Joe Spinell — who is haunted by childhood events. His life is spent murdering female victims and scalping them. Their hair is then placed on mannequins. The lifeless items' presence is a key point throughout the film as everything unravels for the man.
A legend in the field, Savini's work is a veritable history of horror itself (via The Independent). His filmography lists classics ranging from the original "Friday the 13th" to George A. Romero's "Dawn of the Dead" (via IMDb). Over decades, his name has become one of those synonymous with the genre's inventive effects.
The talented artist found his start in the field through very real horrors; his time as a photographer during the Vietnam war led him to cultivate a knowledge of humanity's cruelty (per The Independent). Savini also discovered up close what the most gruesome of deaths could look like. "What saved me from going insane in Vietnam was looking at these horrible scenes like they were a special effect someone else had created," Savini told The Independent.
Those details stuck with him and helped him move forward to create unforgettable effects. "Maniac" offered just such an opportunity for Savini; the gritty and unflinching details of its murders further showed off the legend's talented eye for gore.