Andor's Season Finale Has A Fun Easter Egg For Those Fluent In Aurebesh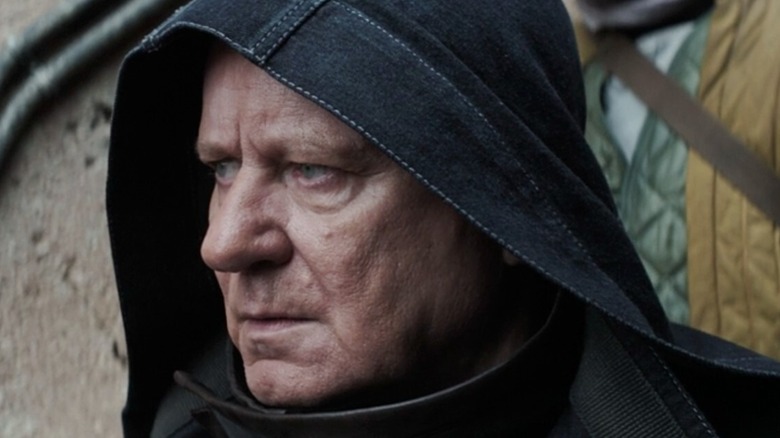 Lucasfilm/Disney+
Season 1 of "Andor" has come to a close, and the show brought "Star Wars" into all-new territory. Following the less-than-ideal performance of "Star Wars: The Rise of Skywalker," Lucasfilm decided to take a different approach for their legendary franchise, forgoing theatrical releases to develop stories on Disney+. The studio was off to a strong start with "The Mandalorian" but failed to recreate that massive success with "The Book of Boba Fett" and "Obi-Wan Kenobi." 
All three shows included numerous Easter eggs and connections to previous "Star Wars" films, relying on those connections and nostalgia to entice fans to tune in every week. When Disney announced "Andor" in 2018, fans expected much of the same, including Easter eggs and in-your-face connections to "Rogue One." However, since its premiere, "Andor" has remained relatively standalone in the "Star Wars" universe, avoiding needless cameos and only using them to expand its dark, gritty story.
The show's decision to avoid fan service became a driving force in the praise Lucasfilm received from both fans and critics. Everyone knows how tough "Star Wars" fans can be, so to please them as much as "Andor" has is no small feat. On the other hand, critics just flat-out love the show, too, with Rotten Tomatoes giving it 93% and IGN giving it a 10 and dubbing it a masterpiece.
While "Andor" avoided using Easter eggs and jokes to lighten its very dark mood, show creator Tony Gilroy managed to include at least one fun Easter egg in the show's season finale.
Andor's sneaky Easter egg proves it's not all doom and gloom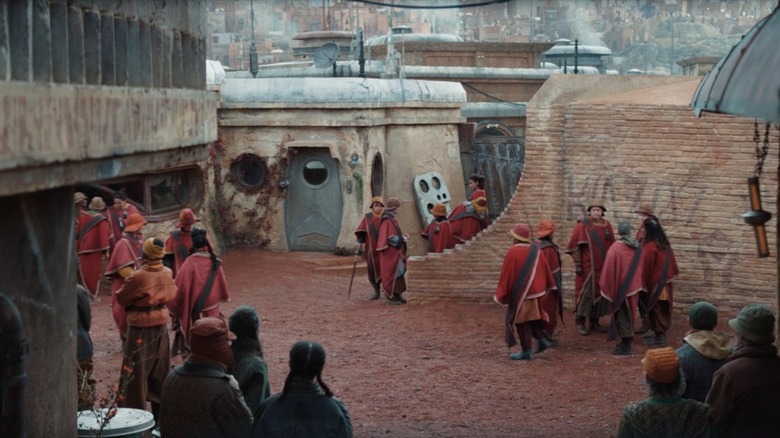 Lucasfilm/Disney+
Warning: Spoilers for the "Andor" season finale
The blink-and-you-miss-it Easter egg comes right before the midway mark of the season finale. As the citizens of Ferrix prepare for Maarva's (Fiona Shaw) funeral, fans get a glimpse of some people dressing in ceremonial attire and warming up their instruments. Then, we see a group of individuals wearing red and standing in front of a brick wall. On the wall, written in the traditional "Star Wars" system Aurebesh, is the word "Andor." It's a fun little Easter egg for fans familiar with the symbolistic writing, one that the show doesn't include very often throughout its first season.
Aurebesh is the common writing system used throughout the "Star Wars" universe to visualize Galactic Basic Standard, the most frequently-used language. General audiences have seen it throughout every "Star Wars" project, usually showing up on digital screens and clone armor throughout "The Clone Wars."
The fun Easter egg is a nice change of pace for "Andor," which has primarily refrained from including light-hearted elements that could take away from the show's gritty nature. Another standout reference featured in "Andor" was the inclusion of Starkiller's armor in Episode 4. Show creator Tony Gilroy gave credit where credit is due in a recent interview with Variety, revealing that the art department is to thank for the show's background Easter eggs. While he knows the ins and outs of his characters, there's too much "Star Wars" lore to know everything. He leaves everything else in the hands of the art department to go crazy. "The art department will sneak in all that crap into Luthen's gallery," Gilroy said. "So many cool people work on the show. There's a deep geekdom in Pinewood, believe me."