The Guardians Of The Galaxy Holiday Special Makes The Best Case For Dave Bautista As A Live-Action Kratos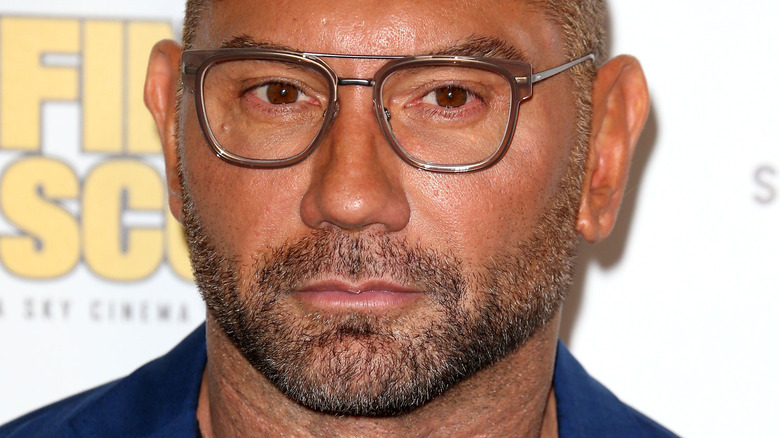 Fred Duval/Shutterstock
As great as it is to see the Guardians full of Christmas cheer for "The Guardians of the Galaxy Holiday Special," it's a festive bit of fun with a bittersweet aftertaste for fans who know what's coming. As James Gunn has made clear, "Guardians of the Galaxy Vol. 3" is his final stint steering the ship for space's biggest bunch of a-holes, and the cast is likely to follow suit (per Deadline). There's a strong chance that the closing chapter of the trilogy will see Star-Lord (Chris Pratt) fly off into the sunset, which, while leaving a big hole in the MCU, will free up the work schedule of its cast, including one Dave Bautista.
The man who brought the sarcasm-deflecting destroyer with sensitive nipples to life has already proven he can push his talent beyond being the comic relief in Gunn's hilarious space section of the MCU. So much so that he's confident enough to make a public request to take the lead as Marcus Fenix in Netflix's upcoming adaptation of the videogame franchise, "Gears of War."
Even Cliff Bleszinski, the "Gears of War" creator, named Bautista as his casting pick. That is easily an absolute dream casting choice if it ever came to pass. In the meantime, the Disney+ "Guardians of the Galaxy Holiday Special" throws a video game joke Drax's way, a joke which could possibly plant the seeds of Bautista playing another gaming icon beside the leader of the COGs. This popular character is none other than Kratos, the God of War.
Drax gets mistaken for legendary video game hero Kratos from God of War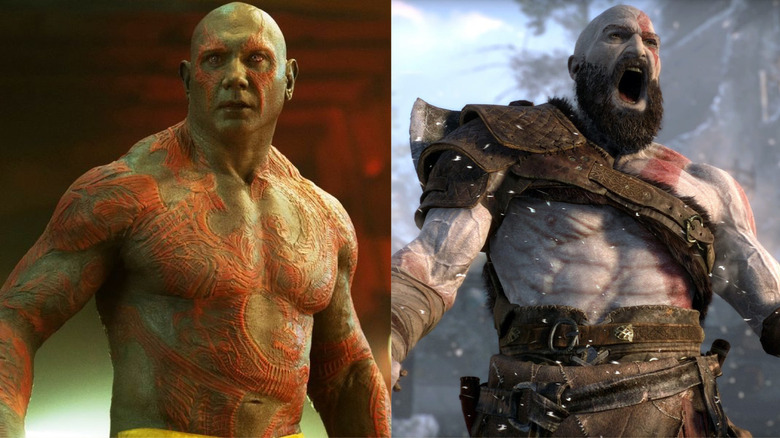 Marvel Studios/Disney+/Sony Interactive Entertainment
During "The Guardians of the Galaxy Holiday Special," Drax and Mantis (Pom Klementieff) take it upon themselves to give Peter Quill a Christmas to remember by kidnapping Kevin Bacon. Before enacting their holiday heist, they stop off in Hollywood, where they get snagged by tourists wanting to get photos with the world-famous heroes from space. Well, world-famous to some, at least. Amidst the snap session, one star-spotter is overjoyed at the fact they've managed to get a picture with Kratos, the God of War, and the iconic PlayStation hero who shares a similar look to Drax.
While the latter has ashen skin thanks to a dark moment from his past, he does have a heavy splash of red covering his body, the same way our favorite Kylosian does, which explains the confusion. With that said, it is a slightly meta moment given that as much as Fenix is a fan favorite for Bautista, the actor is also a fan favorite to play Kratos in a live adaptation (per Movie Web).
Interestingly enough, the artist behind Kratos' original design, Charlie Wen, also helped design a more modernized version of Drax the Destroyer. In a Looper exclusive, the artist touched on how similar the characters looked to one another and how that initially worried him. (He also talked about how Jason Momoa nearly joined the MCU as Drax!)
Bautista's Drax and Kratos have similar backgrounds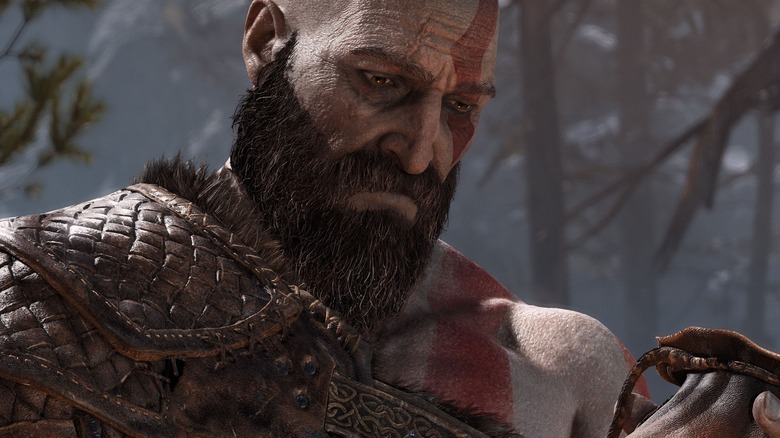 Sony Interactive Entertainment
While he's made it very clear that he wants his name down as Marcus Fenix for Netflix's "Gears of War," there's absolutely no reason why the former six-time WWE champion can't play both sides of the stream if the chance came along. Admittedly, the blade-wielding Spartan warrior's role isn't too dissimilar in looks and back backstory to Drax.
Originally appearing on the PlayStation 2 in 2005, Kratos was a bloodthirsty protagonist out for vengeance against the Greek god of war, Ares, for the death of his wife and daughter. Since then, he brought down Mount Olympus and found a new life and different threats to square off against in the 2018 Norse revival.
While it might sound like Drax's doppelganger, as Thanos slew his family, Kratos would be a beefier role for Dave Bautista to get a handle on and demonstrate more of a dramatic side to the star we've only caught glimpses of. Appearances in the likes of "See" and "Blade Runner 2049" have proved that there's a far more serious performance waiting to bust out from the man that destroyed Drax (in a good way), and it might just be a gag in a Christmas special to get it going. All we can do is cross our fingers and leave the rest up to the gods.