The Creator Of Gears Of War Has His Own Casting Picks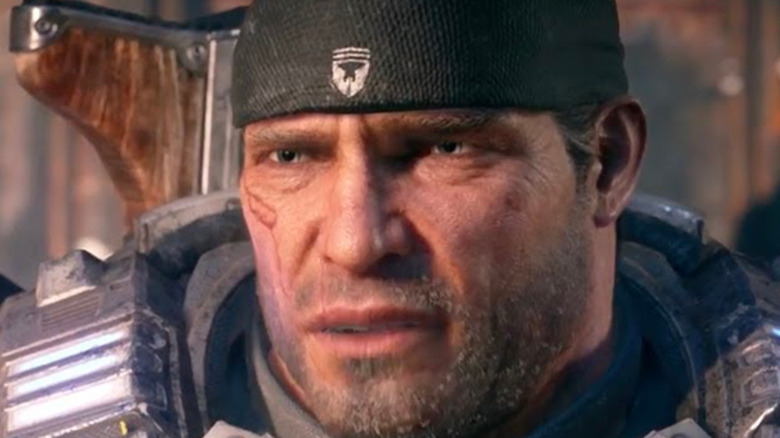 Microsoft
There might have been a bit of lag — okay, a lot of lag — but it feels like Hollywood finally has a grasp on adapting video game properties into television shows and feature films. Entries like "Werewolves Within" and both "Sonic the Hedgehog" movies prove that when handled the right way, compelling stories can come from those that used to come with loading screens, after all. This turnaround has helped "The Last of Us" become one of the most anticipated shows of next year when previously, fear of tarnishing its reputation would've been far greater.
One company that's keen to keep the trend going is Netflix, which, besides having already dabbled with impressive adaptations with titles like "Castlevania," "Arcane" and, most recently "Cyberpunk," has a massive playlist that continues to grow. Titles like "Bioshock," "Splinter Cell," and "Tomb Raider" have been snatched up by the streamer for some time, and now the iconic shoot-em-up "Gears of War" has been added to it. Following the announcement, its creator Cliff Bleszinski has chimed in with his perfect casting picks for some of its most well-known characters. But with all his enthusiasm for a select group of names, he's made it clear there's one star he doesn't want anywhere near the project whenever it comes to pass.
Cliff Bleszinski wants Dave Bautista on board Gears of War — and Chris Pratt as far away as possible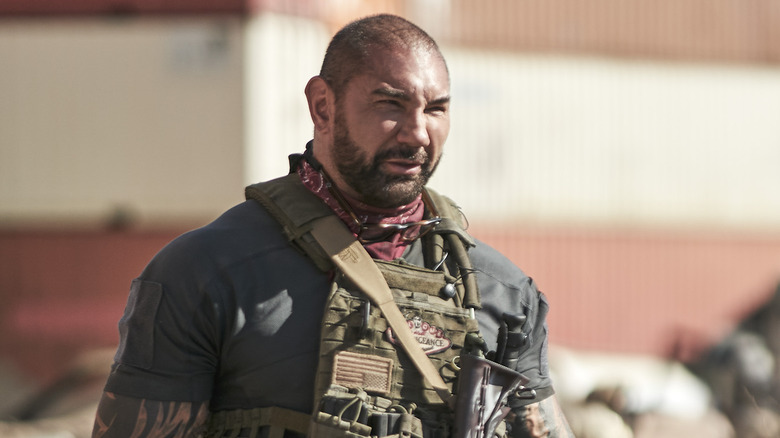 Netflix
Wasting no time suggesting what a live-action "Gears of War" should look like, Cliff Bleszinski added his input on Twitter over who should make the cut. "Oh and yes, [Dave] Bautista as Marcus, please — and a Latino actor for Dom, dammit." Bleszinski was referring to the game's protagonist Marcus Fenix who leads a recurring squad of roughnecks comprised of Dominic Santiago, Augustus Cole, and Damon Baird. Together they fight against The Locust, a subterranean race that rises up and sends Fenix's home world into chaos.
For this hard-as-nails quartet, Bleszinski added that for the smart-mouthed tech member of the team, "I think @VancityReynolds [Ryan Reynolds] would make a perfect Baird in the live action #GearsofWar movie." He was even willing to venture for an alternate Fenix suggesting the leader of "The Boys" could take charge of the COGs in this gory bullet-riddled action-fest. "I could also see Karl Urban as Marcus, folks. F***in' diabolical." One person he was adamant wasn't in the line-up was a star already encountering feedback for another movie videogame-based role they'd taken in "Super Mario World" — Chris Pratt. "Oh yeah," added Bleszinski, "and keep Chris Pratt away from the 'Gears' franchise, please FFS." While we can only wait to see if the big red N takes the original Gear-head's opinions on board, the name's mentioned so far aren't that out there, particularly given their history with the franchise already.
Dave Bautista has a history with Gears of War and he's not the only one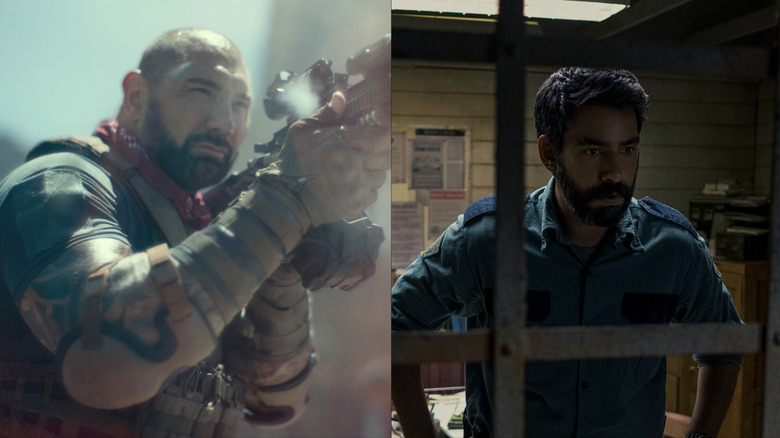 Netflix
While Dave Bautista got a lot of reaction from fans following Cliff Bleszinski's tweet, it's not new territory for the wrestler-turned-Hollywood star. As well as being a downloadable skin to use in "Gears 5" he's expressed his enthusiasm for the role of Marcus Fenix for some time. In a Gamespot Q&A, he admitted, "I've been pursuing Gears of War for years now. I believe it's in the hands of Universal Studios. And I've been knocking on their door and badgering them." Of course, now the rights are with Netflix, that door is already open, having worked with the company for Zack Snyder's "Army of the Dead," as well as appearing in the eagerly anticipated sequel to "Knives Out," "Glass Onion." It would be pretty surprising if they didn't respond to both the fans and the franchise creator in giving Dave a call and letting one of the most perfect casting choices actually come to pass. While they're at it, they could give another Netflix familiar a call as well.
Besides Bautista being linked to "Gears" in the past, Mike Flanagan familiar, Rahul Kohli also played a part in the story of "Gears 5." Kohli was Fahz Chutani, a friend of Fenix's son JD. While that part of the saga doesn't come to pass until later on in the franchise's story, there's no reason they couldn't give it a few tweaks here and there. Here's hoping both these player selects get made whenever "Gears of War" comes to pass.