Kumail Nanjiani Jumped At The Chance To Play A Bad Guy In Welcome To Chippendales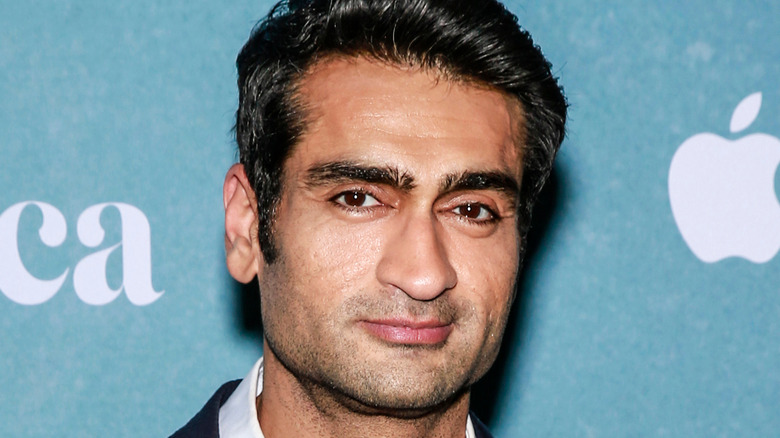 Ovidiu Hrubaru/Shutterstock
Hulu's new series "Welcome to Chippendales" is shaping up to be one of those "stranger than fiction" type stories that makes for perfect appointment viewing. But one of the most surprising things about the drama, which premiered November 22 and chronicles the founding of Los Angeles' first Chippendales club, is that its most unsavory character is played by Kumail Nanjiani.
Nanjiani, who played both a romantic lead in "The Big Sick" and an actual god in "The Eternals," is embodying his darkest, most contemptible character yet in the eight-episode "Welcome to Chippendales" miniseries. As Somen "Steve" Banerjee —the founder of the famous touring strip show Chippendales — Nanjiani plays a man who orchestrates both murder and arson in his rise from mannered, ethical businessman to megalomaniac criminal. And though he initially balked at the role, Nanjiani recently revealed to Good Morning America that he came to see it as an opportunity.
Kumail Nanjiani originally said no to the role of Steve Banerjee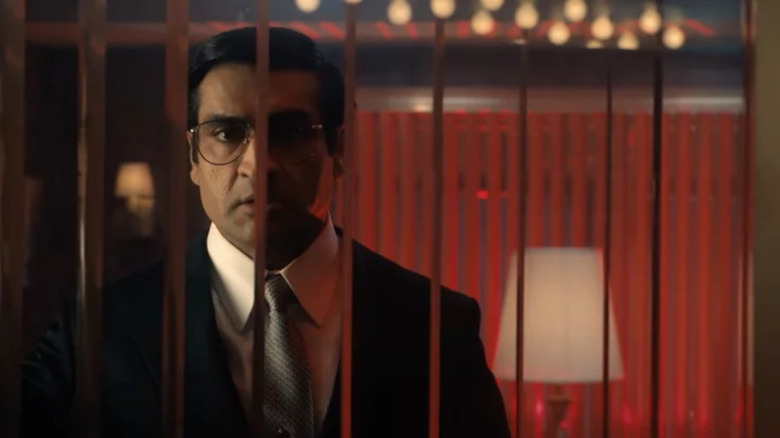 Hulu
Notably, Kumail Nanjiani had admitted before that he was at first "intimidated" by the role of Somen "Steve" Banerjee. "I just didn't feel ready. I didn't know a way into playing a character like that. So I said no," he told The New York Times recently. 
Nanjiani also told the publication that he didn't feel comfortable playing a villainous Indian immigrant at first. "When I first said no, I was like, I don't want to play a bad guy who's brown in this climate," he said. "But the tyranny of the positive portrayal is just as reductive as the stereotype. I hear from people saying that I need to put up a pure, noble front. That's not interesting to me."
Nanjiani also elaborated to InStyle recently that he originally didn't believe himself to be a capable enough actor for the job. "I was scared to do that, because I know I couldn't use any of my go-to moves," he said. "I couldn't be funny. I couldn't even smile that much." 
However, Nanjiani has clearly come around, and as he recently told Good Morning America, he grew to see Banerjee as a healthy challenge. "I don't really get the chance to play people who are, like, bad guys, you know?" he said. "So that's why I was like, 'I have to do it. I have to see if I can do it.'"
Kumail Nanjiani says Banerjee reminds him of Walter White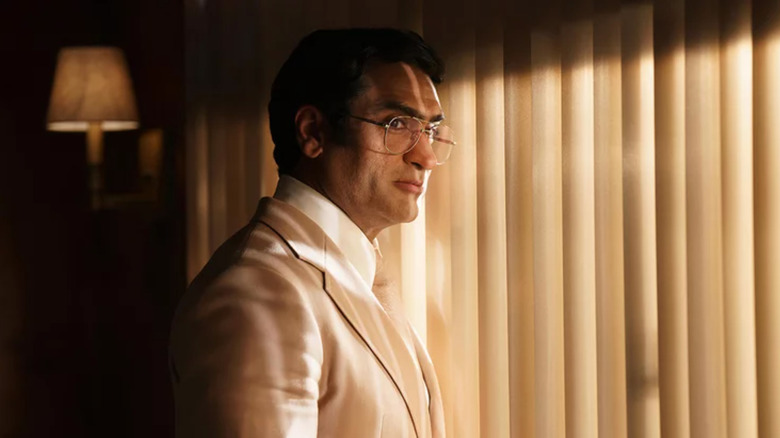 Hulu
Once Kumail Nanjiani embraced his new role of Somen "Steve" Banerjee, the actor began to see bits of Banerjee in other classic TV villains. In an interview with /Film, he even compared Banerjee to Walter White of "Breaking Bad." 
"I think he's more Walter White," he said. "I think the things about him that caused him to do the bad stuff are in him from the beginning. He just doesn't have the power to do anything about it, but he has that impotence."
Nanjiani also felt a strong desire to play more villains after finishing out the role; he even looked towards a fellow MCU star for inspiration. "Once I finished this, I was like, I want to play more villains. I saw Sebastian Stan in 'Fresh,' and he plays such a bad guy," Nanjiani told The New York Times. "I was like, what an interesting career: He does Marvel, things where he's a superhero, and then he'll do things where he's a really scary sociopath."
In any case, Nanjiani certainly appears to have cherished his latest acting job. In his interview with Good Morning America, Nanjiani claimed that "Welcome to Chippendales" allowed him to collaborate with the best actors he's ever worked with — which is either high praise for his "Chippendales" costars Murray Bartlett and Juliette Lewis or accidental criticism of all of his past coworkers, including Angelina Jolie.
"Welcome to Chippendales" is now available on Hulu.