Viewers Of Netflix's Wednesday Are Blown Away By Jenna Ortega's Cello Scene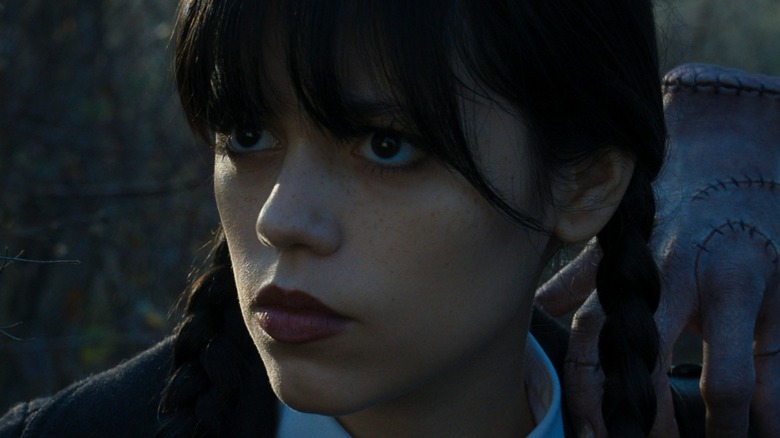 Netflix
In the decades since Charles Addams introduced his "Addams Family" cartoons in the late 1930s, the beloved oddball family has made it to live-action on several occasions. The first came via the small screen in 1964 in the form of a television series. Though it only ran until 1966, amassing only 64 episodes, it did an excellent job of bringing the Addams clan into mainstream pop culture. Director Barry Sonnenfeld built upon this groundwork years later in 1991 with his feature film, "The Addams Family," which earned itself a sequel in 1993, titled "Addams Family Values."
While there's a lot to love from the "Addams Family" duology, the undeniable standout of both features was Christina Ricci's take on Wednesday Addams. Gomez (Raul Julia) and Morticia's (Anjelica Huston) stoic, twisted daughter became a hit with moviegoers, making Wednesday one of the most popular members of the family. Therefore, it should come as no surprise that Hollywood has taken note of this, leading to the creation of "Wednesday" for Netflix: a show all about the character coming of age and solving a deadly mystery that has plagued her family for years.
"Wednesday" premiered on Netflix on November 23, 2022, introducing subscribers to Jenna Ortega's interpretation of the lead character. For the most part, audiences seem impressed with what she has to offer as Wednesday — particularly in her cello scenes.
Fans want to hear more from Ortega on the cello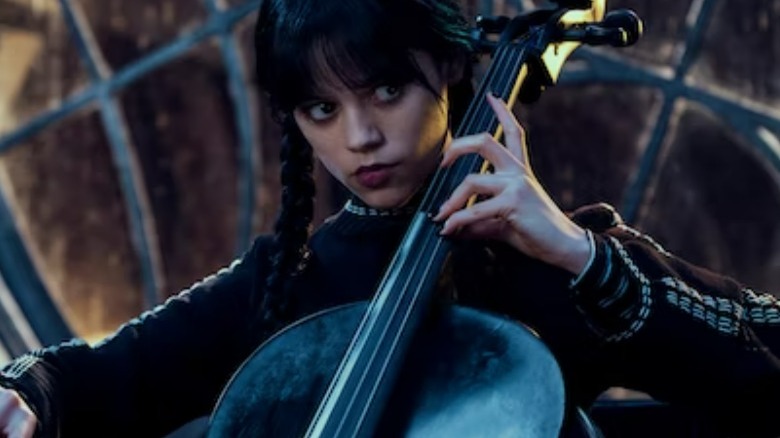 Netflix
Not long after "Wednesday" arrived on Netflix, fans flocked to social media to express their adoration for Jenna Ortega's cello performances on the show. "First Ep of #wednesdaynetflix was really good, only issue is that I was [hoping] I could hear Jenna play the cello more," wrote @ClownLockProd on Twitter, with @vixenwaves commenting, "I get chills whenever I see and listen to Wednesday playing the cello scenes," in a post of their own. 
@NitaTarr took to social media to ask the real questions, writing, "Jenna Ortega's cello in #Wednesday absolutely knocked my socks off. Does anyone know where to find her almost solo cello performance she plays in episode 1?" Meanwhile, @ellodie_ just loved the symbolism behind one of Wednesday's cello performances: "Wednesday playing cello while the statue is burning down is poetic cinema." @remioluwole can't help but appreciate the "Wednesday" soundtrack as a whole. Many, like @L0VMUNS0N took to the social media site wanting more scenes of Ortega showing off her musical talent, saying, "I needed more scenes of her playing the cello, I got chills both time." 
While Ortega shines as Wednesday on the cello, many will be surprised to know that the actress isn't classically trained. 
Jenna Ortega learned how to play cello for Wednesday
As if her performances on the show weren't impressive enough, it turns out that Jenna Ortega had no cello experience going into the Netflix series. In an interview with Wired, Ortega revealed that she learned to play the cello specifically for "Wednesday." While she's been away from it since filming wrapped up, it's clearly something she has a great appreciation for in hindsight. "I have immense respect for anybody who plays the cello. I think it's such a delightful instrument," she said.
Fans once again hurled praised at Ortega when they found out the "Wednesday" star had no prior experience with the instrument. "The fact that Jenna Ortega actually started practicing the cello in real life for this role just really shows the commitment and dedication," wrote @AlphaBoyNiklaus. @runawaym4x echoed similar sentiments, saying, "[A]s a cellist, I am so proud that Jenna took cello lessons to make it look somewhat believable honestly loved these scenes."
Another user praised the "Wednesday" creatives for making the scenes as musically authentic as possible, saying, "'Wednesday' had some of the most effective fake cello playing I've seen in a long time!! That stuff usually takes me out of a scene so fast but i was really impressed, they definitely had someone on set who knew what they were doing." The user, @c8shark, continued by calling out Ortega for learning to play the cello, hypothesizing that a professional played during the close-up shots.
The eight-episode "Wednesday" is currently streaming exclusively on Netflix.