Jenna Ortega Didn't Ask Christina Ricci Advice On Playing Wednesday Addams For Fear Of Ripping Her Off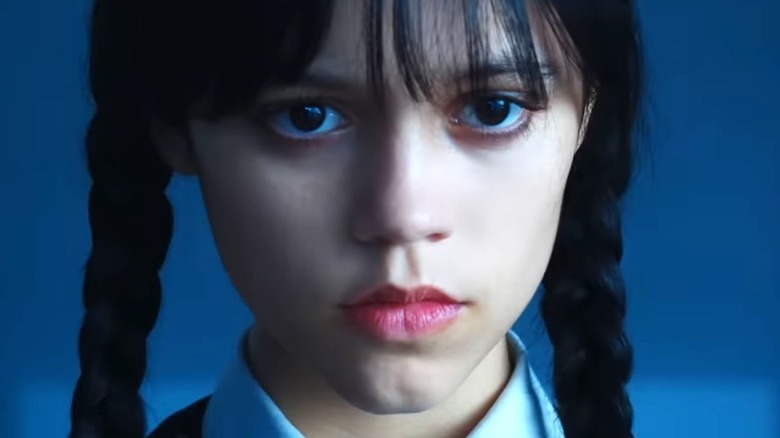 Netflix
There are similarities and differences between "Wednesday" and other "Addams Family" media. However, Netflix's take on pop culture's spookiest and kookiest family brings a fresh spin to characters who were first introduced to the pop culture lexicon in the late 1930s.
The new series centers around the titular character, played in a perfect deadpan style by Jenna Ortega. This version of Wednesday is a psychic sleuth and aspiring author who's more than willing to send hungry piranha fish after the bullies on the swim team. As such, she must spend her days at Nevermore Academy, a school for gifted adolescents that hosts monsters, mysteries, and a perfect good balcony for dramatically playing the cello on at night.
Of course, like all reimaginings of popular franchises, "Wednesday" is destined to be compared to other "Addams Family" movies and TV shows by fans. Furthermore, Ortega's portrayal of Wednesday is bound to be judged against other actresses who've played the iconic character, such as Christina Ricci, who's arguably the most celebrated performer to play the spooky child. Ortega knew that she had big shoes to fill — and that's why she never asked Ricci for advice.
Christina Ricci and Jenna Ortega didn't discuss Wednesday Addams on the set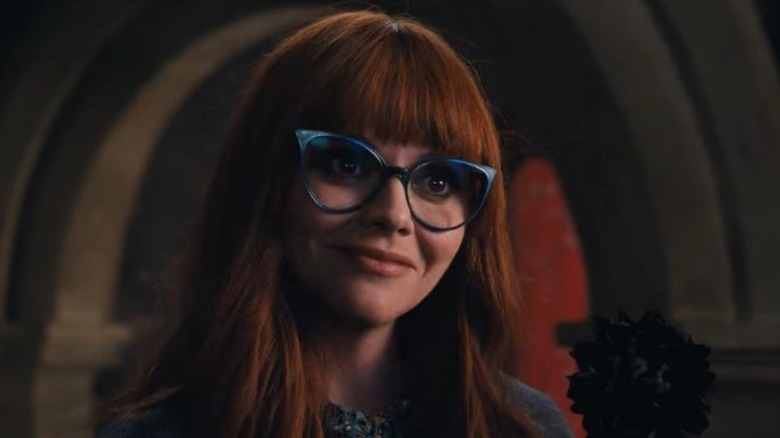 Netflix
Christina Ricci's character on "Wednesday" isn't anything like her previous "Addams Family" persona. She plays Maryllin Thornhill, a teacher at Nevermore Academy who's harboring a secret. That said, even though Ricci wasn't hired to reprise the "Addams Family" character, she may have been willing to lend advice to Jenna Ortega.
However, the conversation never came up, according to the actress who plays the new Wednesday. "I think when [Ricci] was on set, neither one of us said Wednesday once to each other," Ortega told MTV News. "I don't think she wanted to get in the way of my performance and feel like she was overbearing."
Ortega continued by saying that she didn't want to bring up a topic that Ricci has probably discussed quite a lot in the last 30 years, especially in case it influenced her own performance. "For the sake of my own benefit, but two, yeah, I didn't want to rip her off and I didn't want to be too much like her."