Seinfeld's David Puddy Was Immortalized As A Bobblehead For Charity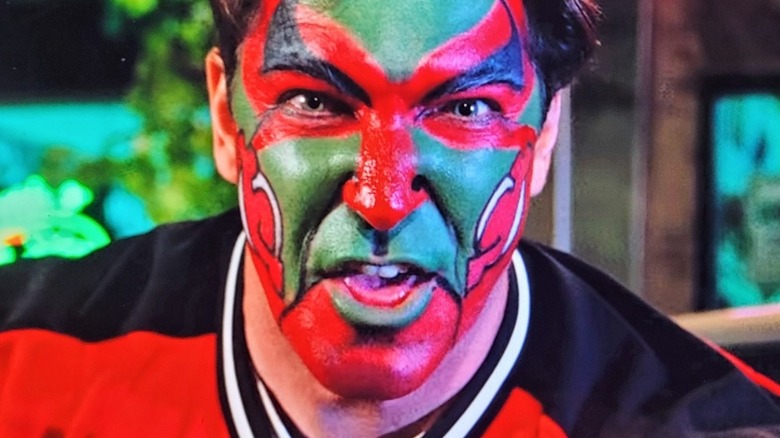 NBC
Throughout the nine seasons of "Seinfeld," Jerry Seinfeld, Elaine Benes (Julia Louis-Dreyfus), George Costanza (Jason Alexander), and Kramer (Michael Richards) experience their share of bizarre relationships. These include Jerry's brief fling with Melissa (Kathleen McClellan), who's a little too comfortable with her body, and George's pretentious girlfriend Patrice (Valerie Mahaffey).
However, one of the most unforgettable significant others is Elaine's on-again, off-again boyfriend, David Puddy (Patrick Warburton). While there's a reason fans didn't see more of Puddy in Seinfeld, the character has become a fan favorite. Unfortunately, Puddy and Elaine don't always see eye-to-eye. This is particularly true in Season 6, Episode 22 ("The Face Painter"), in which Elaine discovers just how big of a New Jersey Devils fan Puddy is. 
When the gang lands tickets to a hockey game, Puddy wants to ensure everyone knows which team he's rooting for. Puddy emerges from the bathroom with his entire face painted in the Jersey Devils' colors of black, red, and green, much to Elaine's horror. Though he later promises not to decorate his face anymore, he finds a loophole in the agreement and instead paints a large "D" on his chest, intending to rip his shirt open at the game. 
It's an iconic Puddy episode that has stuck with Warburton throughout his lengthy career. In fact, his character's passion for the New Jersey Devils has been used for good, including raising funds for an important charity.
Patrick Warburton's appearance at a Devils game raised funds for St. Jude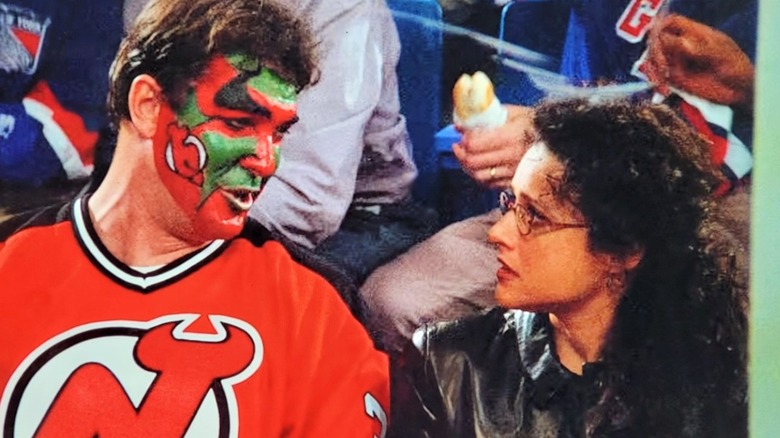 NBC
On October 7, 1995, a few months after "The Face Painter" episode of "Seinfeld" aired, Patrick Warburton was invited to perform the ceremonial puck drop at a New Jersey Devils game. Sporting Puddy's iconic colorful face and D-emblazoned chest, Warburton quickly became a good luck charm for the team, which beat the Florida Panthers 4-0 (via ESPN).
In the two-plus decades that followed, he continued to embrace his association with the Devils. Then, on February 19, 2019, as part of a special '90s Night, the Paterson native returned to the Prudential Center to drop the puck and use his platform for good. The first 9,000 fans to arrive at the game against the Pittsburgh Penguins were gifted with a Puddy bobblehead featuring his signature Devils' face paint, jersey, and crazed expression. The collectible can still be found on eBay and other sites.
Additionally, instead of accepting an appearance fee, he asked the Devils organization to make a donation to St. Jude's Children's Research Hospital. According to NHL.com, a Devils jacket worn by Warburton was auctioned off, with proceeds benefiting the childhood cancer treatment facility.
"Whatever I can help with to eradicate childhood cancer," Warburton told NHL.com.