Kevin Smith Returns Home Following 'Massive' Heart Attack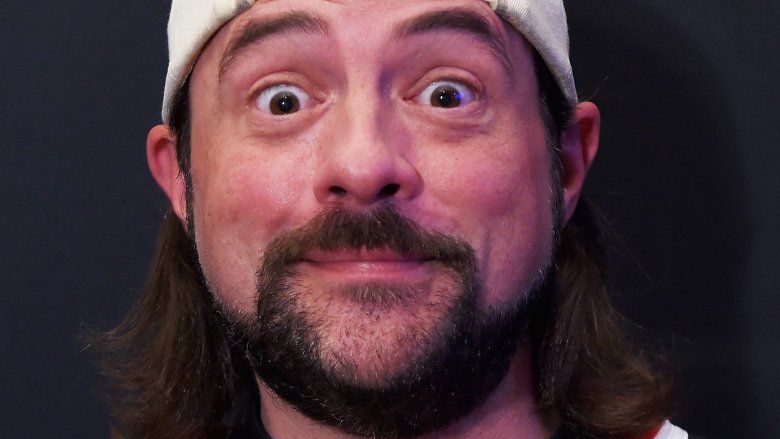 Getty Images
When death comes a-knocking, Kevin Smith locks the door. 
After suffering a "massive heart attack" on Sunday, February 25 after filming his Kevin Smith Live! stand-up special at the Alex Theatre in Glendale, California, Smith has made it home — and has committed to a major lifestyle change. 
One-half of the cult duo Jay and Silent Bob and the director behind Clerks, Mallrats, and Chasing Amy, Smith took to Twitter on Wednesday to deliver a much-anticipated health update. "Home again, home again, jiggety-jig!" he wrote. "Home is where the heart is, and the heart is feeling good! It's actually getting more blood flow and oxygen than it has in a long time. So I am ALERT, to say the least! Thank you for all the kind words, folks." 
Smith signed off as "Vegetarian Kev," indicating that the heart attack has sparked a desire (or perhaps a need) to cut meat from his diet. 
Shortly after the heart attack occurred, Smith explained on Twitter that the doctor who "saved [his] life" indicated that his "LAD artery (aka 'the Widow-Maker')" was completely blocked. 
He then shared a lengthy Facebook post detailing the hours leading up to the incident. "I was trying to do a killer stand-up special this evening but I might've gone too far," he said. "After the first show, I felt kinda nauseous. I threw up a little, but it didn't seem to help. Then I started sweating buckets and my chest felt heavy. Turns out I had a massive heart attack."
The scare wasn't enough to shake Smith completely, however, and he stated he didn't panic as it was happening. "This is what I learned about myself during this crisis: Death was always the thing I was most terrified of in life. When the time came, I never imagined I'd ever be able to die with dignity — I assumed I'd die screaming, like my dad (who lost his life to a massive heart attack)," said Smith. "But even as they cut into my groin to slip a stent into the lethal Widow-Maker, I was filled with a sense of calm."
Even before Smith returned to the safety of his home, he noted that the heart attack has given him a whole new perspective on life. "I faced my greatest fear tonight ... and it wasn't as bad as I've always imagined it'd be. I don't want my life to end but if it ends, I can't complain. It was such a gift," Smith said. 
Smith is the standing host and producer of AMC's reality series Comic Book Men, which takes place in his comic shop Jay and Silent Bob's Secret Stash in Red Bank, New Jersey. Recently, he wrapped directing on an episode of the CW superhero series The Flash. As for the comedy special Smith was shooting when this ordeal occurred, no release date has been announced, but it will be his first live television special following 2010's Kevin Smith: Too Fat for 40 and 2012's Kevin Smith: Burn in Hell.