Why Jeff Clarke From Chicago Med Looks So Familiar
Audiences who love watching the drama and suspense of shows in the "One Chicago" franchise might recall Jeff Clarke, a U.S. Marine turned firefighter turned medical student. The character is introduced on "Chicago Fire" as a member of Firehouse 51, but after sustaining a back injury, he returns to medical school and interns at Gaffney Chicago Medical Center, with the character transitioning to "Chicago Med."
One of the biggest storylines involving Jeff is his brief relationship with Dr. Natalie Manning (Torrey DeVitto), an attending in emergency medicine specializing in pediatrics and the widow of his best friend. While the couple seems to find solace in their shared grief, Jeff soon admits that he has been harboring feelings for her all along, even while her husband was alive, eventually resulting in their breakup. After finishing his internship at Gaffney, Jeff leaves to pursue a residency in Hawaii, exiting Natalie's life (and the "One Chicago" franchise) for good.
Jeff is played by actor Jeff Hephner, and with many roles preceding his stint on "Chicago Fire" and "Chicago Med," fans are sure to find his acting somewhat familiar. Check out his most respected ones to date.
Jeff Hephner starred on The Jury in the early 2000s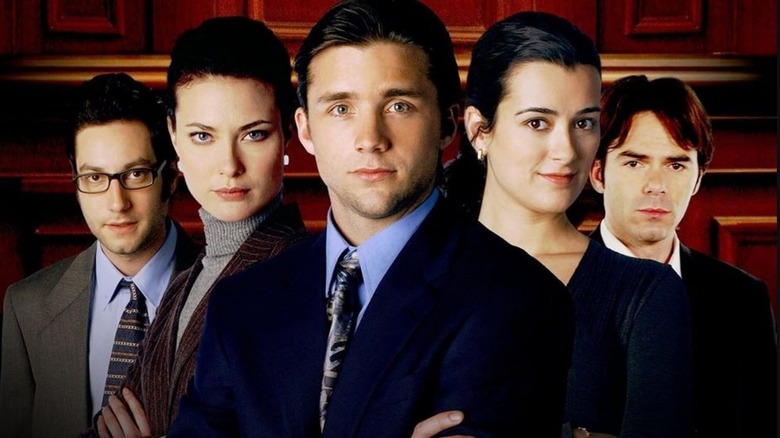 FOX
Jeff Hephner landed his first large role as Keenan O'Brien on "The Jury," which was unfortunately canceled after the first 10 episodes. Hephner played the main character, an attorney who joins other fellow attorneys as they evaluate a different case in each episode while the jury is left to make the ultimate decision based on their evidence. The show is unique for not telling its narrative chronologically; instead, each episode opens with the jury already deliberating over a case, and audiences are introduced to the evidence and the full story through flashbacks.
Interestingly, "The Jury" has a British counterpart with two seasons, which is twice what the American version ever got. Hephner didn't stray from crime drama, however — his next two roles were as antagonist Michael Pike in an episode of "Law & Order: Criminal Intent" and "Boy in Image" in an episode of "Criminal Minds."
He became both an accountant and a magician alongside Richard Castle
Before Jeff Hephner played a firefighter turned medical student on the sets of "Chicago Fire" and "Chicago Med," he was both an accountant and a magician on ABC's "Castle," which follows author Richard Castle (Nathan Fillion), a mystery novelist who is called in to assist the New York Police Department when a copycat starts replicating murders in his books. After he solves the case with the smart and beautiful Detective Kate Beckett (Stana Katic), he implores the mayor to allow him to shadow her as an inspiration for a new book series. Together, he and Beckett solve cases for eight seasons and get married by the end of the show's run in 2016.
Hephner guest starred in a 2011 episode titled "Poof, You're Dead," lending his likeness to two characters: Edmund Drake, an accountant who is somewhat of a suspect, at least for Castle, and Zalman Drake, Edmund's twin brother. While he performed well as Edmund, he didn't play Zalman too long, whose body is found at the beginning of the episode. The rest of the episode's plot follows an investigation to track down Zalman's killer, and they do so successfully when Edmund poses as his deceased brother. Terrified and unaware that his victim had a twin, the killer admits the crime in fear as he sees what he thinks is Zalman's ghost.
Audiences could look up to see Hephner in the stars
Jeff Hephner's penchant for projects set in space seems to have begun in 2014, when he appeared alongside Matthew McConaughey as a doctor in the science-fiction film "Interstellar," which depicts a dystopian future in which a group of astronauts travels through a wormhole in search of a new home due to Earth becoming increasingly unlivable. Hephner's character is thankfully able to save Cooper's (McConaughey) life after the latter engages in some dangerous stunts.
Audiences will also be able to spot him in 2018 episodes of the TV series "Mars," which follows a group of astronauts colonizing Mars in 2033 while juggling a present-day timeline (2016), illustrating the progression of space exploration leading up to this Mars landing. Later, Hephner was on the Apple TV+ series "For All Mankind" as Sam Cleveland, Tracy Stevens' (Sarah Jones) second husband. "For All Mankind" is a show that allows audiences to imagine an alternate history in which the Soviet Union had beaten the United States to the Moon, continuing the space race. With the competition renewed, fans can see what technological advancements might've been possible had history played out a different way.