James Cameron Was Prepared To Scrap Aliens If Sigourney Weaver Didn't Sign On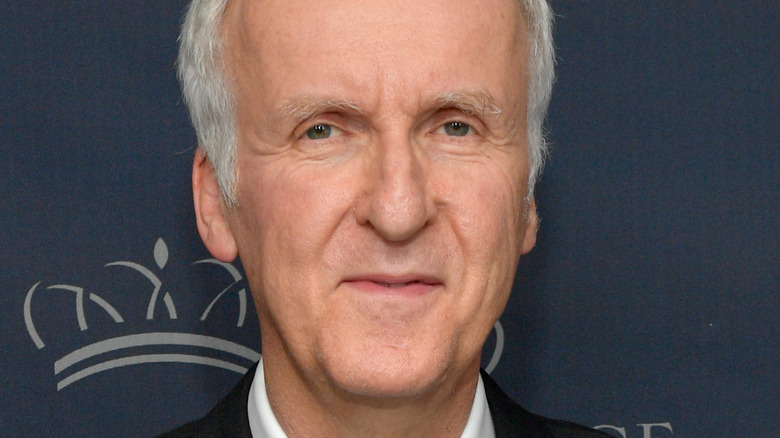 Matt Winkelmeyer/Getty Images
In the '80s, filmmaker James Cameron wrote and directed "Aliens," the sequel to the classic 1979 sci-fi horror movie "Alien" (which was directed by Ridley Scott and written by Dan O'Bannon). Cameron is, of course, now known for famous films such as "Titanic" and "Avatar." However, at the time, he had only directed two other films, 1982's "Piranha II: The Spawning" and 1984's "The Terminator." "Aliens" was released in 1986 and followed Ellen Ripley, played by Sigourney Weaver, who is the sole survivor of an alien attack on her ship (as seen in the first film), as she returns to the site where she and the crew first saw the aliens.
"Aliens" was a success — not only does it have a near-perfect 98% on Rotten Tomatoes — which is pretty rare for a sequel with a new writer and director — at this time of writing, but it also made over $85 million worldwide at the box office (via Box Office Mojo).
But, this film almost didn't get made, as there was one super important detail that Cameron needed to happen for him to go through with making "Aliens": he needed Weaver to reprise her role from the first film.
Cameron says getting Weaver on board was all he needed to make the film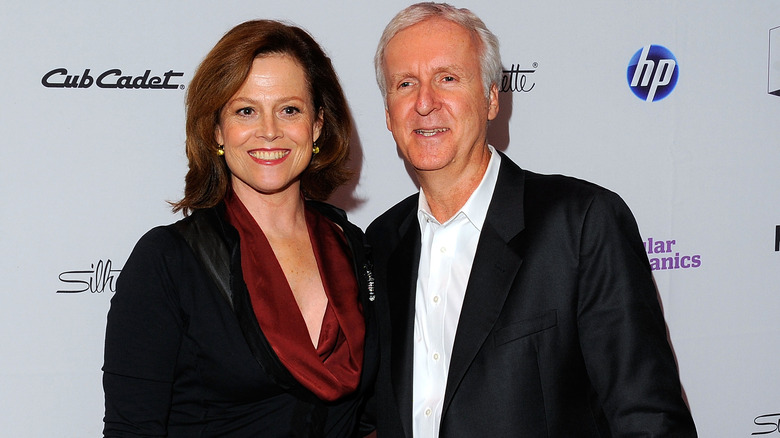 Andrew H. Walker/Getty Images
In a November 2022 interview with GQ, in which he breaks down his most iconic films, James Cameron discussed the process of signing on to write and direct "Aliens." Cameron explained that many people advised him not to do it but that he was too interested to pass up the chance. For him, the only factor that could change his mind was whether or not Sigourney Weaver signed on.
Cameron said, "They had assured me that they had [Weaver] under an option for a sequel option. And so I went off and wrote this thing, [like], 'Okay, I'm gonna get to work with Sigourney. This will be cool.'" After spending six months writing, Cameron returned to find out that wasn't actually true. In fact, Weaver hadn't even been approached about returning for a sequel. Cameron continued, "So now it's up to me to land Sigourney, to talk her into doing this film. I don't know her from a stranger on the street. So I call her up and send her the script, and she agrees to meet with me."
The filmmaker then admitted that he was a bit nervous about meeting with Weaver because he wasn't sure what she would think about all of the prep work he had done for the sequel. But Weaver ended up really liking the story and wanted to do the film. But, after trouble with negotiations over Weaver's salary, it looked like he wasn't going to be able to book Weaver after all. So, Cameron threatened to rewrite the script without Weaver's character, and the bluff ultimately led to a deal. Cameron concluded, "So it worked, Sigourney got her million bucks, and everybody was happy."
Weaver gives credit to Cameron for writing her an Oscar-nominated role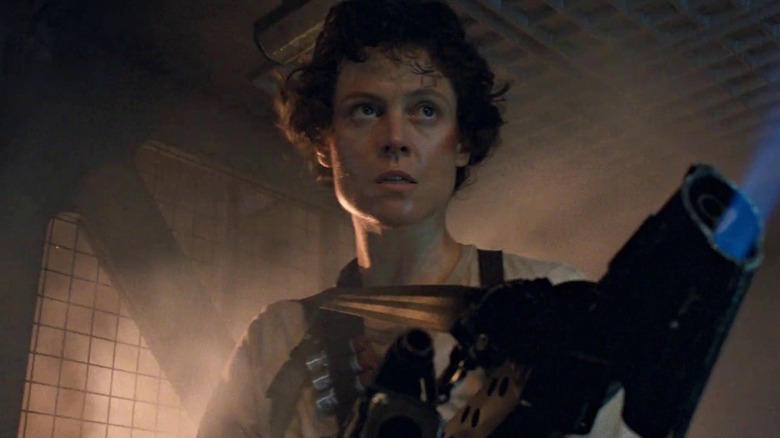 20th Century Studios
After James Cameron was able to get her booked, Sigourney Weaver ended up giving a tour de force performance, even earning herself an Academy Award nomination, in fact, her first Oscar nod (via IMDb). In a September 2022 interview with Jake's Takes, Weaver reflected on her role in "Aliens" — and had nothing but praise for Cameron.
Weaver said, "I think that Jim Cameron created such an amazing structure for the character of Ripley to start out with no one believing her and thinking she's crazy and all these other things. He gave me so much to work with."
The actress also admitted that everyone involved in the film was surprised by her Oscar nomination because "Aliens," as a genre movie, is not the type of film that typically receives attention for awards — at least outside of the technical categories. Alongside Weaver's nomination, "Aliens" won two Oscars in technical categories (per IMDb). "Alien" also won an Academy Award in the Best Effects, Best Visual Effects category (per IMDb). Weaver continued, "I really appreciate the Academy community, you know, getting over whatever prejudices they might have against this type of sci-fi genre and nominating me for the actual work because I do think it's an amazing role, and I was very, very honored to be nominated for it."