Young Sheldon Fans Make It Clear Who They Think The Least Likeable Cooper Is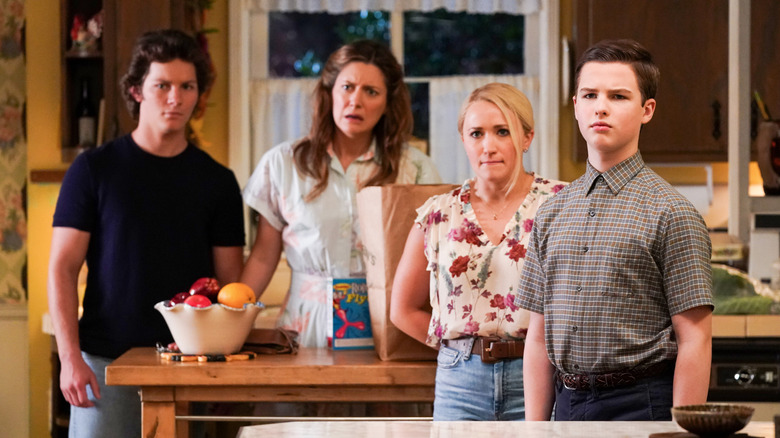 Sonja Flemming/CBS
Throughout the 12 seasons of "The Big Bang Theory," viewers occasionally received a glimpse into the upbringing of Sheldon Cooper (Jim Parsons) when his family visited him in Pasadena. These visits included his overtly religious mother, Mary (Laurie Metcalf), older brother Georgie (Jerry O'Connell), who doesn't exactly share Sheldon's smarts, and twin sister Missy (Courtney Henggeler), who Raj Koothrapali (Kunal Nayyar) and the other guys were instantly attracted to.
While the Coopers certainly impact the series, it's not until the CBS spinoff "Young Sheldon" that audiences genuinely understand what makes the family tick. Like most fictional personalities on TV, each "Young Sheldon" character has their share of good and bad traits. Sheldon's (Iain Armitage) is quite obvious — he's a child genius but has a knack for never recognizing his flaws.
Georgie (Montana Jordan) might not be as intelligent as his younger brother, but he's determined to be independent. Missy (Raegan Revord) may have a sassy edge, but deep down, she loves her family, including her twin. As for Mary (Zoe Perry), she's determined to be a good mother, especially after making a vow to quit partying and turn toward religion if Missy survived a complicated birth. However, her devout faith often causes her to clash with her children and husband, George (Lance Barber).
With "Young Sheldon" wrapping up its sixth season, regular viewers are now very familiar with the Cooper family ... and they've made it abundantly clear who their least favorite member is.
Mary Cooper is the least likeable family member on Young Sheldon
According to a recent Reddit poll that asks, "Who is the most unlikeable Cooper?" the overwhelming response was Mary Cooper, who received 150 votes. The next highest was Sheldon, at 42 votes. "Young Sheldon" fans didn't hold back in sharing their feelings about Mary. U/DaisyMae2022 said, "Basically, anybody that rubs what they believe in all because others disagree is just annoying, especially when it comes to religion and politics." U/No_Pattern_2819 took issue because "she favors Sheldon over all the other Coopers."
The results of this poll are interesting given that, according to another survey asking fans to name the best mom on "The Big Bang Theory," Mary came out victorious. U/GrannyMine said, "'Young Sheldon' has ruined the character of Mary. She was amusing on TBBT, but she is so hateful on YS ..."
Though Mary is still devoutly religious on "The Big Bang Theory" and even racially insensitive at times (mainly toward Raj), her antics are primarily seen as humorous in the eyes of fans. As for the younger version of Mary, it can be easy to take the side of her husband or children. For example, in Season 5, Episode 14 ("A Free Scratcher and Feminine Wiles"), George briefly contemplates divorce after Mary makes a fuss about spending money that she won on a lottery ticket. Commander Waddles commented, "George really tried extremely hard to be a wonderful husband and father. It's a shame Mary's constant anxieties and need for perfection rarely allowed her to recognize any of it."
Still, Lance Barber feels that George and Mary's ability to move past such moments is inspiring. In an interview with Rudy Blair Entertainment Media, he said, "Family is difficult. You do that hard work of finding love between each other anyway, and it's a good lesson for the world."