The Walking Dead Finale's Biggest Surprises Came Thanks To Its Endless Number Of Ads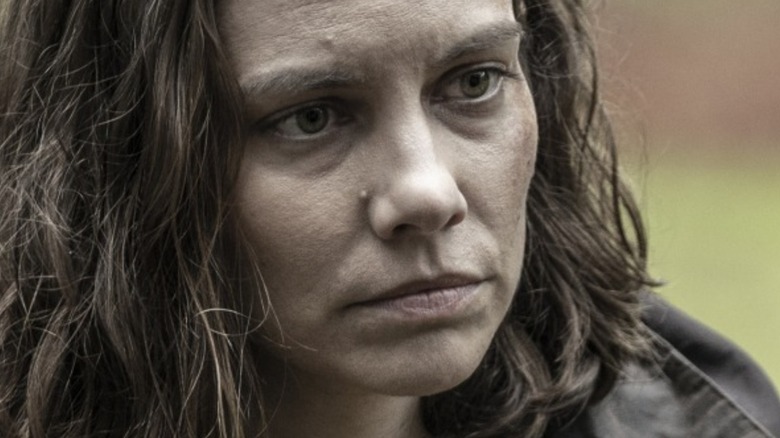 Jace Downs/AMC
After a series has gone on for so long, is it possible for the finale to live up to such a magnanimous legacy? "The Walking Dead" graced the airwaves for over a decade and still drew in viewers every week. But when Season 11, Part 3 officially ended, putting an end to the entire series, the zombie juggernaut certainly tried to go out with a bang. Right off the bat, Luke (Dan Fogler) and Jules (Alex Sgambati) meet a grisly end, and that isn't even the most heartbreaking moment of the episode.
In a move decided by Christian Serratos herself, Rosita dies after heroically saving her daughter and the rest of the children from the Commonwealth. Each storyline is handled with tenderness and care which the characters themselves were rarely afforded. But perhaps the most exciting was the return of everyone's apocalypse dad, Rick Grimes (Andrew Lincoln). Though we know that he and Michonne (Danai Gurira) will be getting their own spinoff, there is nothing more nostalgic than seeing Rick's grizzled face. Luckily for fans, Rick wasn't the only surprise return. More characters made an inventive appearance, but you had to watch the episode's advertisements to catch it.
Walking Dead favorites return for one final hurrah
Over 11 seasons, there is no question that "The Walking Dead" has said goodbye to many iconic characters. And though some have the habit of rising again, death is usually final in the series. But for a few shining minutes during the series finale, fans could see some long-dead characters — albeit in a different form. Thanks to Ryan Reynolds' marriage of his company Maximum Effort with AMC, for a short presentation former "The Walking Dead" actors returned in zombie form. Milton (Dallas Roberts), Gareth (Andrew J. West), Rodney (Joe Ando Hirsh), and Andrea (Laurie Holden) all rose from the grave as their characters from the series in tongue-in-cheek advertisements for various products.
"'The Walking Dead' has generated more cultural conversation over the last decade than any other property and we wanted to honor that by bringing a few characters back from the dead in some fun contextual ads," Ryan Reynolds told Deadline about the initiative. The products ranged from food delivery to security cameras, with the actors not hesitating to poke fun at their former employment. Laurie Holden has been notably critical of how her character was dealt with, but now that seems to be in the past (via TV Guide). She was given two segments, one where she smirks about eating Reynolds' brain. With "The Walking Dead" coming to a close, bringing back these characters was a humorous and respectful way of sending the series into the great beyond.