Jack Skellington Voice Actor Chris Sarandon Says He Got Extremely Lucky With His The Nightmare Before Christmas Audition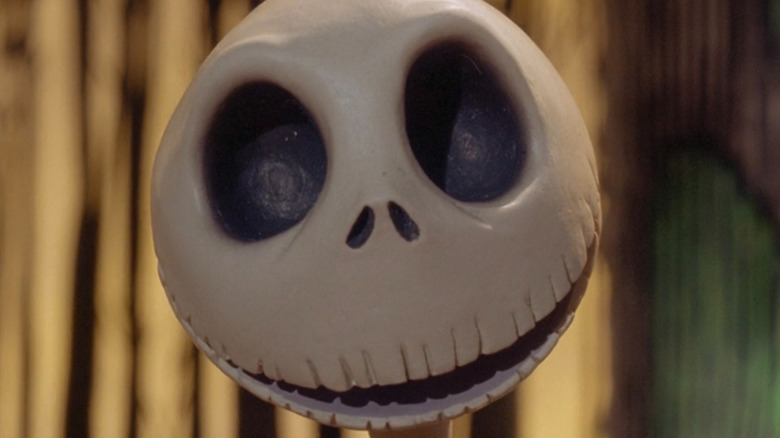 Buena Vista Pictures
"Tim Burton's The Nightmare Before Christmas" was like nothing the world had ever seen before in the world of animation. From its off-kilter storytelling to its groundbreaking stop-motion animation to its rich music and songs, the 1993 Oscar-nominated film remains a holiday and pop culture fixture nearly 30 years later. To bring this world to convincing life took a mountain of effort from everyone involved, including its colorful voice cast. Alongside the animators, the talents of such voice actors as Catherine O'Hara, Ken Page, Glen Shadix, and many others helped breathe life into these eccentric characters that have since become icons. And when it comes to the voice of the ruler of Halloween Town himself, Jack Skellington, it's hard to imagine any other voice than Chris Sarandon's for the role. 
Jack Skellington might seem like a relatively simple character compared to many of his contemporaries. Still, Sarandon was able to help find the soul of the character that has continued to resonate with audiences over the decades. However, jumping into such a strange project was certainly a different process for "The Princess Bride" star. As a film that was taking significant leaps forward in many different avenues, and a stop-motion one at that, it was only sensical that the Henry Selick-directed film would see its fair share of difficulties and dilemmas. For Sarandon, however, despite the interesting process it took to make "Nightmare," what wasn't especially difficult for him was landing the role to begin with. 
Chris Sarandon sounded enough like Danny Elfman to get the role
Buena Vista Pictures
While most are aware that Jack Skellington from "The Nightmare Before Christmas" would need voice actor Chris Sarandon while talking, many may not be aware that he also had a separate singing voice. Danny Elfman, who also created the film's music, did the singing voice for the king of Halloween Town, even comparing Jack's dilemma to his own time in a band (via Kerrang). Saradon recalled his time getting the speaking role with ComicBook.com, and it was an interesting process, saying, "No, this is an audition, it's as simple as that. To my knowledge, I believe they had already done all of Danny Elfman's songs, that is, recorded them. Then I believe they had animated most, if not all of them. They were looking for a voice that could give them a reasonable approximation of Danny's voice, and I just happened to hit the lottery, quite frankly." 
Sarandon, known for other horror titles such as "Child's Play," "Fright Night," and "The Sentinel," was thrilled to be a part of the Tim Burton-produced film. He talked about how amazed he was at the final product, and when asked if he'd voice the character again, he said, "I'd crawl on my hands and knees, from the east coast to the west coast, in the spring or the fall, to do it again. Of course I would. I love that character and I love that I'm part of a legacy of that character as well."