COVID Played A Big Role In Trevor Noah's Exit From The Daily Show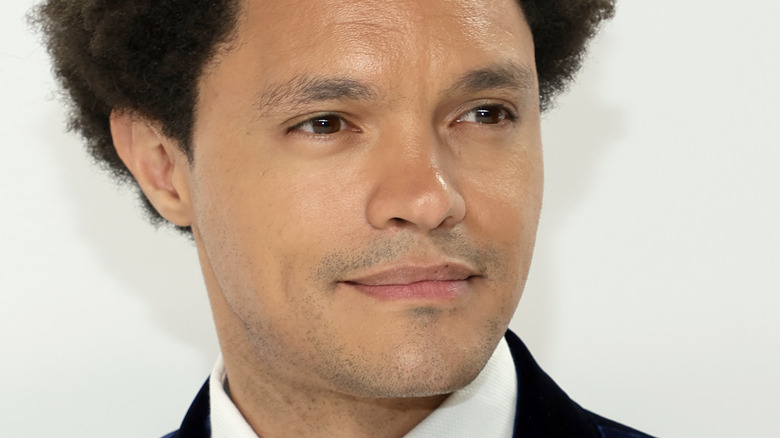 Dimitrios Kambouris/Getty Images
"The Daily Show," Comedy Central's late-night talk show and satirical news show that airs every Monday through Thursday night, is actually the longest-running program currently on Comedy Central. The venerable and well-known talk show has featured quite a few different hosts since its inception in 1996. First, Craig Kilborn hosted the show from 1996 to 1998. Jon Stewart then took over, and his reign lasted from 1999 to 2015. After Stewart stepped down, current host Trevor Noah was the next in line, and has been holding the fort since 2016. 
Each new host has brought something a little different to "The Daily Show." For example, Trevor Noah brought on new correspondents, updated the set and graphics, and seems to have catered to a slightly younger audience than his predecessors. However, perhaps more than any other host before him, he also found how much real world events can impact the realities of making the show. A significant factor during Noah's "The Daily Show" tenure has been the COVID-19 pandemic. In March 2020, "The Daily Show" suspended production (via Deadline), but a few weeks later, Comedy Central began releasing episodes of the show created in Trevor Noah's apartment in an extremely aptly titled "The Social Distancing Show." The show, in fact, did not return to its studio format until September 2021, but there was no live audience like there was before COVID. 
Like his predecessors before him, the time has come when Trevor Noah has chosen to leave "The Daily Show." During the September 29, 2022 taping of "The Daily Show," Trevor Noah announced that he would be stepping down as host in order to focus more on touring for his stand-up comedy career. The date for Trevor Noah's departure from "The Daily Show" will be December 8. It turns out that COVID played a big role in his decision to leave.
The Daily Show became too isolating after COVID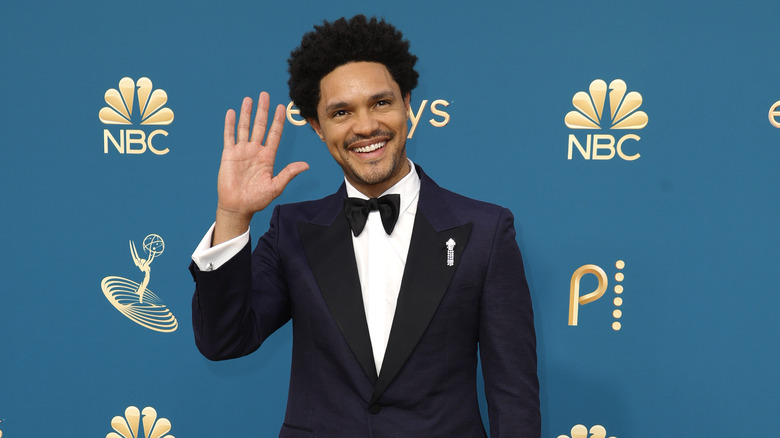 Frazer Harrison/Getty Images
The pandemic hasn't been easy for "The Daily Show," and head writer Zhubin Parang wasn't shy about described how it changed the show to The Hollywood Reporter. "Obviously, the pandemic shattered our day-to-day process, but it also rewrote a lot of our own ideas about what we want out of the day and how hard we want to burn the candle on both ends," he said. Later, he described just how the makers of the show started feeling the delayed effects of this stress. "We still had to pump out a show every day, but there was this sense of, this is becoming exhausting, and at a deeper level than it ever was before [...] When the world started to open back up, the toll it had taken became that much clearer."
Trevor Noah elaborated that before the pandemic, he loved working on "The Daily Show" because he was always chatting with people in their offices or having big meetings where he could enjoy working as a team. However, the pandemic has changed the social aspect of the job in a drastic fashuion. "Now, everybody in the building has masks and we're limited in how many people can be there at a given time and where you can or can't be, and because I'm the host, I'm in this bubble," he described the crew's need to keep him as safe as possible. "And so, what was already an isolated experience was exacerbated, and all these thing"
However, COVID is not the only factor why Noah left "The Daily Show." In a way, he simply feels that his time with the show has come to an end. "I want to leave before I'm burnt out, because there are many other things I'd like to do," Noah said. 
As for "The Daily Show," it will continue after Noah leaves. The Hollywood Reporter's sources indicate that the network is looking to replace him with a rotating series of hosts until a successor emerges.