The Most Binge-Worthy TV Shows Of 2022 So Far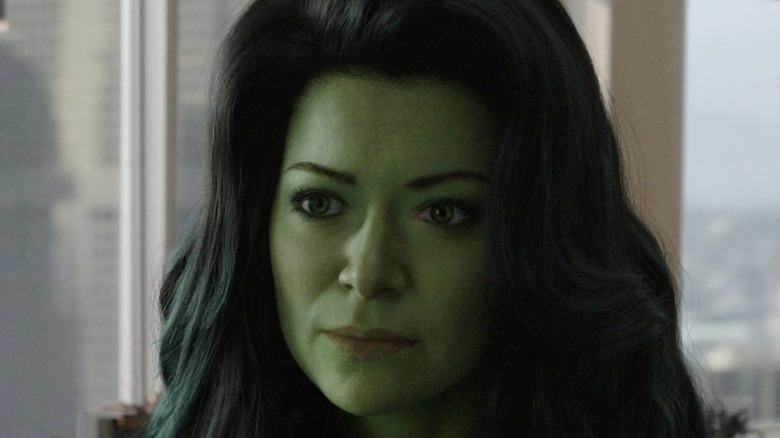 Disney
While television has been around for almost a century now, the concept of "binging" a show is a relatively new phenomenon. Up until the advent of streaming services like Netflix, Hulu, Amazon Prime — and later Disney+, HBO Max, Apple TV+, etc. — individual episodes of shows were usually doled out week by week. Plus, before re-runs and syndication existed, if you missed an episode, you potentially missed out on it for years and years. The best you could do is wait until it was released on DVD or Blu-Ray for home viewing, but before that became common in the '90s, you were often out of luck.  
Thankfully, nowadays viewers can watch tons of shows and never have to worry about missing an episode ever again. Unfortunately, the downside of nigh-unlimited access to all this content is having to sift through all of it. Sure, it's nice to be able to watch pretty much anything you want, any time you want — remember when you couldn't skip commercial breaks? — but there simply is not enough time in a human's limited lifespan to watch everything that exists out there, even if you wanted to. 
That's where we come in, guiding your attention to the shows that are worth your precious time. 2022 saw the release of many incredible and highly binge-worthy series. From fantasy epics to superhero shenanigans and Nathan Fielder doing his thing, there's a little something for everyone.  
The Lord of the Rings: The Rings of Power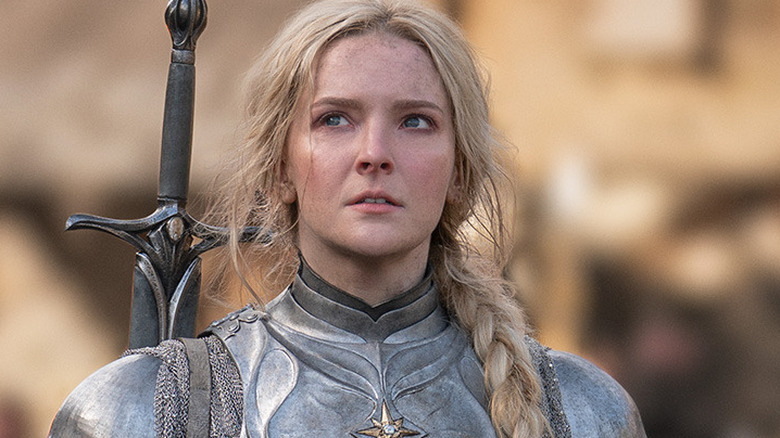 Amazon Studios
There was a lot of skepticism when Amazon announced that it would be developing an epic, big-budget "Lord of the Rings" television series. Even more skepticism arose after it was revealed that, despite how much Amazon Studios paid for the rights to the franchise (about a quarter of a billion dollars), the rights were still very limited. For instance, Amazon only had access to the original trilogy of books, "The Hobbit," and the appendices. This meant they couldn't dip into any of the lore of "The Silmarillion" or any other later works by J.R.R. Tolkien's son, Christopher (via Empire).
The creators of the series forged ahead, setting the show — titled "Lord of the Rings: The Rings of Power" — in the Second Age of Middle Earth. The show chronicles the rise of Sauron and the creation of the titular rings. There was an equal amount of hype and apprehension as the release of the series drew nearer and nearer, especially with the production's price tag supposedly reaching a billion dollars, and the legacy of the Peter Jackson trilogy from 2001-2003 overshadowing it.
Luckily, the show is great, even if imperfect. It's worthwhile for the production design and visual effects alone, which are lavish and arguably rival that of Jackson's films. The characters are also well-cast, with Morfydd Clark as a younger, angrier, Galadriel, and Robert Aramayo as a younger, politically savvier Elrond being standouts. The show is able to create genuine mystery and tension, especially with the final reveal of Sauron, despite everyone knowing how the story ends. 
House of the Dragon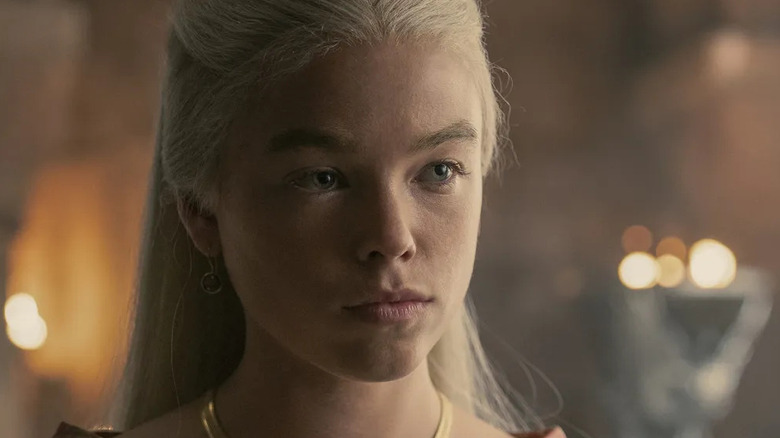 HBO
The final season of "Game of Thrones" was...well, let's just say, it wasn't well-received at all. While there were some defenders, the consensus was that showrunners David Benioff and D. B. Weiss rushed the ending to start their ill-fated "Confederacy" and "Star Wars" shows, neither of which ended up seeing the light of day, most likely for the better (via The New York Times). Though both Benioff and Weiss stated that George R.R. Martin gave them all the beats of how his "A Song of Ice and Fire" series would've gone down in the books, most fans balked at the season's execution.
It's surprising and refreshing that fans have found themselves embracing the new "Game of Thrones" spin-off, "House of the Dragon," currently airing on HBO. The show is based on George R.R. Martin's "Fire & Blood" books, which were presented as an in-world historical document from Westeros, written by the character Archmaester Gyldayn. It follows the history of the Targaryen dynasty, leading up to the status quo of the main "A Song of Ice and Fire" timeline.
The show doesn't take the form of a fantastical medieval documentary (can you imagine?) but instead uses "Fire & Ice" as inspiration for a more standard narrative series. It has viewers buzzing with "GoT's" patented shocking deaths, narrative twists, CGI dragons, and incestuous romances.
Also, former Doctor Who Matt Smith kills it (literally) as the morally ambiguous Daegon (via LA Times). 
Star Wars: Andor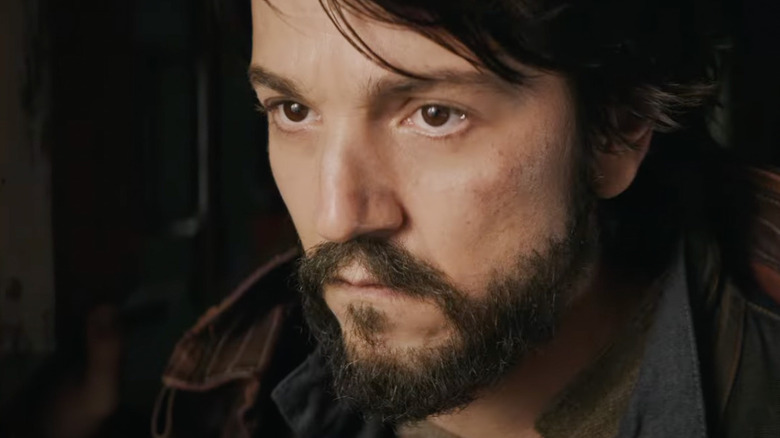 Disney
Disney has had some trouble turning "Star Wars" into a Marvel-esque sprawling universe. This isn't necessarily a new venture for the franchise; before 2014 there was the "Star Wars" Extended Universe (now de-canonized as "Star Wars: Legends"), with many books, games, shows, etc. of variable quality. Fans have high expectations, and many are critical of Disney's output, despite its attempts to create a stylistically cohesive world of consistently better content.
It's no surprise that fans were skeptical of "Andor," a series based on a secondary character from 2016's "Rogue One," an interesting but non-essential entry in the franchise. However, given that Andor's story doesn't really deal with The Force, Jedi, Sith, or any of the baggage of the "Skywalker Saga," it's been able to forge a unique identity, and, as a result, is arguably the best "Star Wars" thing ever made, period. 
This is because it is surprisingly unflinching in showing the violence necessary to fight off fascism — a highly relevant topic right now — and the physical and psychological toll that takes on people. Showrunner Tony Gilroy even compared Diego Luna's titular Andor to a young Joseph Stalin, who once used his skills as a thief in service of the Russian Revolution (via Rolling Stone), though presumably Andor won't turn to forced labor, famine, and the secret police like Stalin eventually did. 
This is keeping in line with George Lucas' initial vision of the story. "Star Wars" has had a revolutionary stance since the beginning, with Lucas maintaining that the Rebels of the original trilogy were the Viet Cong and the Empire was America (via AMC). Amazing VFX, award-worthy performances from the entire cast (including Andy Serkis as a non-Snoke character), and great writing all put "Andor" head and shoulders above everything else Disney has cranked out so far.
She-Hulk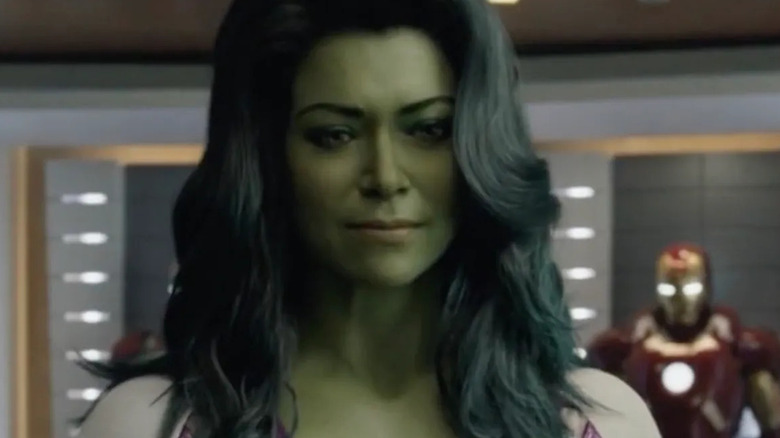 Disney
Despite what incel man-babies (who were comically — and accurately — skewered on the show) think about Disney+'s "She-Hulk: Attorney at Law," it's a highly enjoyable show and a worthy addition to the ever-expanding Marvel Cinematic Universe. Not only does it have a funny and fresh tone, as it's much more overtly satirical than most other MCU properties to date, but it's also buoyed by a charming performance from star Tatiana Maslany ("Orphan Black") as Jennifer Walters, aka the titular She-Hulk.
Pitched as "'Ally McBeal' meets superheroes," the show is ostensibly a courtroom comedy, with a hulking, seven-foot-tall, green-skinned superhero at the center of it. The CGI is also surprisingly good and never distracting, especially given the tighter budget and reduced production time compared to the MCU films proper (via Variety).
The cameos from Mark Ruffalo as She-Hulk's cousin Hulk, Tim Roth as The Abomination, and Benedict Wong as The Sorcerer Supreme were entertaining without feeling shoehorned in. The show also had a great re-introduction of Charlie Cox's Daredevil into the MCU (as his appearance in 2021's "Spider-Man: No Way Home" was entirely out of costume). His chemistry with Maslany was also off the charts. His "walk of shame" may be one of the funniest sight gags on the show.
Finally, the metatextual ending (referencing the old "She-Hulk" comic books by John Byrne) was superb, especially for calling out many of the MCU's recent failings and keeping the focus on the characters first.
Ms. Marvel
Disney
Disney+'s "Ms. Marvel," based on the recent comic book series of the same name is, well, a marvel, to say the least. The show stars the enigmatic Iman Vellani as the eponymous Ms. Marvel, aka Kamala Khan, in her first major starring role. Vellani is perfectly cast as the teen superhero, as she seems to be the embodiment of Khan's fangirlish enthusiasm, as well as her immense positivity and intelligence.
The rest of the show is top-notch as well. It has a colorful tone that suits Khan's peppy character and gives it a more lively feel than a lot of recent MCU fare. It also has fun, "Scott Pilgrim"-esque animated dream sequences representing both Kamala's deep inner thoughts and her own comic book-style artwork. Also, like "She-Hulk: Attorney at Law," the "Ms. Marvel" show has mostly cinematic VFX. It will be exciting to see how Ms. Marvel fares on the actual big screen in the upcoming "The Marvels" film. Furthermore, it can't be overstated how important representation is, especially given the dearth of positive portrayals of both Muslims and South Asians in mainstream media.
Even the changes to the lore, including how Khan's superpowers work in the show as compared to the comic books, make sense for the adaptation. It is much more dynamic in live action to have her powers be energy-based, rather than simply stretchy. This also makes her powers more in line aesthetically with Captain Marvel's and Photon's as well.
Also, we gotta admit, that '90s animated "X-Men" musical sting when it's revealed she's a mutant was pretty great, too.
Peacemaker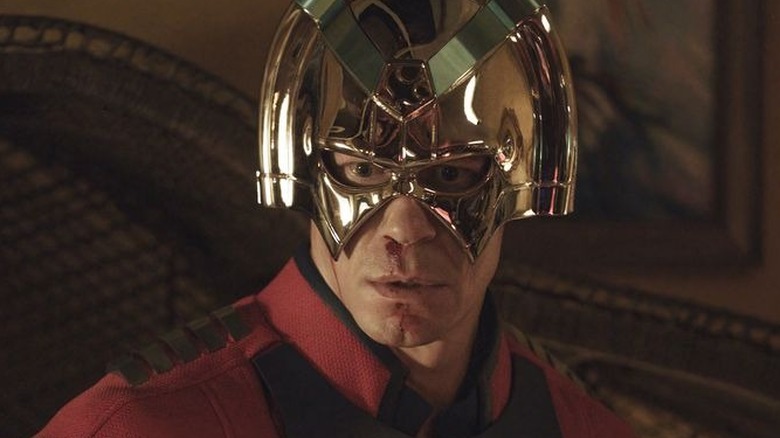 Warner Media
John Cena's doltish-yet-dangerous militaristic anti-hero Christopher Smith, aka Peacemaker, was one of the many highlights in James Gunn's R-rated superhero flick "The Suicide Squad," a pseudo-sequel/semi-reboot of 2016's "Suicide Squad." In the film, Cena's Peacemaker joins the titular Suicide Squad — a top-secret paramilitary unit full of supervillains — to make sure the mission is successful, even when it's revealed that the US government is engaging in war crimes. This causes Peacemaker to fight off the other members of the Squad, even killing Rick Flag (played by Joel Kinnaman, one of the few returning cast members from the original film).
HBO Max's "Peacemaker" series takes place after "The Suicide Squad" film. Peacemaker is still forced to work with Task Force X and stop another extraterrestrial threat. The series is once again written and directed by James Gunn, who gives it his patented irreverent and snarky tone, as well as ample violence. What really makes the show click is Cena's continued commitment to his role. One moment he's comically parodying toxic masculinity; the next, he's delivering exciting action or sincere pathos. Peacemaker gets to grow as a person throughout the series, and even fights off the physical embodiment of American white supremacy.
The rest of the cast also delivers the goods, especially Freddie Stroma as the nerdy, hyper-violent anti-hero Vigilante. Also, Jason Momoa's Aquaman tells off Ezra Miller's The Flash, so that's pretty cool too.
Sandman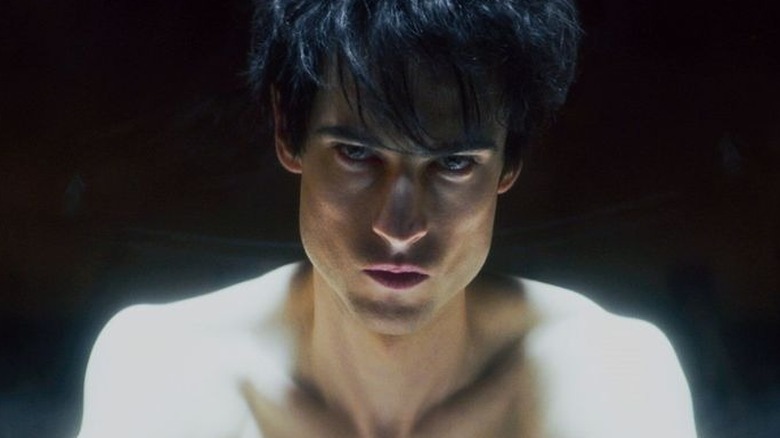 Netflix
The "Sandman" series of graphic novels, which were released between 1989-1996 and written by acclaimed writer Neil Gaiman, were groundbreaking for their time, changing the way the mainstream public looked at comics forever. No longer were they seen merely as cheap kiddie fare, but as legitimate works of art that deserved the same attention and reverence as other media.
Producers in Hollywood have long been desperate to adapt the popular "Sandman" series. However, like many early comic adaptations — including successful ones — fidelity to the source material was not at the top of executives' minds. Multiple feature-film adaptations based on Gaiman's series were released, but none was able to match the scope or artistry of the original comics. One script was so bad that Gaiman said it was one of the worst he had ever read in his life (via Rolling Stone).
Luckily for us, Gaiman held out until the 2022 Netflix streaming era. Netflix adapted it into a series instead of a film, a better format for "Sandman" that lets the story breathe and includes more characters and details from the comic. Thanks to Netflix's generous budget and advancements in visual effects, the comic panels were able to come to life in a breathtakingly beautiful way. The casting is perfect, with the standouts being Tom Sturridge ("Velvet Buzzsaw") as the taciturn Morpheus and Kirby Howell-Baptiste ("The Good Place") as the bubbly but wise Death. 
The Rehearsal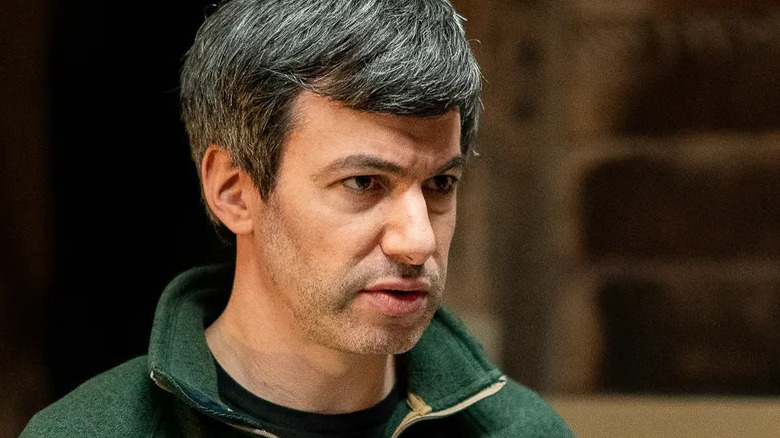 HBO
Nathan Fielder is a Canadian stand-up comedian with a wry, absurdist sense of humor. He gained mainstream notoriety for the Comedy Central comedy reality show he created and starred in, "Nathan for You," which aired from 2013-2017. In that show, Fielder documented himself playing an oddball entrepreneur trying to help struggling businesses by pitching them outlandish and ridiculous marketing schemes. His proposals included changing the name of a local coffee shop to "Dumb Starbucks" and promoting a fake exercise regimen called "The Movement" to help a struggling moving company take advantage of free labor.
What was great about "Nathan for You" was how not only it documented real people trying to deal with Fielder's crazy situations, but also its series-long arc of Nathan's character trying to overcome his own social anxiety.
All of this continues in Fielder's new show on HBO called "The Rehearsal." The premise is that he and his crew create fake situations to help prepare participants for difficult real-life situations they'll eventually have to face. This includes recreating their house to the finest detail, hiring actors to play roles of family members, and even making a robot baby. As in "Nathan for You," there's a broader, self-reflective arc surrounding Nathan that blurs the lines of what is and isn't real, even for the audience watching the show. Thought-provokingly weird and uncomfortably hilarious, it's been hailed as a work of genius. 
The Bear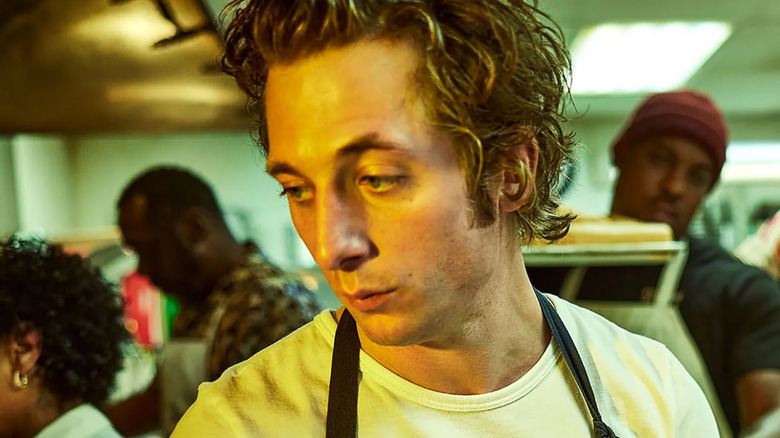 FX/Hulu
If you've ever worked a busy, stressful, dead-end job where you had to deal with unstable coworkers, unruly customers, and a crazy work environment, you'll get a lot of entertainment (or trauma flashbacks) by watching the FX/Hulu dramedy "The Bear." It truly embodies the do-or-die relentlessness of working in food service.
The show follows the uptight, intense Carmen "Carmy" Berzatto (Jeremy Allen White, "Movie 43"), an acclaimed chef. However, after his brother — who owned a failing hole-in-the-wall deli in Chicago called "The Original Beef of Chicagoland" — passes away, Carmy feels obligated to try to salvage it for his family. There he meets a ragtag band of cooking comrades, all with their own baggage. It's a fish-out-of-water story as Carmy tries to acclimate himself to a totally different way of running a restaurant, learning life lessons, overcoming grief, and becoming a better person along the way.
What makes "The Bear" stand out is its authenticity. The show contains nuanced characters who feel like real people, not hacky workplace sitcom stereotypes. The excellent performances from Ayo Edebiri, Ebon Moss-Bachrach, Liza Colón-Zayas, and others certainly help. Furthermore, its frenetic, fast-paced style accurately conveys the chaos of working in a busy kitchen. 
Pachinko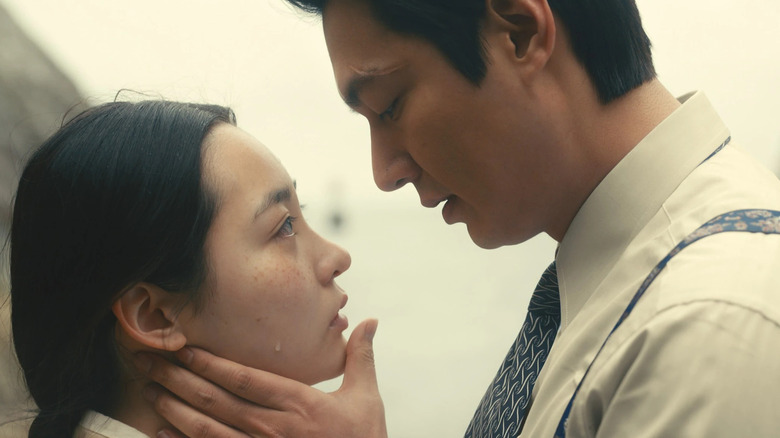 Netflix
Last, but certainly not least, is the epic Apple TV+ streaming series "Pachinko." The show is based on the acclaimed novel of the same name by Korean-American author and former journalist Min Jin Lee, which was published in 2017. Both the show and the novel chronicle the lives of a Korean family living in Japan from 1915 to 1989.
The show has amazing writing, incredible performances (especially from actress Youn Yuh-jung, and lavish period production design. It truly transports viewers to different time periods and moments, but never once loses track of the engrossing and intimate human drama at the center of it.
Led by Soo Hugh (AMC's "The Terror") and directed by Kogonada and Justin Chon, the series jumps around in time. We see how the Korean family deals with cultural discrimination, class disparity, and generational trauma throughout the decades. Most importantly, "Pachinko" will definitely tug at your heartstrings with its characters' devastating tragedies and hard-earned triumphs.