Melissa McCarthy Impresses Fans With Her Voice-Work On The Simpsons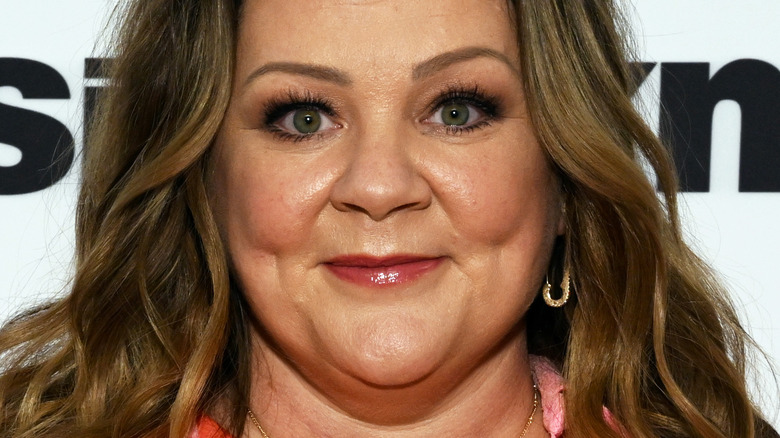 Slaven Vlasic/Getty Images
Melissa McCarthy is known for being a very talented actress starring in a wide range of films, including "Can You Ever Forgive Me" and "Bridesmaids," both of which earned her Academy Award nominations (via Oscars.org). But the Primetime Emmy-winner has also proven to be a hit with home audiences on the small screen, and among her many exceptional efforts in TV, fans can't stop talking about her voice acting performance on "The Simpsons."
The long-running animated sitcom has been known for having various guest stars voicing characters over the years, with everyone from Billie Eilish to Stephen Hawking appearing on "The Simpsons."  In Season 34, Episode 8 ("Step Brother from the Same Planet"), the show picked up some big names to add to that list, including Oscar nominee Carol Kane. But she wasn't the only awards-caliber talent enlisted for the entry, as Melissa McCarthy's name was also on the roster. 
In the episode, Homer Simpson finds out that his dad Abe has a new girlfriend named Blythe, voiced by Kane, and that she has an adopted eleven-year-old son named Calvin, played by Melissa McCarthy, who is pretty outspoken and smart for his age, with some intriguing hobbies including taxidermy. The step-sibling rivalry between the two continues throughout the entry until they realize Homer is just looking for approval from his dad. The storyline wraps up the episode after a heartfelt moment of reconciliation between father and son resulting from some googly-eyed shells, but that special occurrence isn't what has caused quite a stir with viewers.
Fans are blown away by Melissa McCarthy's vocal performance as Calvin
Fans had much to say on Reddit about Melissa McCarthy's performance as Calvin. One user, u/Porphyrin_Ring, couldn't believe that the well-known comedy actress was the person doing the voice for the character, posting, "I'm actually pretty impressed with Melissa McCarthy's voice acting, I would never have guessed it was her if the commercial hadn't mentioned it! She's probably the first guest star we've had in a while that used a different voice then just their normal speaking voice." Several individuals also agreed, like u/andthatwasenough, who wrote, "Yes, I'm really pleased she's actually, you know, getting to act! I've missed that aspect of guest appearances on the show."
The performance was so convincing some viewers might never have known it was McCarthy had they not been part of this online discussion, like u/ryuza, who wrote, "Wow, I didn't even realize it was her until I saw your comment. I just assumed it was Tress MacNeille." MacNeille has voiced plenty of "Simpsons" characters, including a number of male children, but Calvin isn't one of them (via IMDb). That honor belongs to McCarthy, and it turns out fans aren't the only ones that have raved about her being on "The Simpsons." "We're huge fans of her and it's a big meaty, juicy part. And she's really funny," showrunner and executive producer Matt Selman said in an interview. "To get a big comedy movie star at the height of their powers, it's pretty cool."
It seems Melissa McCarthy has outdone herself as Calvin, and it's probably safe to assume that some people out there hope the persona isn't one of the many "Simpsons" characters that only made one appearance on the series.